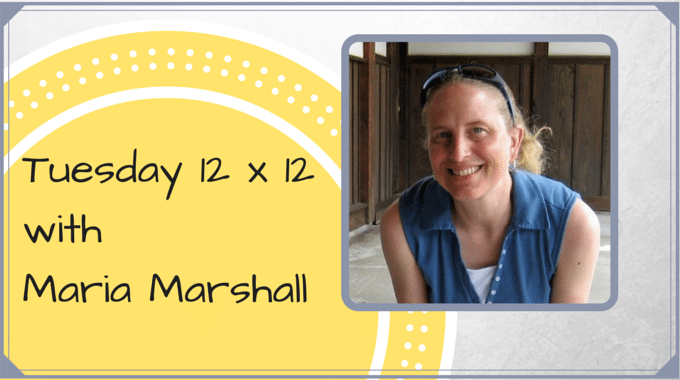 Tuesday 12 x 12 – Maria Marshall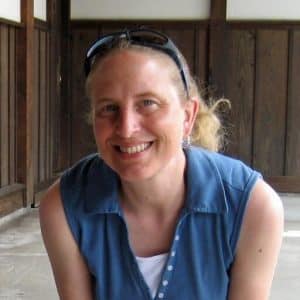 Writers like Maria are the reason I created 12 x 12. Creating a group where we can come together, encourage each other, learn from each other and inspire each other is what 12 x 12 is all about. Maria is a huge asset to the 12 x 12 community with her critiques and support of others. I love how Maria has embraced this new phase in her life and has jumped in with both feet. Maybe you'll recognize some of yourself in Maria's journey. 
For as long as anyone can remember, I have had a book in my hand. A voracious reader, I read every book in our library's children's section, from A to Z, during the summer before my third grade year.
Since I loved writing, making up stories, and creating elaborate treasure hunts and maps for my siblings, it surprised no one in my family when I pursued an English Honors and Political Science degree and ultimately Law School. Although I put much on hold to raise my kids, I ran numerous elementary reading programs, was a librarian for a small private school, assisted librarians in three other schools, and ran a Girl Scout troop for twelve years.
In 2009, I started writing and first joined SCWBI. But with a busy family, I accomplished little. Then in 2011, a cascade of circumstances provided me the "opportunity" to actively pursue my dream of writing. My youngest began college, my oldest started teaching in Japan, and I suddenly found myself widowed.
Shaking myself out, I rejoined SCBWI. At a meeting, an editor encouraged attendees to submit manuscripts. Naively, I submitted my first picture book manuscript. After receiving an encouraging, personal rejection, I limped into my first conference. I quickly discovered how many mistakes I had made and what a long suffering, gentle editor she had been.
But I was hooked, I couldn't stop writing. So, I enrolled in Emma Walton Hamilton's "Just write for Kids" course. Then I discovered Julie's 12 x 12 challenge and the badges! In addition to drafting and revising over 12 manuscripts, I made many friends and learned that I truly enjoy editing and critiquing. 12 x 12 helped me start one critique group, join another, and make numerous connections with amazing and caring individuals. I am eternally grateful for the encouragement and incentives to keep writing (badges and critique deadlines) which the writing community has offered me, especially when life throws me speeding curve balls.
12 x 12 emboldened me to ask my local SCBWI about a critique group. When none existed in my area, I forged ahead and started one. After reading 12 x 12 posts and comments on the internet, I participated in editor/agent critiques at a local conference and an Oregon SCBWI retreat. Only slightly bruised, I am eagerly trying to budget funds to attend a few east coast conferences.
Hungry to improve my skills and learn the craft, I bought recommended reference resources and many mentor texts. Then I stumbled into, or followed 12 x 12 friends through, a number of amazing online writing courses: Renée M. LaTulippe's "The Lyrical Language Lab," Jodell Sadler's "Pacing Picture Books to Wow," Sudipta Bardhan-Quallen's "Picture book A to Z's: Plotting in Picture Books," Susanna Leonard Hill's "Making Picture Book Magic," Harold Underwood's "Kid's Book Revisions," and Jen Swanson & Mira Reisberg's "Children's Book Academy: Writing for Love and Money." Slowly learning to pace myself, I am eagerly anticipating Angie Karcher's "Writing in Rhyme to WOW!" in October.
Occasionally procrastinating, I found a number of challenges that helped me capture my ideas, keep trudging on, and tune-up my manuscripts – PiBoIdMo, ReviMo, RhyPiBoMo, ReFoReMo, NaPiBoWriWee, ChaBoCha, ChaBoCha Lite, Kidlit Summer School, The Writer's Soiree, and Rate Your Story. I also enjoy participating in the Missing Voice Picture Book Discussion group, Word by Word Book Club, Debut PB Study Group, WOW nonficpic, and KidLit 411.
In a whirlwind spring/summer, I had two poems featured in the "Ditty of the Month Challenge," a pitch posted to Susanna Leonard Hill's "Would You Read It?" contest, received Honorable Mention in the Rate Your Story Competition, and was a Finalist in the Pacific Northwest Writers Association Competition. Although unpublished and unagented, I can glimpse the light at the far end and, buoyed by these accomplishments, 12 x 12, and my writer friends, I continue marching through the ever so gradually, lightening tunnel.
Maria is an avid bird watcher, proud parent of two wonderful adults, and roommate to two amazing Pixie Bob cats. When she's not writing, critiquing, reading, or traveling, she loves exploring, hiking and participating in bird counts. Unable to quit volunteering, she also serves on a number of boards, participates in programs with the Woodland Park Zoo, and assists with numerous other causes. She's passionate about using picture and chapter books to connect children with nature and the best parts of ourselves. Maria would love to follow you back on Twitter.