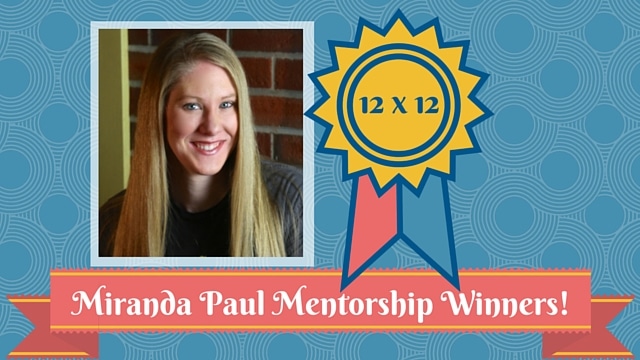 Miranda Paul Mentorship Winners!
Thank you to everyone who applied for one of the two mentorships offered by Miranda Paul to two 12 x 12 members. We received 133 applications from 12 x 12 members! Kelli and I had a VERY hard time narrowing down the field and picking the top 20. There was not a bad manuscript in the bunch – truly! 12 x 12 members are clearly working hard on the craft of writing. Here's what Miranda said about the top 20:
"The twenty [finalists] have impressed me greatly, and I feel that I could work with any of you. Your well-crafted stories and surefire pitches demonstrated how hard you've been working. Your heart and passion showed in your cover letters. Above all, there was a lot of professionalism in the applications, and this was a very tough decision for me. I'm so impressed, encouraged, and inspired by you!"
Miranda was so impressed she added two winners who will receive a 30 minute one-on-one Skype session with Miranda to discuss their work! The winners of the two Skype sessions are:
PATTY JOHNSON
CHANA STIEFEL
And, without further ado, the winners of the 2016 mentorships with Miranda Paul are
KATHLEEN BAHR
JENNI BIELICKI
Congratulations!! We will contact the winners in a separate email to with more detailed information.
Plus, we have a little good news for all 12 x 12 members: Miranda is our 12 x 12 webinar speaker for July! She'll being discussing with us what she learned from reading your applications and giving us all tips we can use for our manuscripts and queries.
We are so proud of the work you are putting in to your writing career! 12 x 12 members are amazing!
Let's also give a HUGE round of thanks to Miranda for giving so generously of her time and talent. We sure are lucky!