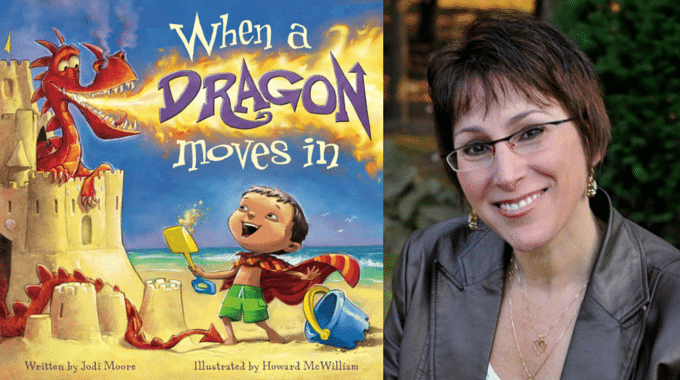 Jodi Moore: 12 x 12 Featured Author February 2015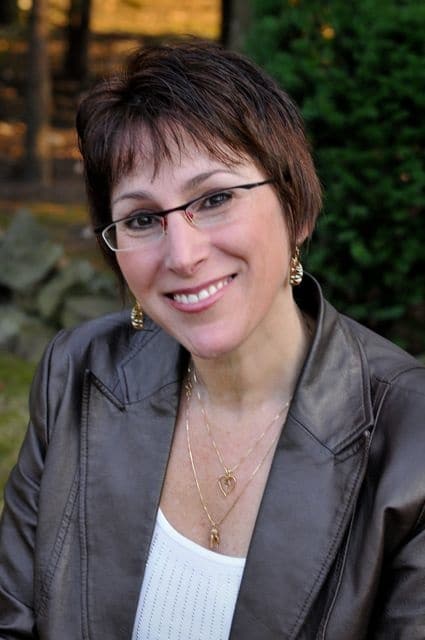 One of my favorite parts of running 12 x 12 is choosing featured authors. I get to ask myself, "Who do I want to learn from?" Then ask them to teach me (and fellow 12 x 12 participants of course!). 
When author Jodi Moore burst onto the 12 x 12 scene a few weeks ago, she brought a special brand of contagious energy and enthusiasm with her. I'd already been a fan of hers since my kids and I both adore WHEN A DRAGON MOVES IN and cannot WAIT for the sequel this fall. 
I was thrilled when she accepted my invitation to be a featured author, especially since I like to put the spotlight on 12 x 12 members in all ways. I shouldn't have been surprised that Jodi's post was so inspiring and heartfelt, but I'd be lying if I said it didn't bring a tear or two to my eye. I know you are going to enjoy it as much as I did.
AND, if that's weren't enough, one lucky 12 x 12 member will win a picture book critique from Jodi at the end of the month! Quick commercial: 12 x 12 registration is open until the end of this month. After that, you have to wait until 2016, so please join us while you can!
Now, please help me welcome one of our own — Jodi Moore!
Before we begin, please allow me to extend buckets of love, hugs and thanks to Julie Hedlund, Kelli Panique and all of the hard-working elves for providing such a warm place for us to share ideas, information and inspiration. I'm thrilled to be a part of this group and honored to be asked to share my thoughts with you as February's featured author.
How long have you been writing for children?
I started creating stories from the moment I picked up my first crayon, drawing them long before written words were even an option.
How many years did it take before your first book was published?
The short answer: 50 years.
The longer one: Although I spent most of my childhood and teenage years writing, it was never presented to me as a viable career option. It wasn't until I started reading to my own boys that I realized how much I missed sharing stories. I returned to my first love. I began writing picture books. I began submitting.
I began getting REJECTIONS. Although some were positive (I actually received a hand-written note from Kent Brown), I only saw the "no"s. They crushed me. I buried my dream and busied myself writing articles for magazines instead.
Despite my own issues with confidence, my husband Larry and I both recognized how important it was to nurture the dreams of our children. Both boys displayed talent and an interest in the arts at an early age, and we cheered them every step of the way. It won't be easy, we told them, but you can't let anyone stop you from pursuing your dreams. Before we knew it, they were accepting their high school diplomas. Empty nest threatened to hit hard.
"It's time for you to get back to what you were meant to do," Larry said. "Writing for children."
I shook my head. "It's too hard to get published."
"What?" Both boys looked at me. "Have you been lying to us all these years?"
Yep. They called me out.
Larry made me a deal. "Hit it hard for the four years the boys are in college," he said. "Go to conferences, hone your craft, submit your stories. If you aren't published by the time they graduate, we'll reevaluate the situation."
My hubby likes deadlines. His favorite line? "Projects without deadlines don't get done."
Fast-forward four years. Our family celebrated two degrees…and one Dragon!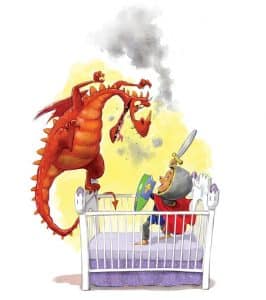 (In the words of the great Frank Sinatra, it was a VERY good year!)
I never could have done this without the love and support of my family (which incidentally is a perfect segue to answering the next question).
Do you have any advice for your fellow writers regarding the patience and persistence required to succeed as a picture book author? 
Writing may be a solitary thing, but the road to getting published is NOT.
Surround yourself with positive, supportive people.  It's important to learn your craft, but what will keep you afloat is the human connection. The shared passion and compassion.
Join SCBWI, go to conferences, participate in challenges (like 12×12!) Connect with other writers – not only for critique groups and other writerly things, but for friendship as well. We need those all-important hugs – celebrating the good news and healing the hurtful stuff. I never would have given myself permission to reconnect with the writer in me if it hadn't been for the encouragement and support of my family, my writer friends and the entire kidlit community…and I never would have survived the rejections! Don't listen to the "no"-it-alls. I'm telling you "yes". You can do this!
Oh. And chocolate. That's important too.
Can you talk a bit about how to take a perennial favorite subject (dragons) and make it fresh enough for publication?
First of all, I must give credit where credit is due. The idea for WHEN A DRAGON MOVES IN rests on the foundation of a real sandcastle….and something my husband said. Building sandcastles with our boys was an activity Larry looked forward to each summer. Understandably, the first time we went to the beach without them was a sad day for us. (There's that empty nest issue again.) But Larry brought his sand toys anyway and started to create. He soon had the "assistance" of a bunch of kids. When one little boy stuck a piece of seaweed in the mouth of the castle, Larry smiled. "That looks like a dragon tail. Our castle is so cool, a dragon moved in."
And the clouds parted and the angels sang. A story concept was born.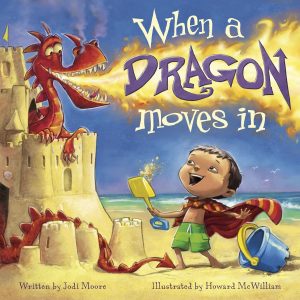 It's important to be open to the ideas that surround us every day. Look. Listen. Absorb. That's why I love Tara Lazar's Picture Book Idea Month. She challenges us to allow our minds to wander, to capture those elusive thoughts.
But here's the thing. We're all out there waving our idea nets. And sometimes we grab a fantastic little gem, only to do a Google search and find out there are already 1,258,329 books out there on the market. So, how do we make ours stand out?
As the amazing Kate Messner said in one of her workshops, sometimes ideas fall out of the sky. Other times, we have to work for them. She offered this exercise: Write down several characters. A few different scenes. A variety of plots. Now shift them. Shuffle them. Drop a character into an extraordinary setting or situation. (We used charts in class to keep things organized.)
The jump from the usual to the unique is but the twist of a Rubik's Cube away.
One of the devices you employ in DRAGON, which I love, is the ambiguity. The reader gets to decide… Is the dragon real or not? Do you have any favorite reactions from kids on that subject?
Aw, thanks! This makes my heart happy. The liberty of deciding whether the dragon is real or imaginary was such an important component for me, yet it was this "haziness" that caused a couple of publishers to turn it down. How do you draw a character that may or may not be there? I will be forever grateful that Shari Dash Greenspan (my amazing editor at Flashlight Press) embraced my vision. She and brilliant illustrator Howard McWilliam took Dragon to heights I had never dreamed possible.
Kids are always passionate about their opinions – there is no ambiguity for them! – and when I ask during school visits, it's often a 50/50 (rather vocal) split. Of course the sweetest stories come from those who believe Dragon is real. I had one child (his face the picture of sincerity) tell me he built a really cool sandcastle over the summer, but the dragon had to pass it by because "it was a little too small".  One mother told me that she was recommending the book to another parent and mentioned it was about an imaginary friend. Her daughter burst into tears. "Why would you say that?" the little girl cried. "The dragon is REAL!"
But I think the most adorable story came from a librarian friend of mine who read the book to her two-year old grandson. A few days later, her daughter mentioned something odd was going on…that the toddler was making funny hissing noises right before he did something naughty. After listening closely, they realized he was making the "heh-heh-heh" sound of the dragon's laugh! It wasn't him doing the deed…it was his dragon!
The sequel to WHEN A DRAGON MOVES IN releases this fall. What were the rewards and challenges of writing a sequel?
*squee* !!! I'm totally Tigger tap dancing about WHEN A DRAGON MOVES IN AGAIN! The notion that readers want to spend more time with my characters is beyond thrilling, and the chance to work again with the collective genius of my editor Shari, my illustrator Howard and the entire Flashlight Press family is a dream come true.
But yes, writing a sequel has its challenges. It has to stand on its own. It has to echo the flavor, humor and voice of the first one, yet be its own fresh and unique creation. I pitched four ideas for sequels before this one stuck.
What's on the horizon for you? New books coming out? Writing goals for 2015?
In addition to planning activities and visits for WHEN A DRAGON MOVES IN AGAIN, I'm revising a YA novel as well as several picture book manuscripts. I'd love to do more speaking engagements, both at conferences and in schools, so that I may (hopefully) inspire others to live their dreams. And of course, I'm hoping to sign with an agent, someone who will champion my work and "get" the weirdness that is me.
As a published author, can you tell us a bit about why you joined 12 x 12 and how you've found the experience so far?
I'm so excited to be a part of this group! As I said earlier, it's important to surround oneself with positive people. I'd heard nothing but great things about this community…which I am finding to be truer than true. So much talent, information and encouragement packed into one place!
What's more, I need this challenge. I've been scribbling ideas down for PiBoIdMo for the last five years (yep, add 'em up) and could use a push to get more of them developed. Too often, I'll write a manuscript and then edit it to death. It's time to cultivate a garden rather than over-prune one plant.
Let's grow together, shall we?
Thanks, love and happy writing to all!
Jodi Moore is author of the award winning WHEN A DRAGON MOVES IN (Flashlight Press) and GOOD NEWS NELSON (Story Pie Press).  She writes picture books and young adult novels, hoping to challenge and inspire her readers by opening up new worlds and encouraging unique ways of thinking.  Jodi is the proud, (admittedly) neurotic mother of two talented young adults and never ceases to be amazed at how far the umbilical cord will stretch. She lives in Pennsylvania with her husband, Larry, and an ever-changing bunch of characters in her head. Look for WHEN A DRAGON MOVES IN AGAIN Fall 2015!