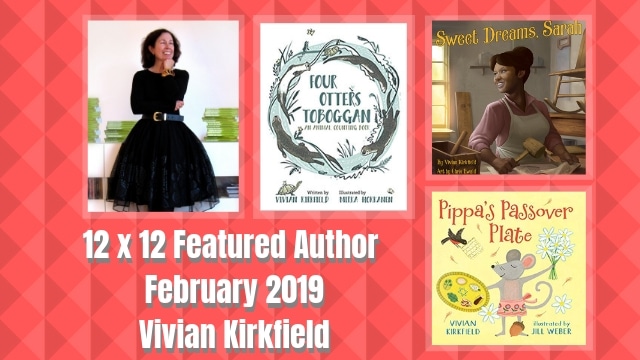 12 x 12 Featured Author February 2019 – Vivian Kirkfield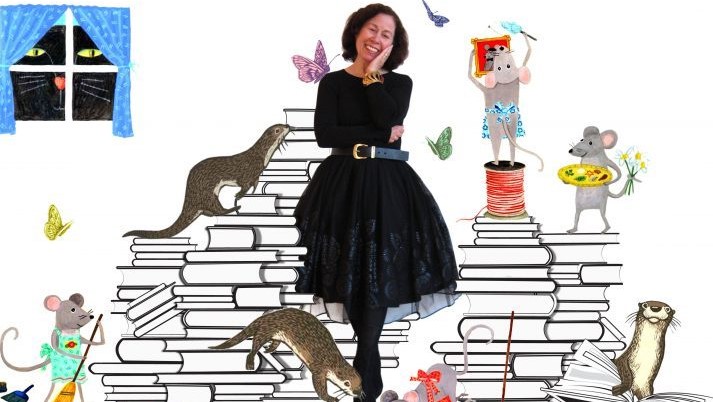 Vivian Kirkfield is making her picture book debut this year with three new books! Now before you think Vivian is an overnight success, let me fill you in on a little secret. This particular Featured Author post has been postponed two different YEARS, because the first book she signed a deal for was postponed two years! It will now be her third book published. This business is crazy, fickle, and slow, but Vivian, a charter member of 12 x 12, is proof that if you keep working on your craft, keep writing, and keep participating in the kidlit community, you CAN make it happen. We love you, Vivian and we couldn't be more excited for your success! 
Building a Strong Foundation for a Successful Writing Career
Did you ever play with blocks when you were a kid? The bigger you built your bridge, the stronger a foundation you needed. Otherwise…BOOM! In the same way, if you ever bought a house, you probably had it inspected to make sure everything was in good condition. And one of the first things the inspector checked was…you got it…the foundation. A strong foundation is needed for every project that is built…whether it's a bridge of blocks, a home you share with your family, or your writing career.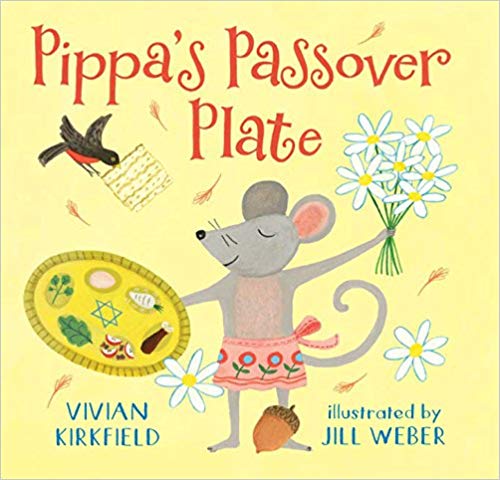 Yup, it's true – your writing career needs a strong foundation. I was so very fortunate because, in 2012, when I decided to become a picture book author, Julie Hedlund had decided to start the 12 x 12 Picture Book Writing Challenge. Write 12 picture book drafts in 12 months. Easy-peasy, right? After all, a picture book is ONLY 32 pages. Of course, I am joking, because that actually makes it harder. You can only use a limited number of words so, you have to make each one of them fight for the right to step into the light. Ha! Can you tell I love to write in rhyme? In fact, one of the first stories I wrote was Pippa's Passover Plate which will be a real book in just a few days, published by Holiday House and illustrated by Jill Weber.
If I may, let me backtrack a bit. During the first 64 years of my life, I wore many hats: kindergarten teacher, day care provider, registered representative for my husband's financial planning company, book catalogue typist, service desk associate at Marshalls, gardener, crafter, wife, mother, but always a lover of picture books. In 2011, the year I turned 64, my son gave me a very unusual birthday gift.
He took me skydiving.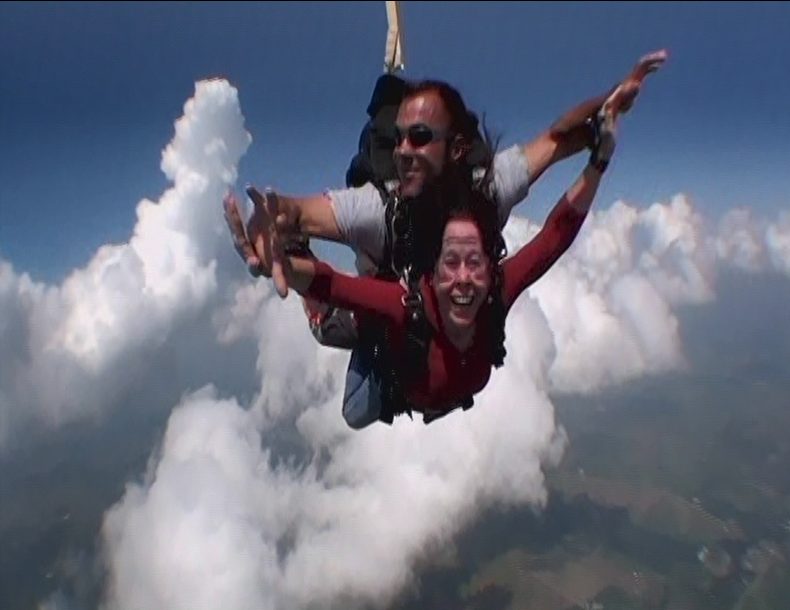 I loved it! The dive was thrilling, but the best part was that when my feet touched the ground, I knew that if I could jump out of a perfectly good airplane, I could do just about anything.
And what I wanted to do was write picture books and become a traditionally published picture book author.
So, I joined 12 x 12 and hunkered down to start writing my first story. I participated in Susanna Leonard Hill's many writing contests: Valentiny, Halloweensie, and her ever-popular Holiday Contest. I also took part in Tara Lazar's PiBoIdMo – now called Storystorm – a month-long celebration of finding inspiration for story ideas. I joined a few critique groups because I realized that even though I got A's in English, that did not mean I knew how to write a picture book story. Every month, I wrote a rough draft. Then I would revise it. Send it to a couple of critique buddies. And revise again based on their feedback. Month by month, my pile of stories grew and by the end of 2012, I had TWELVE pb manuscripts! Not yet ready for prime time…but still, I had some stories.
The next year, in 2013, I got even more serious about my writing. Julie had implemented agent submissions for the challenge and I was able to send off some of those manuscripts. Most of the feedback I got sounded like this:
Hmmm…if you are going to write in rhyme, it has to be perfect. Why not try this story in prose?
Hmmm…I don't think you have a story here yet – but the writing is lovely.
Hmmm…she puts her brother in a box and mails him to the zoo? We don't want to encourage kids to do dangerous things (I guess that was way before Oliver Jeffers wrote STUCK 😊).
You get the picture. I had a lot of manuscripts, but they needed a lot of work. I needed to find out how to make them better. So, the next year, in 2014, I took some online picture book writing classes. FIVE of them. (Please don't try this at home! 😊) Honestly, I don't recommend this for anyone. Because it was a bit overwhelming to process so much information in such a short space of time. Pretty much one after the other, I took Susanna Hill's Making Picture Book Magic, Renee LaTulippe's Lyrical Language Lab, Jodell Sadler's Pacing Picture Books to WOW, Kristen Fulton's Nonfiction Archaeology, and Mira Resiberg's Illustrating Children's Picture Books. Oh, and yes, I actually took a sixth class. I had won Emma Walton Hamilton's Just Write 4 Kids, a self-paced class that used five classic picture books as mentor texts.
And guess what? By the end of 2014, I had a bigger pile of picture book manuscripts. But even better, I was getting more positive feedback. One of the stories I sent was a lyrical free verse about endangered animals called, Visitors to Deep Pool.
Hey…this is lovely. In fact, it is pure poetry. It's too quiet for me, but I'm sure someone else will grab it.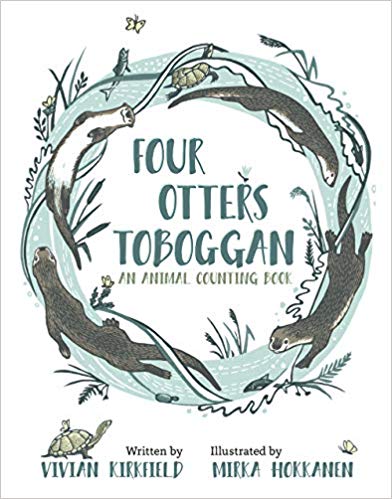 Ha…have you heard that one already? For three more years, no one grabbed it (this business of writing requires an infinite amount of patience). But then, at the end of 2017, someone else did grab it. We changed the title (don't stress out about your titles, the editor might change it anyway) because the editor thought it sounded like science fiction. And, on March 15 of this year, Four Otters Toboggan: An Animal Counting Book published by Pomegranate and illustrated by Mirka Hokkanen will splash, slide, tiptoe, toboggan, flit and flutter into bookstores everywhere.
When 2015 dawned, I set a new goal. I was going to get an agent. Again, the 12 x 12 Challenge had given me not only a great foundation, but the 12 x 12 members were always there in a supportive and encouraging role, whether I went to the Forum to ask for feedback on a pitch or I posted a question on the Facebook page. And I SUBMITED! To agents who were in the monthly 12 x 12 roster. To agents I found on #MSWL (Hashtag Manuscript Wish List – a twitter list containing the wish lists of various editors and agents. To agents via my pitches on #PitMad, and #PBParty which are both Twitter pitch challenges. And I sent manuscripts to several agents who were open to submission. One of them responded within an hour that she loved my story. This was the first nonfiction picture book manuscript I had written and I had worked really hard with critique partners to polish it. By the summer of 2015, I had four agents asking for more work…good thing I had more work to send them. That's a really important point to remember. Most agents want to represent you as their client…for your whole body of work, not just for one story. 12 x 12 helped me to build a strong foundation with a base of lots of manuscripts. And by the fall, I had decided to accept Essie White's offer of representation. As soon as the contract was signed, sealed and delivered, Essie sent out that first story she had fallen in love with. Within two months, we had a book deal and Sweet Dreams, Sarah, published by Creston Books and illustrated by Chris Ewald, will launch on May 1…or maybe April 1. That's another thing about this publishing business, nothing is guaranteed.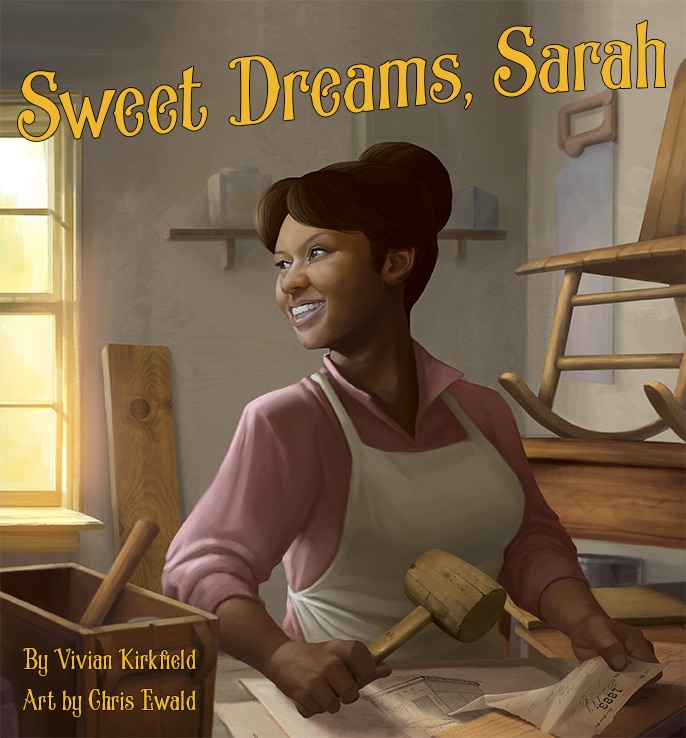 Well, that's not quite true. There is something that is guaranteed. If becoming a picture book author (or illustrator) is your passion, if you are willing to put in the time and be productive, if you can muster the patience required, and if you are persistent and never give up, I guarantee that it will happen for you. Because I truly believe that NOTHING IS IMPOSSIBLE IF YOU CAN IMAGINE IT.
My dear 12 x 12ers…go forth and multiply those manuscripts. Develop a stockpile of stories. Take classes, attend webinars, go to conferences. Surround yourself with encouraging and supportive critique partners. And utilize the vibrant platform that Julie has created for us. Build a strong foundation and you will succeed!
Writer for children—reader forever…that's Vivian Kirkfield in five words. Her bucket list contains many more than five words – but she's already checked off skydiving, parasailing and banana-boat riding. When she isn't looking for ways to fall from the sky or sink under the water, she can be found writing picture books in the quaint village of Amherst, NH where the old stone library is her favorite hangout and her young grandson is her favorite board game partner. A retired kindergarten teacher with a masters in Early Childhood Education, Vivian inspires budding writers during classroom visits and shares insights with aspiring authors at conferences and on her blog, Picture Books Help Kids Soar. She is the author of PIPPA'S PASSOVER PLATE (Holiday House); FOUR OTTERS TOBOGGAN: AN ANIMAL COUNTING BOOK (Pomegranate); SWEET DREAMS, SARAH (Creston Books); MAKING THEIR VOICES HEARD: THE INSPIRING FRIENDSHIP OF ELLA FITZGERALD AND MARILYN MONROE (Little Bee Books); and FROM HERE TO THERE: INVENTIONS THAT CHANGED THE WAY THE WORLD MOVESrom Here to There: Inventions That Changed the Way the World Moves (Houghton Mifflin Harcourt). You can connect with her on her website, Facebook, Twitter, Pinterest, Instagram, Linkedin, or just about any place people with picture books are found.
This month, Vivian is offering a picture book manuscript critique to one lucky winner! Write your draft and do a revision for you best chance to win!