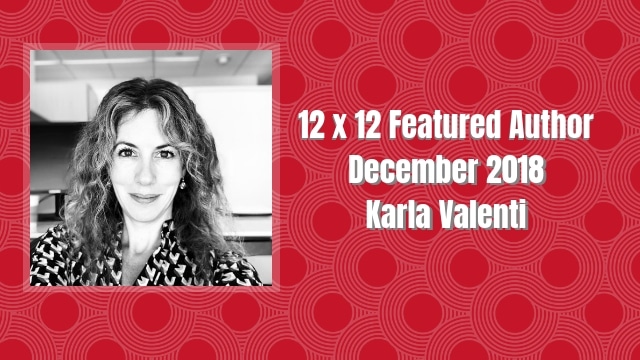 12 x 12 Featured Author December 2018 – Karla Valenti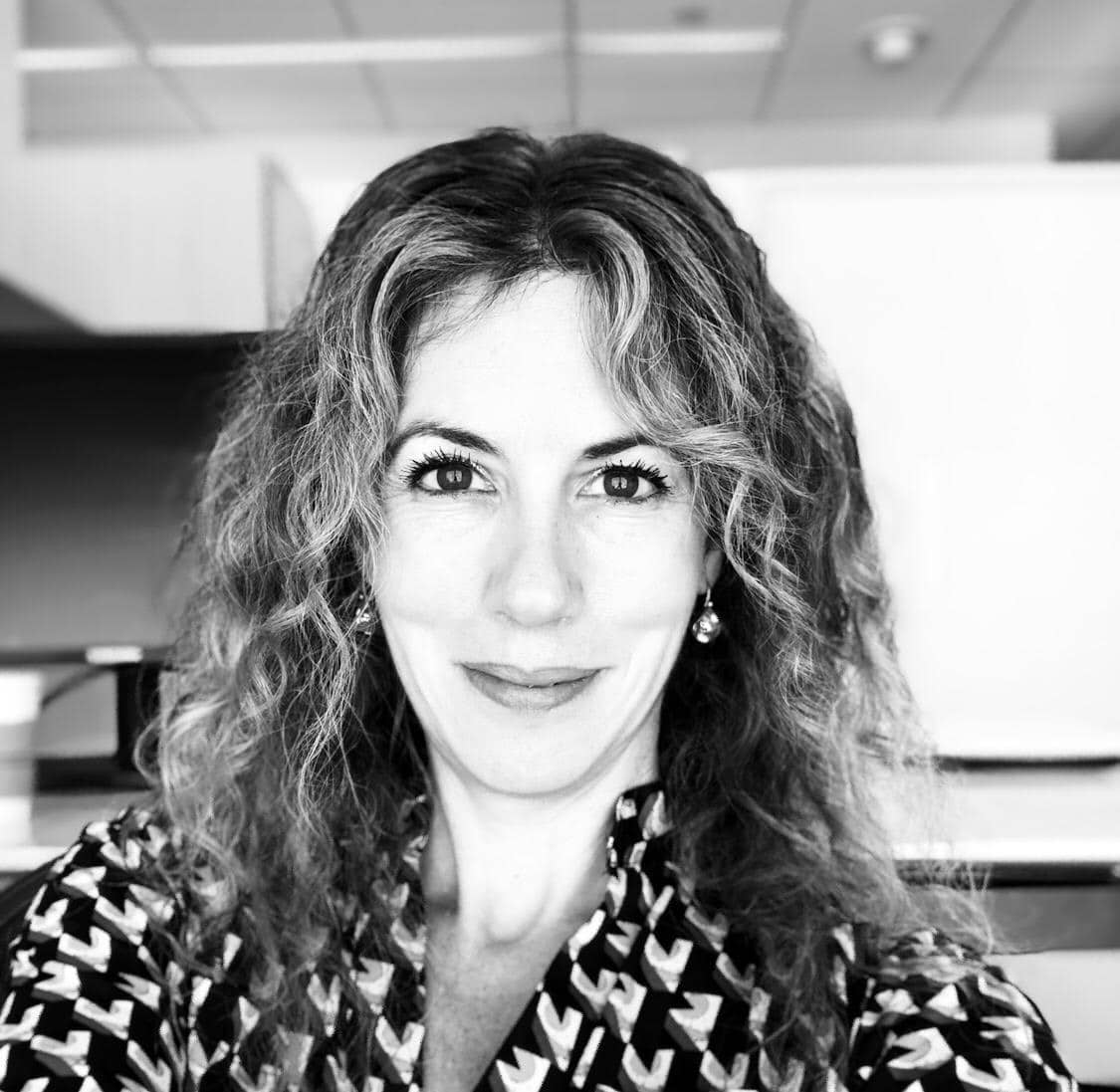 So here we are, twelve months later. Perhaps you wrote 12 manuscripts (or more); perhaps you wrote one. No matter. The first order of business is a round of applause because writing is serious business. After all, you are committing to make magic, to bring joy, to provide insights into the depth of our shared human experience. That is no small thing.
Second, few things make us feel as vulnerable and exposed as sharing our work. So, I want to thank you all for your honesty and courage in doing just that. As a Critique Ninja, I had the opportunity to read so many wonderful manuscripts: stories that made me laugh or swoon or simply pause to relish the experience of a perfect collaboration of words. I truly hope you all continue to find and create inspiration in this next year.
On the topic of being inspired, I thought it might be helpful to share some insights on what I learned as your Critique Ninja, trends I saw, and practical tips to help you revise your stories in the new year.
With that in mind…
Beware of "telling" (or, not enough "showing")
Showing vs. telling is tricky. It sounds good in theory, but what exactly does this look like in practice? And how do you know if you're telling or showing? And should you always be showing, is there never a time to tell?
I like to think of showing vs. telling as the difference between inviting your reader to be a direct participant in the story and having your narrator tell the reader about the story. In the first instance, the reader feels as if she's right there in the story (she is the MC), living everything first-hand. Telling, on the other hand, keeps your reader at arm's-length, needing to get the story from the narrator's version of events (whether that's your MC or a third-party).
Tips:
(a) Think of showing as offering proof. You provide evidence; your reader experiences it and arrives at the truth herself.
Compare:
"Oliver was angry!"
The narrator is telling us about Oliver's emotional state, but the reader isn't experiencing the anger herself.
"Oliver trembled; a ball of heat grew inside him threatening to explode!"
This isn't an amazing sentence but it is providing evidence of anger. The reader assimilates it and arrives at the conclusion that Oliver was angry. This is showing.
By the way, anytime you name an emotion, you are telling.  When revising your manuscripts, identify all references to an emotion and try to communicate the emotions without spelling things out so bluntly. THE EMOTION THESAURUS is a wonderful resource for this.
(b) Offer facts, not opinions or judgements. Let the reader decide how she thinks or feels about what's happening.
Compare:
"Billy was a bully."
The narrator is proving an opinion. The reader is expected to agree. This is telling.
"Billy knocked Oliver off the swing and laughed."
The narrator is simply providing the facts; the reader is providing the opinion ("That Billy is such a bully!"). This act of formulating her own opinion, allows the reader to feel like she is participating in the story rather than simply being led along by the narrator.
(c) Think of readers as detectives, they like to figure things out themselves. So, drop clues along the way that the reader can pick up to put two-and-two together.
Compare:
"Suzy was an inquisitive child."
This is the narrator providing a conclusion.
"Suzy devoured books long into the night and peppered her parents with questions for hours the next morning."
You have provided clues that the reader can interpret on her own.
(d) Minimize the dialogue. Talking is, by its very nature, telling. Anytime your characters are talking, the story is being told. That's not to say you should never have dialogue in your stories. The key is to remember that readers like to feel engaged, they prefer active vs. passive acts. Use dialogue, but be selective about when and how you do so to ensure it doesn't bring the story to a halt.
(e) One final point here, just because showing is more engaging than telling doesn't mean you should always be showing. There are times when telling is better (particularly when you want to create distance between the reader and the characters, or when you don't need to take the readers so in-depth). The key is to be mindful of when and how you tell vs. show and use these techniques strategically.
Not enough story structure (or, the missing goal)
Structure is essential to reader engagement. That doesn't mean stories must be formulaic or all follow the same pattern. Rather, think of structure like the framework that supports a house. You need columns and floors, ceilings and walls in order to ensure your house will stand. That said, once the structure is in place, there are many variations your house can take.
Stories built around a solid structure make it easy for readers to enter into that space and explore new ideas. Conversely, if the story lacks structure, the reader may spend a great deal of time simply trying to get his footing.
So how does one build a story structure? There are many components to this. However, the first requirement is to ensure there is a goal.
Tips:
(a) A goal creates a purpose; it gives the reader a compelling reason to join the story in lieu of any number of other things he may want to do. To be clear, a goal need not be loud or dramatic (it can be as quiet as "being quiet"), it doesn't need to be big or even span beyond the 32 pages of the book. However, you want the reader to know what this goal is from the very beginning, and it must be something towards which the MC is actively working throughout the story. So, ask yourself: what does the MC want? Why is this particular moment in your MC's life so very important? Why should the reader care? Try to fit this goal in one sentence and use that as your guiding post throughout the rest of the story. (e.g. the MC wants X)
(b) As the story unfolds, it's easy to get distracted and take our characters in various and tangential directions, exploring other objectives or ideas. Keep the story on track by making sure that every scene in your story ties back to your underlying goal (e.g. the MC wants X and everything he does is in pursuit of X).
(c) Your MC's goal must be within his capabilities, realistically-achievable, and believable by your MC (i.e. the reader may not believe the goal is realistic or worth pursuing. That's irrelevant. What matters, is that the MC thinks it's so).
(d) Consider, is there a challenge or oppositional force? What (or who) is preventing your MC from reaching his goal? This is important because it creates conflict (and conflict is always engaging). Also, it keeps the goal ever-present in your reader's mind. To be sure, a quiet story may not have an oppositional force and that's fine. You just want to avoid a narrative where your MC has reached his goal before the story really gets rolling.
(e) Perhaps your MC doesn't have a specific goal and this is simply a story about… being. In that case, make sure you have a goal. What do you want to achieve with this story? What do you want to leave your reader with at the end? Does every scene further that goal?
Not enough agency (or too many helpers stealing the MC's thunder)
The MC has a goal and the reader wants to see the MC either reach it or not. It matters less whether the MC succeeds than whether the MC makes an effort. Think about that. A reader is less interested in a happy ending than in an ending well pursued.
Why? Because this is how things go down in real life. If we want something, we have to be the ones to go after it. If we want something done, we have to do it.
A character who is simply given what they want or whose problems are solved for them is not nearly as compelling as one who has to struggle – to suffer! – in pursuit of her dream. Just think about someone you greatly admire. I would venture to say that what makes them admirable isn't necessarily what they accomplished, but what it cost them to accomplish it (how hard they worked to reach their goal).
We can relate to struggle, we know how hard it is to want something and not be able to have it. On the other hand, few of us can relate to being given everything we want or need. Which is to say, a character who doesn't have to struggle or is given all the answers, is a character to whom we cannot relate.
Tips:
(a) Identify the specific acts your character is taking in pursuing their goal and make sure those are the acts that matter. Someone else can "lend a hand" but in the end, make sure the MC is the one who does the hard work and actually solves the problem. Keep your secondary characters from stealing the MC's thunder!
(b) Take a close look at the moment when your character gets what they want. Did they "earn" it or was the solution handed to them (or worse, it came to them out of thin air)? How hard did the character actually have to work to get it? Hopefully, insanely hard!
(c) Make your character suffer; test their mettle. Or…. to put it a less tortuous way, give them an opportunity to shine. The more a character struggles, the more meaningful their victory becomes. That's because the value of their success is directly related to the effort they put in pursuing it. If it's too easy a win, it diminishes their effort.
(d) Of course, there are stories that don't require such a dramatic struggle. However, keep the spotlight pinned on your MC; make sure you are spending most of your story real-estate on your MC and that your MC is the one doing what needs to be done. And by the way, this doesn't mean the MC has do everything right. Mistakes count as effort (and make the story more interesting). As long as the MC is actively pursuing the goal, whether they succeed or fail is not important.
In closing, writing is very much like setting off on an adventure. You have a goal, you have a challenge. You try and try and try again. Maybe you'll fail, maybe you'll succeed. For sure you'll struggle – you'll suffer! – you'll want to walk away. Maybe someone else will steal your thunder. But like the characters we come to love the most, your heroic self will surface in the simple act of continuing to put pen to paper and chase that story into the next year. Hopefully these tips and strategies will fit in your toolbox and help you get to THE END of your next adventure.
Karla Valenti is a writer of children's picture books and middle grade novels. She also offers picture book critiques (http://www.karlavalenti.com/critique-services/) and a Master Course on Picture Book Writing (http://www.karlavalenti.com/master-course/). After six wonderful years in Germany, Karla has recently moved back to Evanston, IL where she lives with her husband and three kids. Her new book, MARIE CURIE AND THE POWER OF PERSISTENCE, is due out from Sourcebooks in Spring 2019. 
This month Karla is giving away a spot in your Master Course in Picture Book Writing to one lucky 12 x 12 member. Get those drafts done and finish strong!