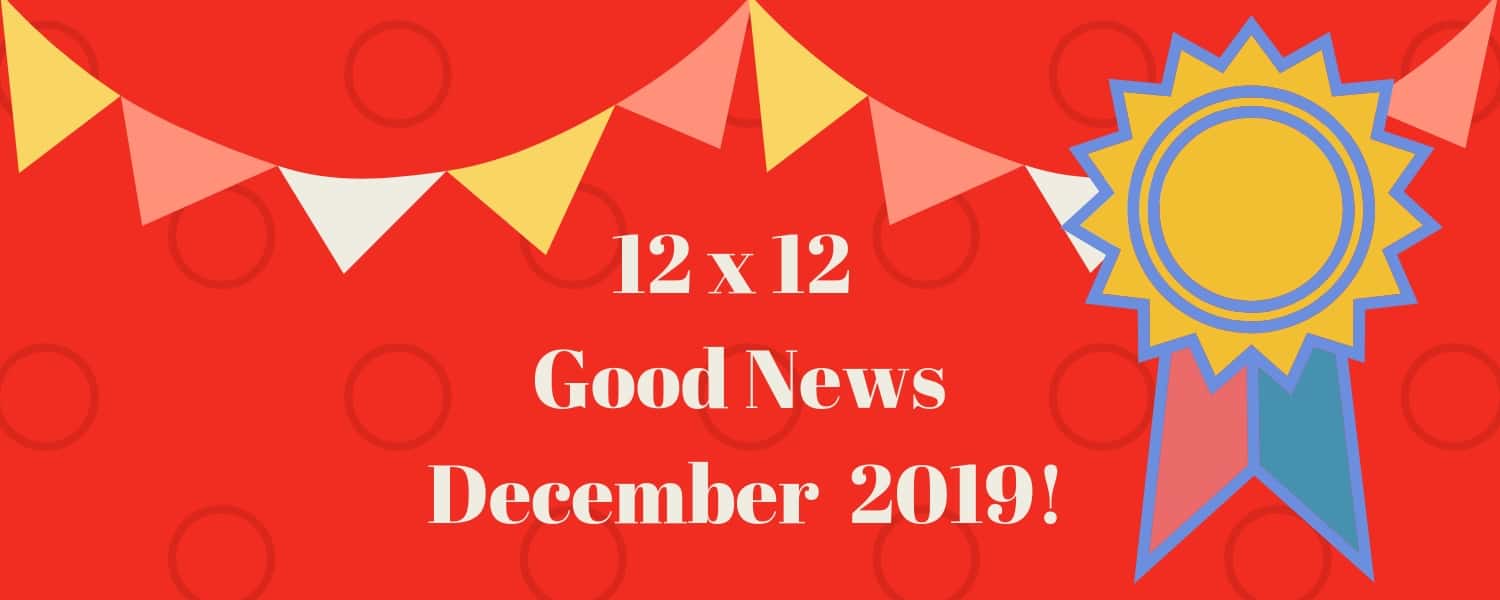 12 x 12 December 2019 Good News!
Welcome to the monthly digest of all the great "goings-on" of 12 x 12 members. We're excited to celebrate during such a celebratory time! Congratulations to everyone for their achievements. There is so much to celebrate! Be sure to have your good news submitted by the 1st of the month for inclusion in that month's Good News Post. A link to the Good News form can be found under Important Announcements in the 12 x 12 forum.
Help an author out! Click on the "Click to Tweet" links to share on Twitter. Request these books at your local library. Write reviews on Amazon, GoodReads, and B&N. Your fellow authors will thank you!
Book Birthdays
Congratulations to Katrina Moore on the December 10, 2019 release of ONE HUG (Katherine Tegen Books)! (Click to Tweet)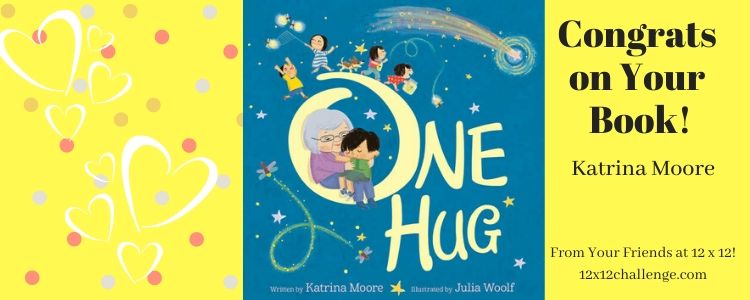 Signed! Look who has an agent!
Maggie Brown signed with Adria Goetz of Martin Literary Management! Woohoo!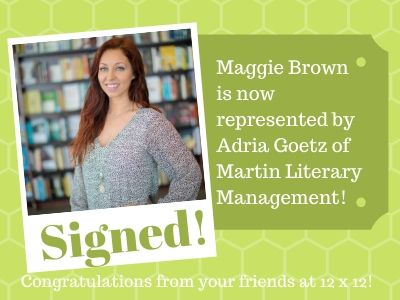 New Book Deals
Congratulations to Jessica Kulekjian on the sale of MIGHTY, IN THE KINGDOM OF TREES to Kathleen Kennan at Kids Can Press! The book will be illustrated by Madeline Kloepper. Hooray!

Congratulations to Kari Lavelle on the sale of WE MOVE THE WORLD to Nancy Inteli at HarperCollins! Nabigal-Nayagam Haider Ali will illustrate.  Awesome!

Congratulations to Katelyn Aronson on the sale of CLOVIS THE BULL AND HIS CHINA SHOP  to Charlotte Wenger! The book will be illustrated by Eve Farb. Way to go!

Congratulations to Michelle Garcia Andersen on the sale of A HOOT AND A HOWL to Courtney Burke at Page Street Kids! Ayesha L. Rubio will illustrate. Woo-hoo!

Congratulations to Rajani LaRocca on the sale of BRACELETS FOR BROTHERS to Karen Boss at Charlesbridge! Chaaya Prabhat will illustrate. Good news indeed!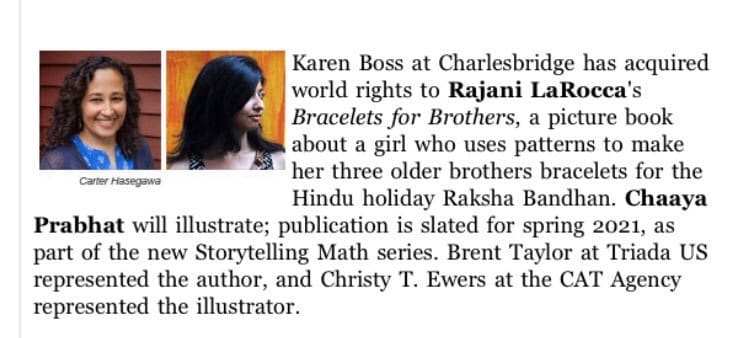 And the announcement we've been waiting so long to bring you: Congratulations to Julie Hedlund on the sale of OVER, BEAR! UNDER, WHERE? to Talia Benamy at Philomel! Michael Slack will illustrate. Huzzah!!

Awards
Congratulations to Edna Cabcabin Moran on HONU AND MOA winning the 2019 Aesop Accolade from the American Folklore Society! Congratulations!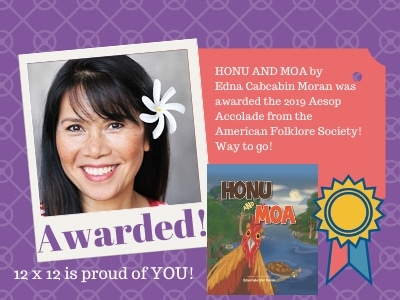 Congratulations to all our members on seeing their hard work pay off! We are so proud of you! 12 x 12 members, if you have good news about a new book, agent signings, book deal, or writing award, share it with us. Our next Good News post will be in February. A new Good News form will be available in the Important Announcements section of the forum after registration begins January 9, 2020.
Happy Holidays!