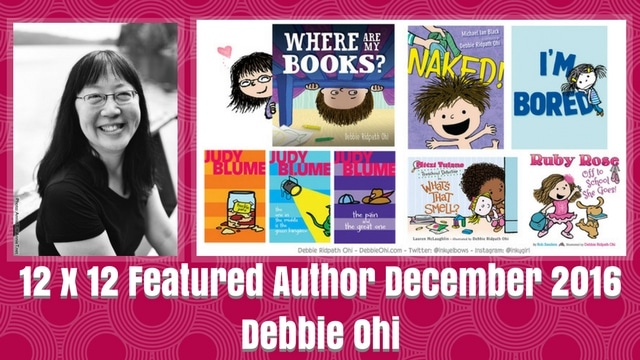 12 x 12 December 2016 Featured Author – Debbie Ohi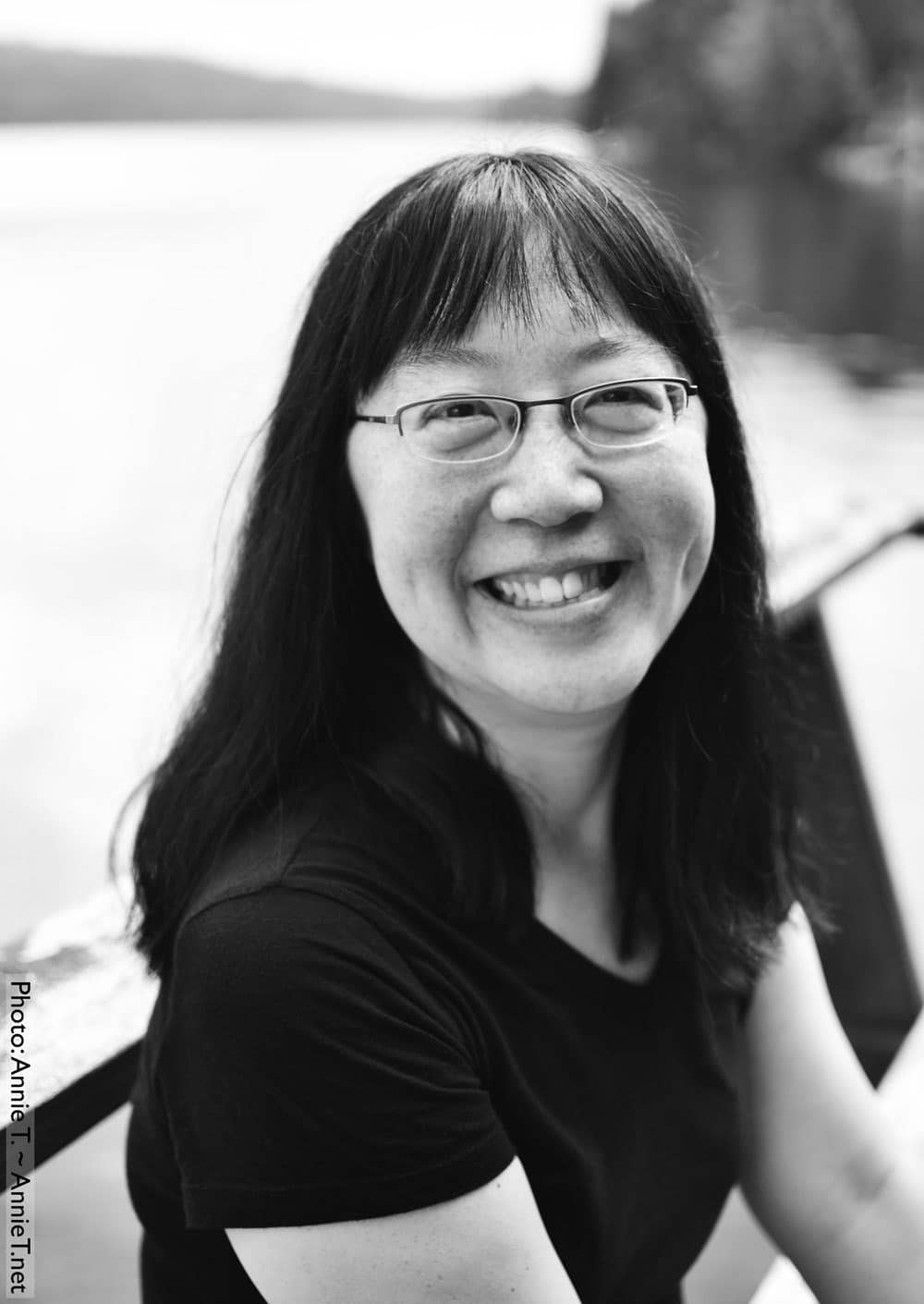 Wow! Do we have an exciting way to end our 5th year of 12 x 12 – a featured author post from none other than Debbie Ridpath Ohi! I've met Debbie several times at various SCBWI events, and I am always amazed by how bubbly and cheerful she is. She makes time to talk to everyone, even now that she's catapulted into stardom (basically, I consider anybody who gets to illustrate JUDY BLUME books a superstar)!
For years, I've been a fan of all things Debbie. She was a pioneer in the arena of technology for writers. She created (and still creates) epic comics depicting the agony and ecstasy of the writing life. And, not least of which, has written and illustrated some of my favorite books in recent years – especially WHERE ARE MY BOOKS?
Please join me in giving the warmest of 12 x 12 welcomes to Debbie!
We have something in common. We both came from corporate careers – me in electronic banking and you in programming. How did you KNOW you wanted to switch into something that was arts focused?
​Hey, I didn't know you came from an electronic banking background! I was a programmer/analyst, helping to design and code the teller interfaces at Toronto-Dominion Bank branches across Canada. At first it was fun… then less so over time. I looked ahead to where my career track was heading — much more management and less programming— and dreaded the future rather than being excited about it. I tried to transfer within the company, but wasn't able to. I felt trapped. My boyfriend (who is now my husband) saw how miserable I was and convinced me to finally quit after two years, saying he'd support me so I could pursue my creative dreams. While I worked on my novel writing, I earned money doing nonfiction freelance writing as well as working part-time for the Toronto Public Library as well as in a children's bookstore.
I've always loved the arts but had never considered a career in the arts. My family didn't have a lot of money; my mom sewed most of our clothes, we sometimes used powdered milk instead of liquid milk because it was cheaper, etc. It made sense to get a full-time job that had a steady income. I liked computer programming, so I decided to get a computer science degree.
Hm…I don't think I really answered your question. To sum up: I have always loved the arts but never considered switching careers until my husband convinced me to do it. I will always be grateful to Jeff for that. Here's the dedication at the front of I'M BORED, my first children's book project: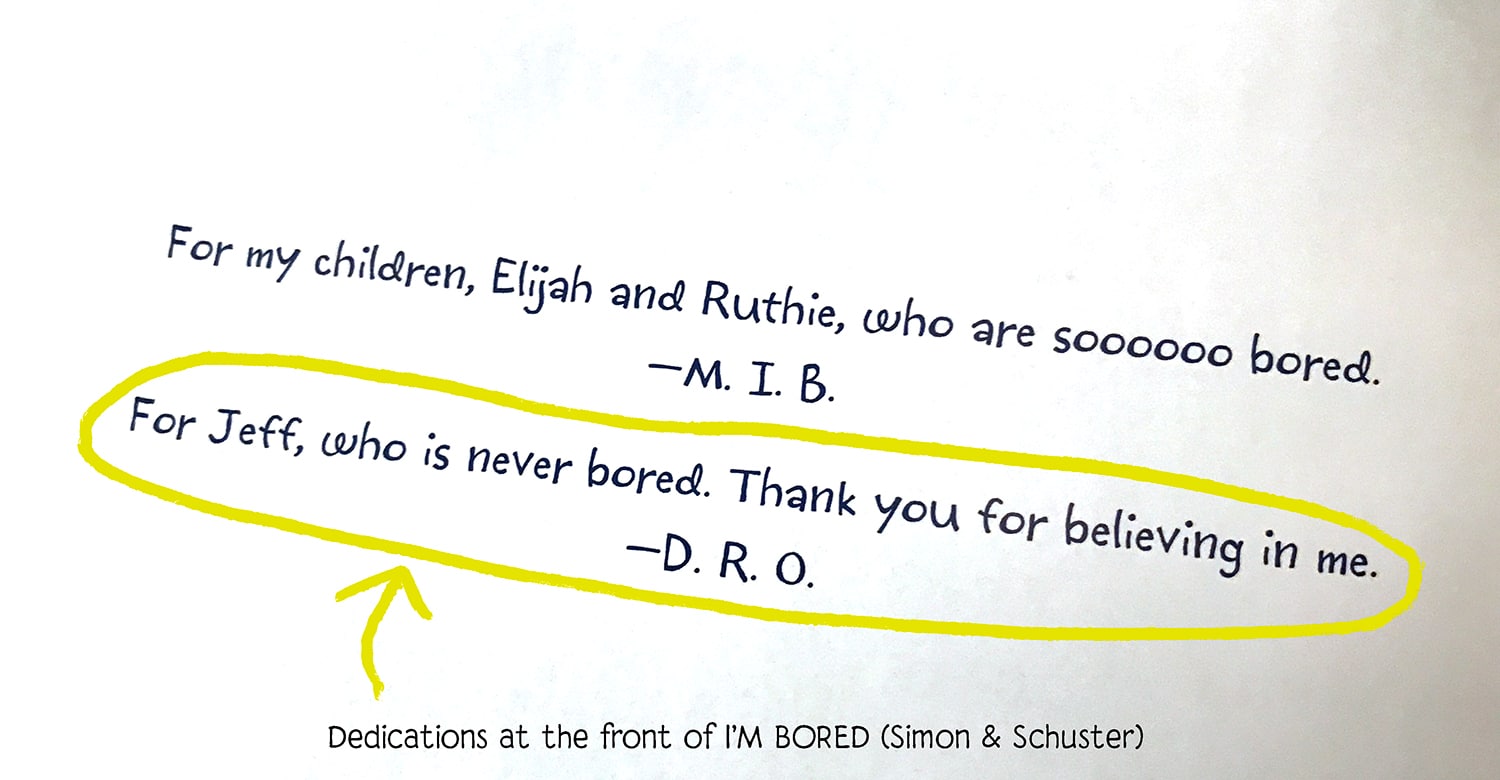 It's one reason I strongly advise children's book authors and illustrators to have a supportive network, people you trust and who encourage you. It's made all the difference to me. There are different types of support, of course. It's wonderful to have a peer group for critiquing, commiserating, etc. but I also find it so important to also have people like Jeff and my sister Ruth for closer emotional support.
I heard you in an interview say you didn't have formal training in illustration. How did you educate yourself in order to become a professional in this field?
I didn't really set out to educate myself about children's book illustration in the beginning, mainly because it never crossed my mind that I COULD be a professional in the children's book field. I was doing a lot of writing, reading books about the craft and business of writing, however, because I was all about writing middle grade novels.
I was also doing a lot of webcomics, just for the fun of it. I've always loved drawing comics, ever since I was a little kid. One of my very first comic strips was created when I was in grade school, about a baby named Boppy. Wish I had kept some of those! I created comics for a homemade family newsletter.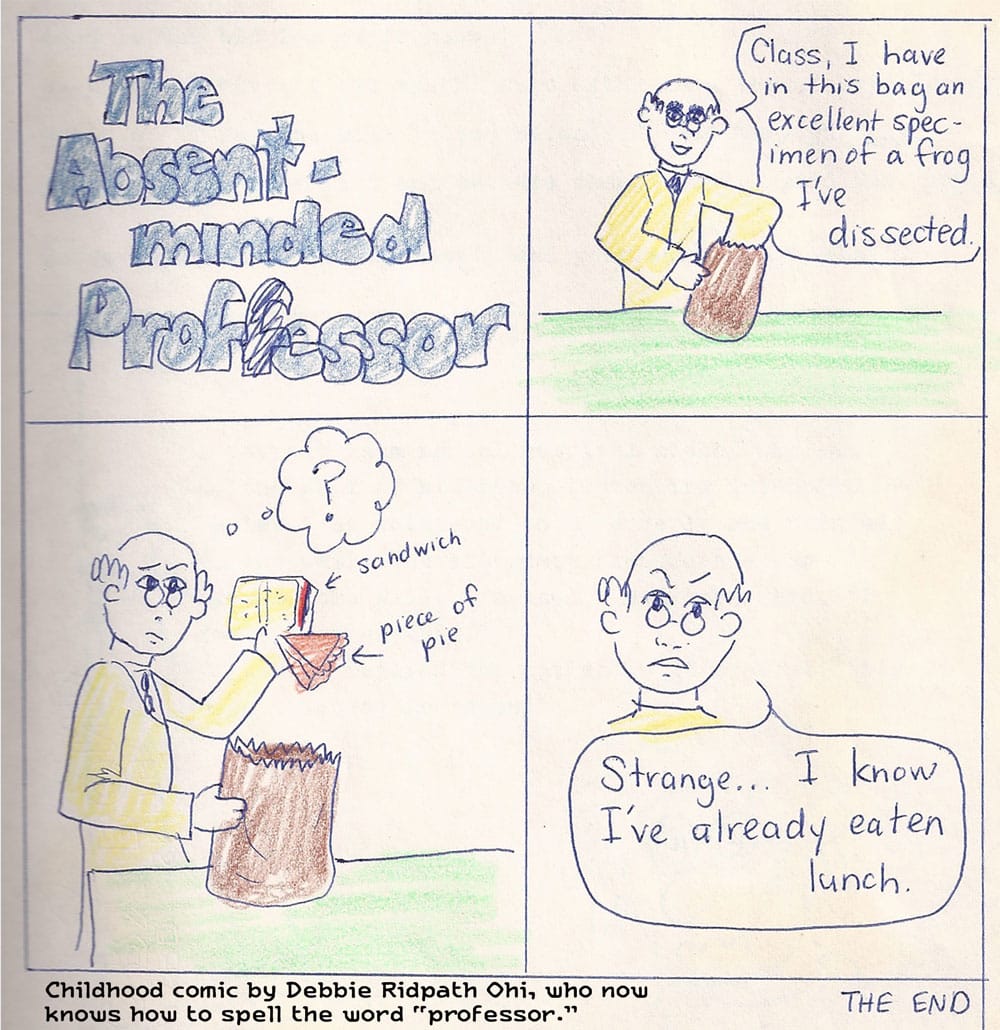 I entered and won a comics contest in a country-wide high school newsletter; the prize was an electric typewriter! I was so excited. Then came the Internet, and I started several comic strips including an semi-autobiographical comic called My Life In A Nutshell, a comic about avid fans waiting in line for the Lord Of The Rings movies, Will Write For Chocolate, plus a lot of comics about freelance writing.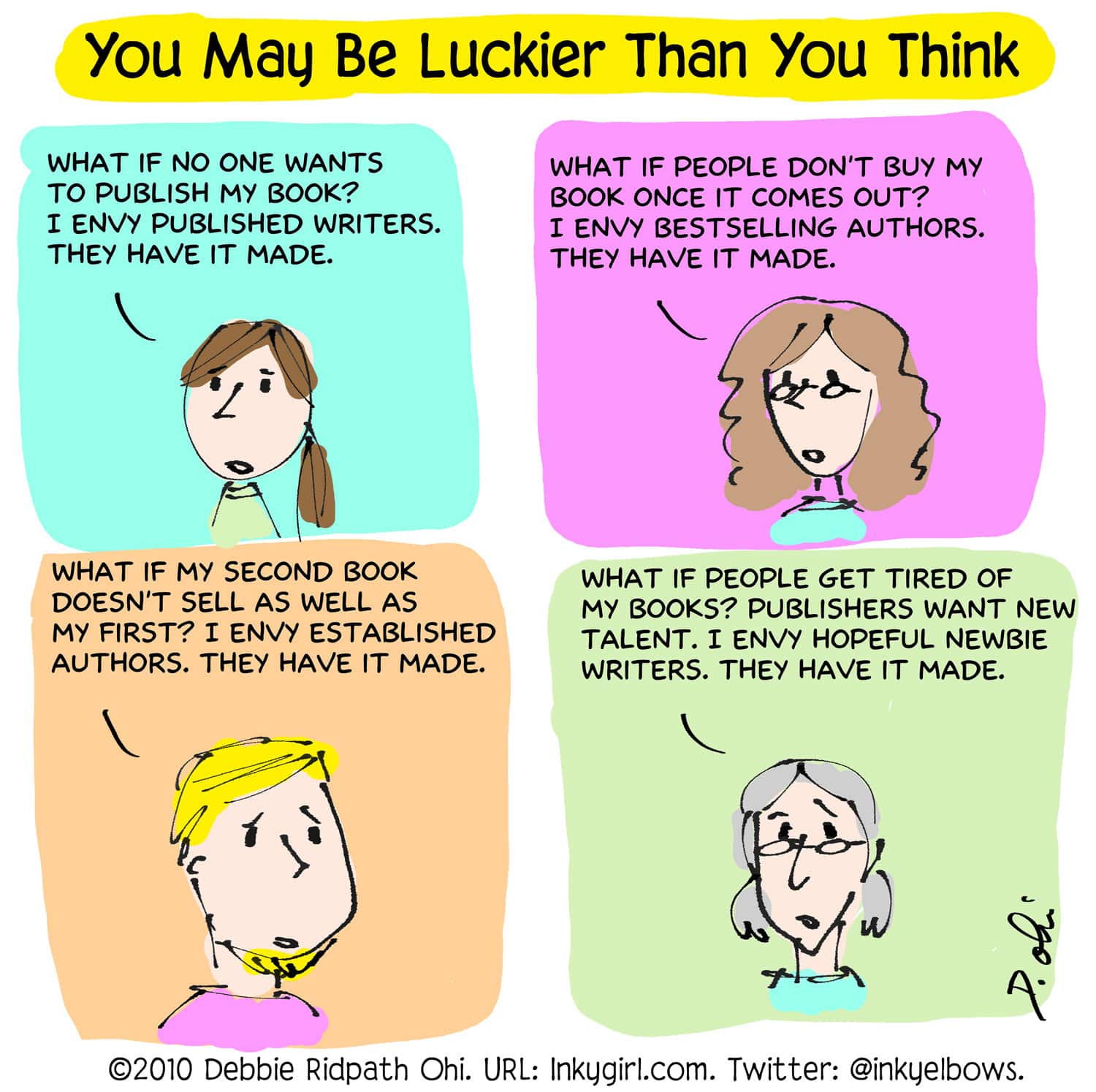 I loved the feedback I got for my webcomics, and would make changes to how I told the stories and conveyed characters because of that feedback. Creating comics helped me hone my storytelling skills and also taught me to essentialize, to pick out key moments in a storyline, and to craft a satisfying ending.
Since my career-changing SCBWI Summer Conference in 2010 (You can read a blog post about it here: http://kidlitartists.blogspot.ca/2010/09/how-rejection-got-me-book-deal-my.html), I've also been trying to learn more about the craft and business of children's book illustration through sessions at SCBWI conferences, reading blogs and other posts by people I admire in the industry, constantly reading children's books, browsing the children's book sections in libraries and bookstores, experimenting with new techniques and media, doing more life sketching and drawing a LOT.
I'm also learning a lot from other children's book illustrators as well as some of the art directors and editors I work with, especially Laurent Linn and Justin Chanda at Simon & Schuster Books For Young Readers. I like taking on book projects that challenge me somehow, force me to learn something new.
You have illustrated several books for others (Michael Ian Black, Rob Sanders, Aaron Reynolds, etc.). How do you approach illustrating other people's words?
​I always start by reading over the manuscript through several times. Then I read it over again many times but do some scribbling on the paper (I like to print out the manuscript for this reason) as well as on notepaper.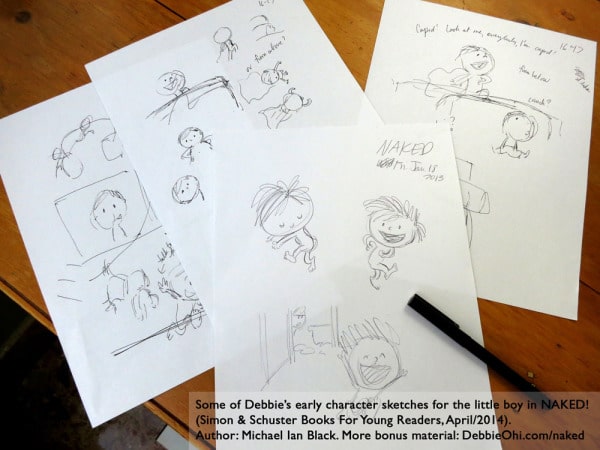 I figure out what illustration style would be best for the story, how to best enhance the author's text, how I could enrich a reader's experience through the story. I try to do something a bit different for every story to make it more fun and challenging for me as well as for the reader, plus make sure the books I illustrate don't compete with each other.
I love the puzzle-solving aspect of illustrating picture books! There are always many different ways to draw a certain illustration spread, but I want to choose the one that best enhances the story in context with the other spreads. There's a lot of experimentation, going back and forth, checking the overall flow. My favourite part of the book illustration process is right at the beginning, when anything is possible! But it's also the most stressful, since I do have so many choices.
I've created some templates that help me with the initial idea-brainstorming process with picture book illustrations as well as when I'm writing and illustrating a new picture book. I've provided these online for free download/printing, if anyone's interested: http://inkygirl.com/inkygirl-main/2015/11/4/free-picture-book-thumbnail-templates-for-writers-and-illust.html
You have also written and illustrated your own book (WHERE ARE MY BOOKS?) How was that process different from illustrating others?
I get a huge amount of satisfaction when I both write AND illustrate my own book. It's also kind of scary, though. When a book comes out that I've illustrated but not written, then I feel as if I'm standing there up on stage with the author, both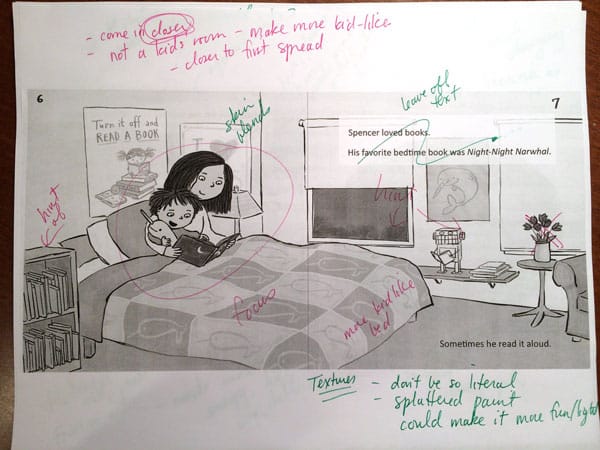 of us supporting each other. When it's completely MY book, then it's just me up there alone. If reviewers don't like it, it stings more.
Illustrating my own book is easier than illustrating someone else's book. If I'm working on the illustrations and realize that there's a flow problem or a change in the text that would strengthen the book overall, for example, I can make that change without having to get the art director to talk to the editor to talk to the author about whether it's ok to make the change. I also don't have to guess what was going through an author's head when he or she wrote part of the story.
Having said that, however, I will ALWAYS want to continue illustrating other people's stories as well as books I've written. I get a different kind of satisfaction from that process, bringing other people's text to life with my drawings, plus it gives me the chance to work on stories that I could not have written myself.
Can you talk a bit about how you (as an illustrator) know that an illustration is finished? How many drafts/sketches typically go into one completed illustration.
If it wasn't for deadlines, I could probably keep tweaking an illustration forever. That's why I'm so grateful to my art directors and editors, who help keep me on track and let me know if an illustration needs more work. I'm the same way about my writing as well.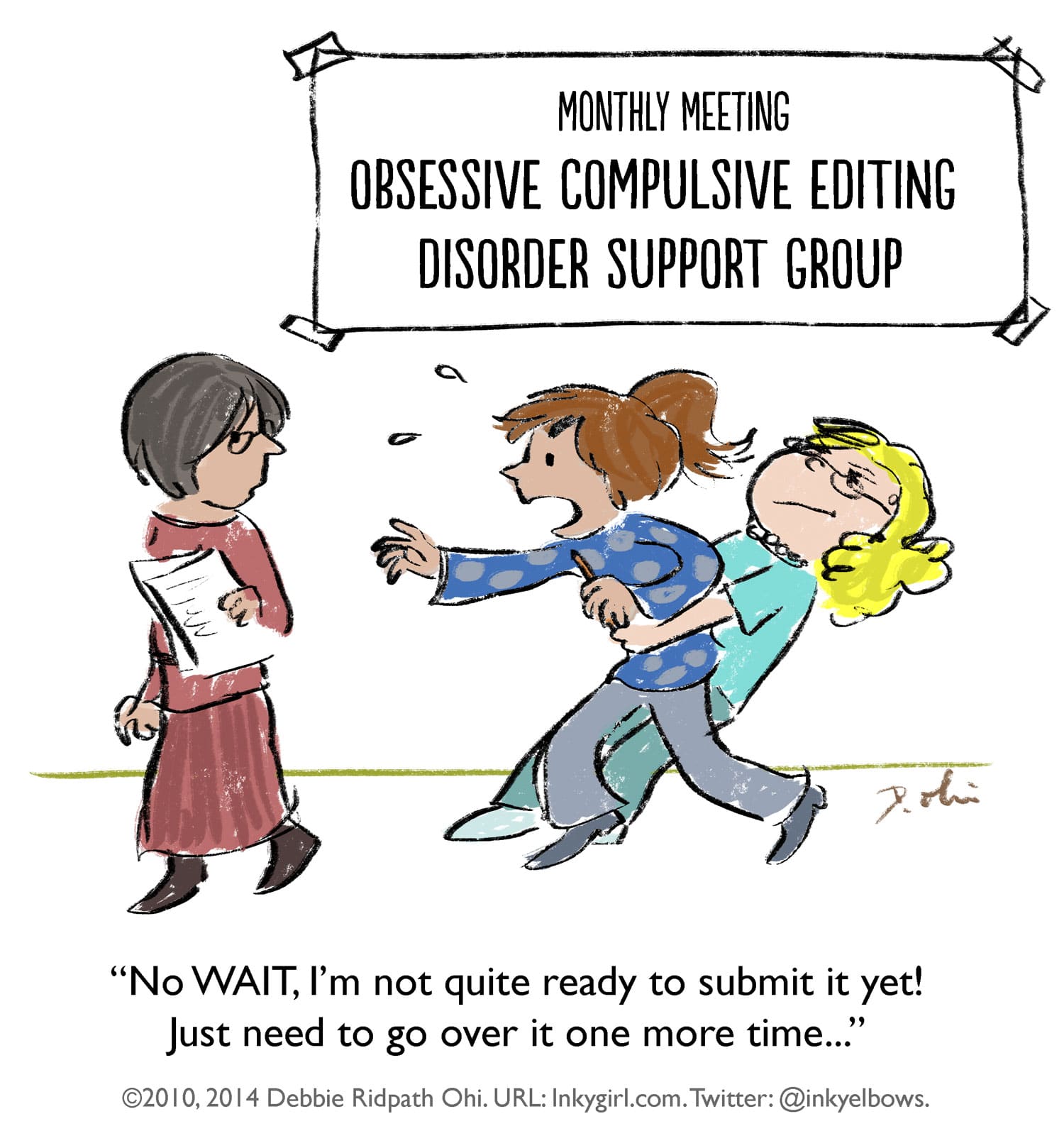 As for the number of drafts/sketches that typically go into one completed illustration, it depends on the project and on the illustration. I usually go through at least two or three formal rounds of sketches before final illustrations. By "formal," I mean rounds of sketches that I send to my art director. For each formal round, I also do multiple versions of each sketch on my own. For the more complicated or challenging spreads, I will go through at least 40-50 rounds of sketches.
Has your illustration style changed/evolved over the years?
​Yes, definitely.
I have multiple illustration styles, and each has evolved over time. I like experimenting and challenging myself, trying new techniques and new media. Here are just a few samples to show how much my illustration style changes: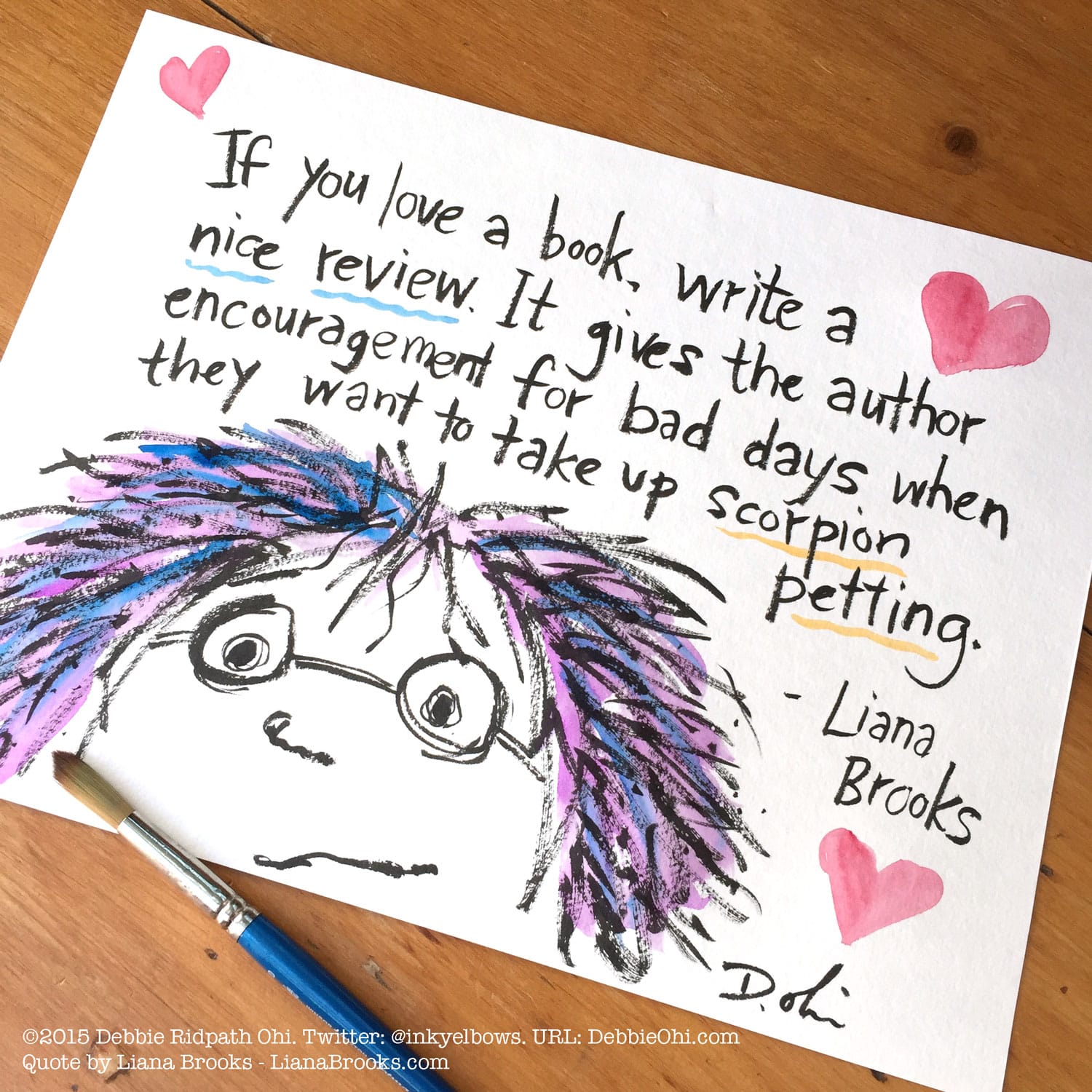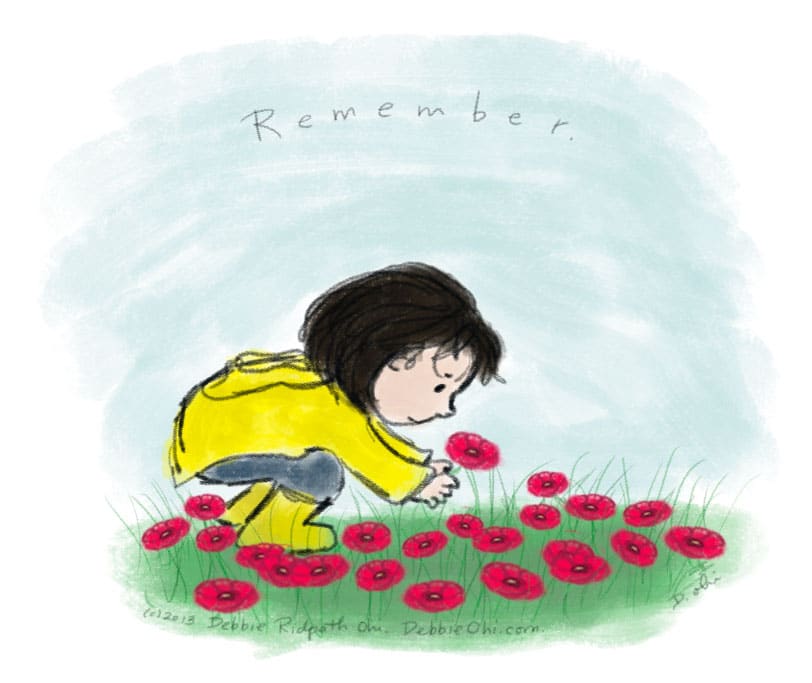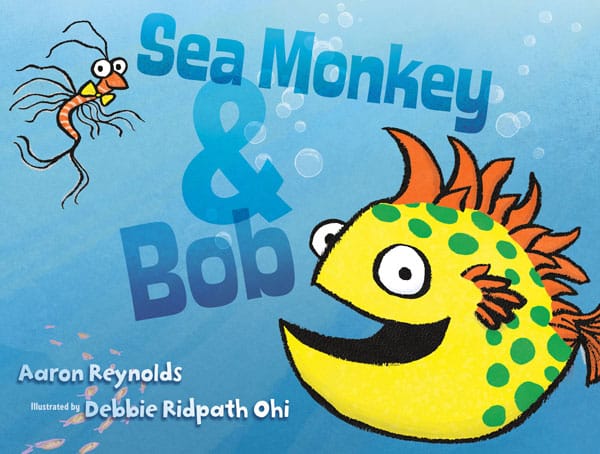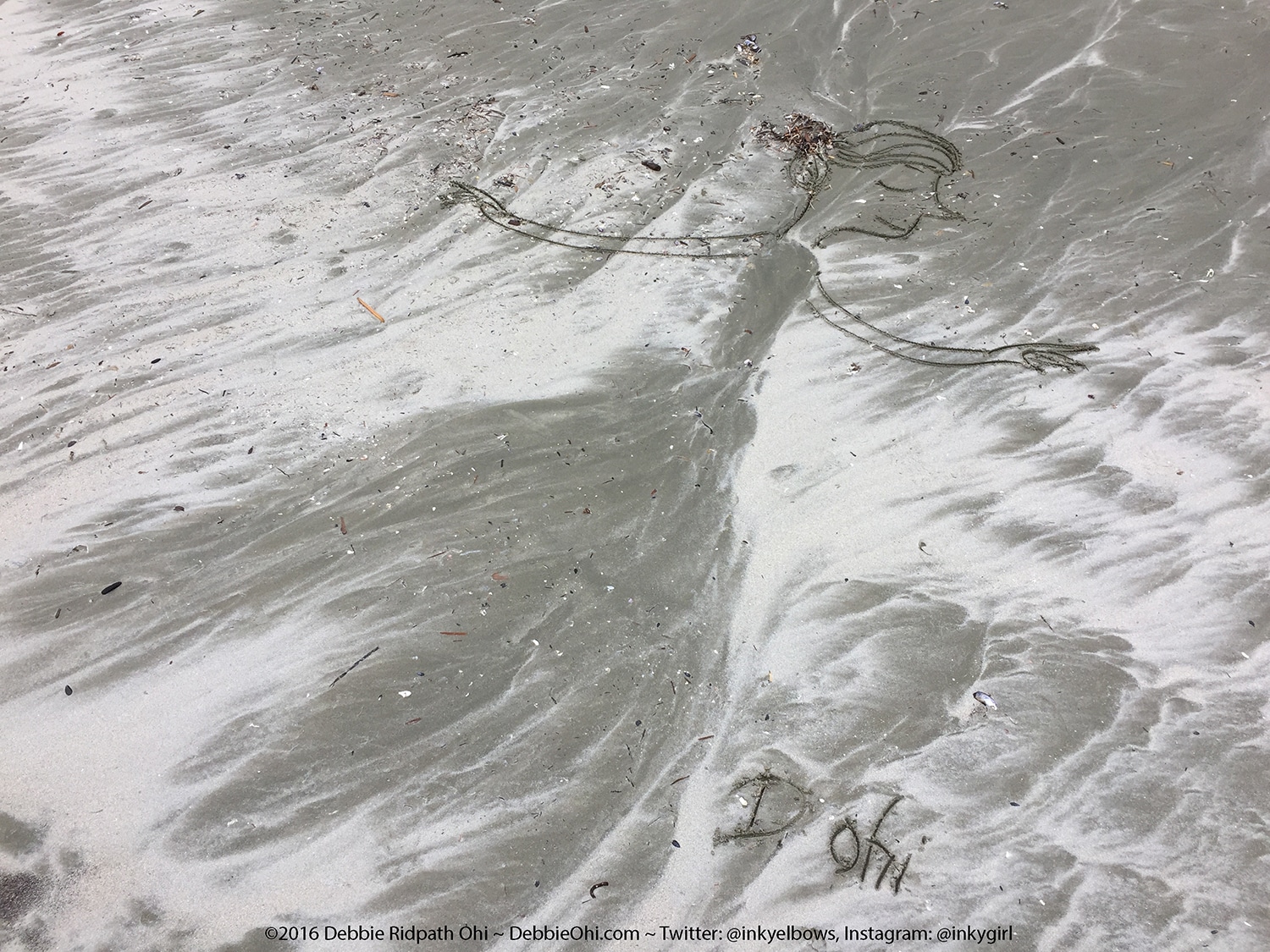 One thing I've noticed about you is your energy, enthusiasm and positivity. This is a tough business. What are your strategies for staying upbeat even through difficult times?
Thanks! I appreciate that.
When I'm finding myself in a particularly difficult or stressful times, I try to focus on:
– Being grateful. I find it helps to focus on the good people and things in my life rather than the bad.
– Staying positive in social media. I want to emphasize that this is just my approach, what helps me; I'm not saying everyone needs to do this. Why I try (I fail sometimes) to stay positive: I find negativity feeds negativity. Though posting something snarky or complaining or venting online can feel good in the short-term, I almost always regret it long term. Instead, I vent or lean on trusted friends and family in private.
– Keeping things in perspective. See my "When I Learned To Actively Pursue Happiness" post in Robert Lee Brewer's Life Changing Moments series: http://robertleebrewer.blogspot.com/2012/02/when-i-learned-to-actively-pursue.html
– Having a life outside of the business. This was especially important during the many, many years of rejections. I go for walks outside, play my flute, get together with friends, play board games, dance in the front yard when the moon is full. Ok, maybe not so much the moon-dancing part, but only because we have no front yard.
– Making time to play.
Any advice for pre-published illustrators still working to develop portfolios and/or get an agent?
A few tips I've learned from my own experience as well as from others in the industry:
– Only include images that you're excited about. Don't just include them because you think other people will like them.
– Include a sequence of images that show you can tell a story through illustration. This also helps show that you can keep a character or characters consistent-looking throughout. Most illustrators can come up with great standalone images but the challenge is to show editors, art directors and agents that you can illustrate picture books.
– If you want to get into children's picture book illustration, read a LOT of children's books. Especially look at the ones that have been published in the past few years. I've seen so many portfolios by aspiring children's book illustrators that include pieces are absolutely gorgeous but are also not appropriate for children's books. You are much more likely to get attention for your portfolio work if you can show that you appreciate and understand picture books.
​- Include images that suggest a story. And not just any part of the story, but a bit that hints that something exciting or intriguing is about to happen, that makes us want to know MORE.
What's up next for you? Books you are working on? Double-secret projects you want to share? 😉
​Right now I'm working on:
– Sketches for I'M SAD, a sequel to I'M BORED written by Michael Ian Black, to be published by Simon & Schuster Books For Young Readers.
– My contribution for Colby Sharp's THE CREATIVITY PROJECT middle grade anthology with Little, Brown.
– A middle grade novel. I had put this on the back burner when I began getting picture book illustration contracts. I took it out again and am still excited about it, so I figure that's a good sign. 🙂 Some people don't know that I began as a middle grade novel writer, and it's my MG writing that helped me get my awesome agent (Ginger Knowlton at Curtis Brown). I've written three MG novels in the past. The first two were sent out and though I close with the second, neither found a home…. though the rejection letters were getting more and more encouraging. I never ended up sending the third novel to my agent because I could tell it just wasn't strong enough. Fast forward to now, and I'm working my fourth MG novel. In retrospect, I'm glad those early novels weren't published because I am a better writer now and also have more experience with the industry. There's no guarantee that this new novel will be published, of course, but I'm more hopeful this time. Please cross your fingers for me!
– A new picture book dummy. I actually have two ideas that I'm working on right now.
BONUS: If you had to choose only ONE dessert to eat for the rest of your life, what would it be and why?
Cupcakes.
I'm a big fan of cake in general, and I'm also a fan of miniature food. Cupcakes are the ULTIMATE DESSERT for me.
Debbie Ridpath Ohi is the author and illustrator of Where Are My Books? (Simon & Schuster). Debbie's illustrations appear in books by Michael Ian Black and Judy Blume, and she has worked on projects with Simon & Schuster, HarperCollins and Random House. Upcoming books in 2017 include Debbie's second solo picture book, Sam & Eva (Simon & Schuster), Sea Monkey & Bob (Simon & Schuster, author Aaron Reynolds), Mitzi Tulane, Preschool Detective in The Secret Ingredient (Random House, author Lauren McLaughlin), and Ruby Rose, Big Bravos (HarperCollins, author Rob Sanders). Debbie posts about reading, writing and illustrating children's books at Inkygirl.com. Twitter: @inkyelbows.