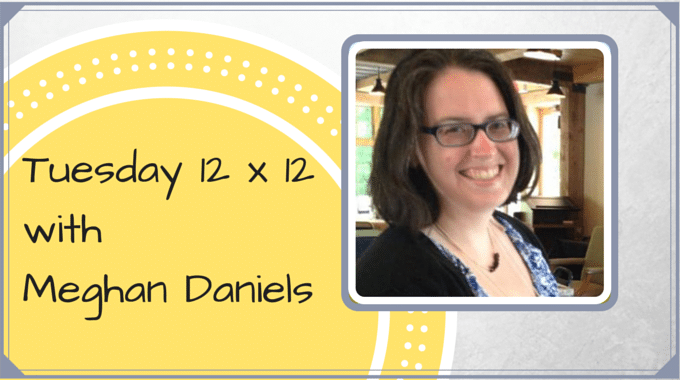 Tuesday 12 x 12 – Meghan Daniels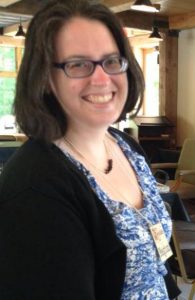 I admire anyone who lives a deliberate life instead of the one handed to them or the one others expect them to live. I recognize a lot of myself in Meghan Daniel's journey, and I love that she refers to 12 x 12 as an investment. 12 x 12 is challenge, for sure, but ultimately, it is an investment in the growth of your writing skills and career. Making a commitment to your writing can do nothing but pay dividends, and Meghan is most definitely on her way! 
I've been writing for as long as I can remember. I wrote about anything and everything, but mostly I wrote a lot of angsty non-poem poems. Somewhere along the way I started thinking about writing children's picture books. I did some research on whether or not I would need to find an illustrator. (No.) I worked on my one manuscript over and over again. I got feedback on it and sent it off to an agent. She gave me some very encouraging feedback and I rewrote my story based on her suggestions. She agreed to read the new version and while she saw an improvement, she felt it still needed work and suggested I workshop it some more.
In the meantime, I got laid off, started school, and a new job. I didn't have much time for writing. When I found myself avoiding my Accounting I homework by doing my Business English homework, which involved a lot of editing, I asked myself why I was doing this and realized it was because I didn't want to be an accountant, I wanted to be a writer.
I looked up Chautauqua, a week long workshop put on by The Highlights Foundation, that I found out about a few years ago. Things have changed a little bit since then and Highlights now has several workshops on a variety of different topics and their own campus. I found one that sounded perfect, Super Children's Book Boot Camp (SCBBC). I applied and was accepted. I was thrilled, but how to pay for it? I received a partial scholarship and funded the rest through a gofundme campaign supported by family and friends. Deciding to apply and attend SCBBC was one of the best decisions I ever made.
When I was picked up at the bus stop, one of the instructors, Denise Fleming, was already in the van and she immediately welcomed me. On the grounds there is a barn where the workshops take place, a house where the faculty usually stay, some small cabins and a lodge used by workshop attendees and Highlights staff. It is all very charming and I was pleased to be lodging in an adorable private cabin. Other instructors included Pat Cummings, who was my group leader, Paul O. Zelinsky, and Bruce Degen, all industry vets. I was on such a high after that weekend that I needed to be around more picture book writers.
I took another weekend long intensive here in Austin, Texas, where I live, at The Writing Barn. I also took a few online classes, one through The Children's Book Academy and one with Harold Underdown and Eileen Robinson. Through that class I also purchased a critique with Harold and had a chance to speak with him on the phone about my manuscript critique, which was very insightful. Harold's personal website is also a wealth of information.
I rounded out 2014 by participating in my first ever PiBoIdMo. It was a smashing success. I came up with many, many ideas. Now what to do with all of those ideas? In January of 2015 I became quite ill, but fortunately after I was admitted from the ER, the hospital fixed me up in pretty short order. I was temporarily deterred but knew I couldn't use that as an excuse. I had been hearing about 12×12 but with the costs related to my illness I was no longer sure about spending the money to join.
Ultimately, I decided to keep investing in myself and am trying out 12×12 out at the Bronze level. I joined late in February, and so far I have March and April drafts written and have done some revision work on other manuscripts. The most important parts of my whole journey have been continuing to learn about picture book writing and taking my focus of my one precious manuscript, and creating more.
Meghan Daniels lives, works, and writes in Austin, Texas. During the day she works at the University of Texas helping field pleas from professors who need help with the research grant funding requests. At night she writes, edits, and avoids writing. She runs the Austin Writers Meetup Group for writers of all genres and skill levels residing in Austin. She is also a member of SCBWI and is working on becoming more active with her local chapter. She avoids writing by knitting, watching Netflix, and reading. She is trying to tweet more and wishes you would consider following her. She will probably even follow you back.