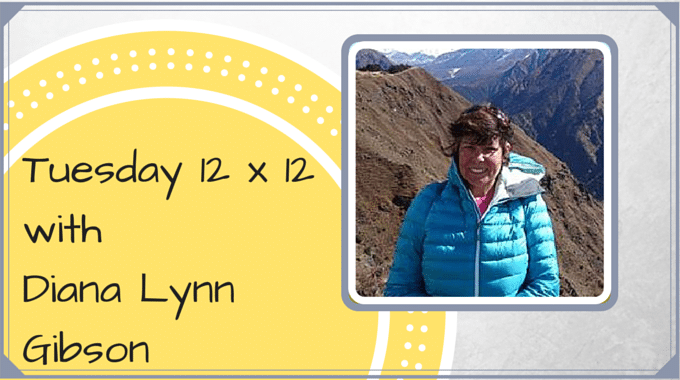 Tuesday 12 x 12 – Diana Lynn Gibson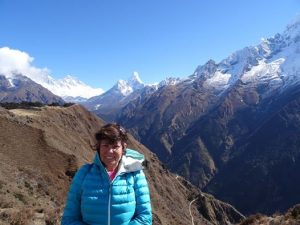 Today's Tuesday 12 x 12 comes to us from Diana Lynn Gibson. I am in awe of the places Diana's travels and varied careers. But the thing I love most about Diana's message is that's it's never too late to commit to your writing. Don't forget that! We're six months through this challenge. Maybe you haven't written one word this year. That's okay. It's never too late to start. Thank you for sharing that reminder, Diana!
Writing has always been a passion for me. But my passion had to wait 40 years. First I had to play Army for 22 years, overlapping this career with college, then a teaching job to pay the bills, and assisting my husband with his special effects business in the far corners of the world.  But tucked deep inside my head was a story just waiting.
As I read story after story to my first and second grade students, I kept telling myself that one day it will be MY turn. How I envied my students as I encouraged them to get their thoughts on paper, to make sure they had a beginning, middle, and a happy ending for their stories. I wondered if my principal would notice if I sat down at the table with them and wrote my own happy endings to the stories bouncing around in my head.
Of course, my husband had other plans after we retired.  Like hiking 600 miles through the Himalayas, crewing on a hundred year old three-masted ship with 45 sails around Cape Horn, and journeying through Indonesia to see the Komodo Dragons. One good thing about these adventures is that they gave me time to work my stories out in my head, even though there wasn't much opportunity to get the ideas onto paper at that moment in time.
So now I am hiding from my husband as I bury myself at my writing desk, finally getting my stories written.  PLEASE don't tell him where I am! I hid my backpack and hiking boots, and I'm not getting them out until I finish my 12 x 12 stories!
I stumbled upon the illustrious 12 x 12 group by accident. Even though I had joined SCBWI several years ago, I hadn't had time to get involved until this winter.  I decided to take the plunge and commit to writing! YEAH! My experience with this project and the 12 X 12 community of writers has been GOLDEN!  Not only have I learned so much by submitting my "First 250 Words" for critiques, but I have also learned from the critiques on other authors' stories and draft queries as well.  I've used so much of this information to push my own writing forward.
The positive support  of my new 12 x 12 family is sometimes overwhelming!  They encourage me, they cheer me on, and they make me feel that what I am writing is worth all the effort. I even joined a 12 x 12 critique group, and these amazing authors have been able to support me during those low moments when you just want to put down the pen.  My writing has become stronger, more focused, and more enjoyable to revise, and all because of this amazing community of writers!
I'm itching to get back to work on my stories even as I write this. I've got a great idea for my next draft that I have to get on paper! That's one more thing about the 12 x 12 commitment.  Reading other manuscripts triggers ideas for you that would never have popped in your head all by themselves.  The possibilities are endless!
No matter how old you are, there's an opportunity for you in writing! I can't say enough about the support and encouragement of my new writing friends!
Diana Lynn is a retired primary level teacher, a retired U. S. Army Major Mustang, and a recently retired special effects designer & blaster. She and her husband proudly live in Wisconsin and are working on their "Bucket Lists", which for Diana Lynn includes writing and publishing children's picture books, riding her motorcycle across the United States, and hiking the Camino de Santiago. In her free time, she tutors children in reading at a local school, rides her motorcycle everywhere she can, and writes whenever she can!