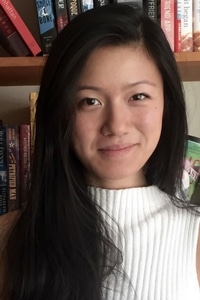 Wendi Gu of Jankow & Nesbit Associates grew up in the sleepy suburbs of Chicago and studied Creative Writing at Northwestern University. As an undergraduate, she interned with children's book agent Brenda Bowen at Sanford J. Greenburger Associates, and continued working there as a literary assistant after graduation. She soon began representing her own picture books, middle-grade, and young adult titles with a special interest in girl power, family relationships, and the immigrant experience. She likes stories that root for the underdog. Her favorite books have voices that range from warm and lyrical, to witty and deadpan. She is lucky enough to work with authors of new and forthcoming titles like Sterling, Best Dog Ever by Aidan Cassie (FSG Books for Young Readers, Spring 2018) and Paper Son: The Story of Tyrus Wong by Julie Leung and illustrated by Chris Sasaki (Schwartz & Wade, Fall 2019).
For illustration, she enjoys elegant and eclectic color palletes, and looks for nuanced character expression and dynamic composition. She is very interested in unconventional illustration mediums like cut paper and photo illustration. Wendi is always on the lookout for nonfiction picture book biographies on little-known heroes in history.
She has a hands on, editorial approach to agenting. On the weekends, she works at Dou Yoga in Brooklyn. You can find her tweets at @wendilulugu.