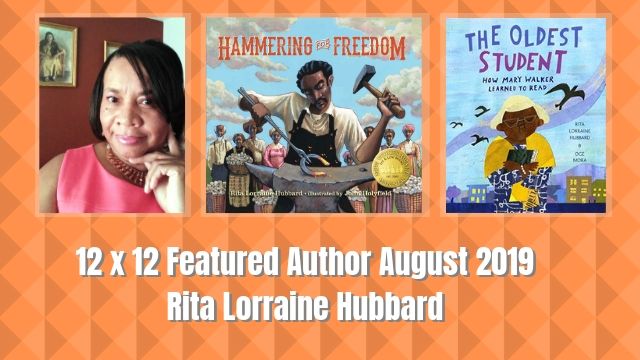 Rita Lorraine Hubbard – 12 x 12 August 2019 Featured Author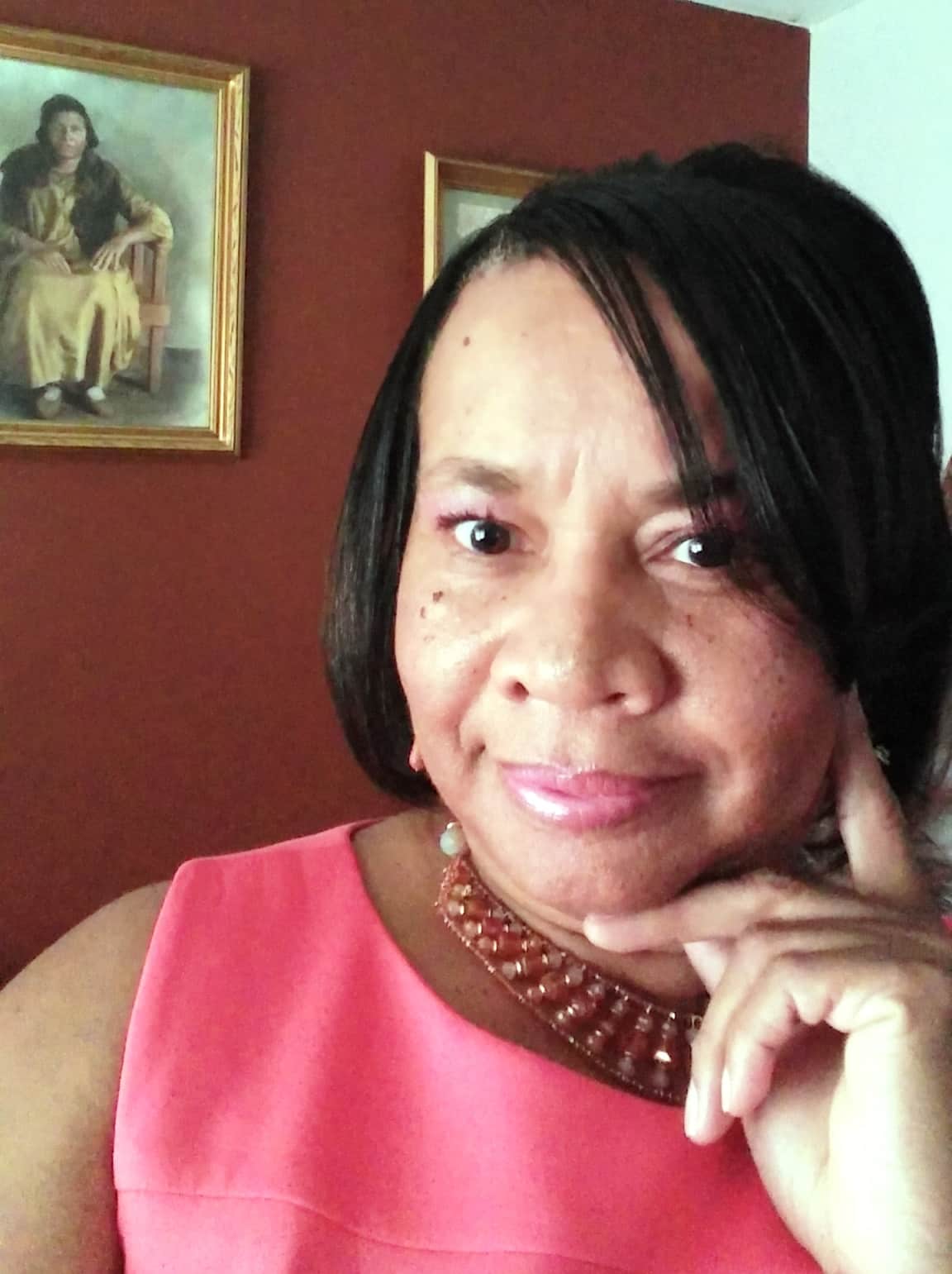 It's such an honor to write an article for 12 x 12. I've been told I can write about whatever I want, so today I want to discuss the things I wish I'd known before my first historical pb was published. I'll probably ramble a bit, so please spare me a little folly.
Before I proceed, let me just say that Julie Hedlund is one of the most giving people I know, and my writing life has only gotten better since we became virtual friends. And Kelli, you're the best too!
Now, onward!
What I wish I'd known before the debut of my first historical bio pb
It has been nearly a year since HAMMERING FOR FREEDOM: The William Lewis Story, debuted. As most of you know, it's the story of a slave who first rents himself, then spends the next 25+ years working to free himself and his family.
To my joy, the book became a Junior Library Guild selection and received starred reviews from Kirkus and The Horn Book. I have also just been informed it has been selected for "Read-Aloud Day" in October 2019, and will be distributed among 33 schools in a school system far, far away (sounds like Star Wars, doesn't it? I'll divulge the system later, after the details are hammered out).
I've enjoyed this whirlwind year, but there are things I wish I'd known beforehand. Here are my top three:
1 – All of life is a competition—and that includes writing picture books.
Sure, you write for love of the craft, but once your book is published, you're going to be compared to your contemporaries whether you want to be or not. I found this out during all of the book award competitions out there (I won't mention any by name, but believe me, they're out there!). Suddenly, this book I wrote for the sheer joy of bringing an unsung hero's story to life, was struggling for recognition amongst other outstanding books. Since I'm not a competitive person by nature, it was a harrowing experience for me. My advice is to not worry if/when what you write is suddenly thrust into competition with what someone else wrote; rather, celebrate your journey and your accomplishment(s)—whether you win awards or not.
2 – If you write nonfiction, you may have challengers.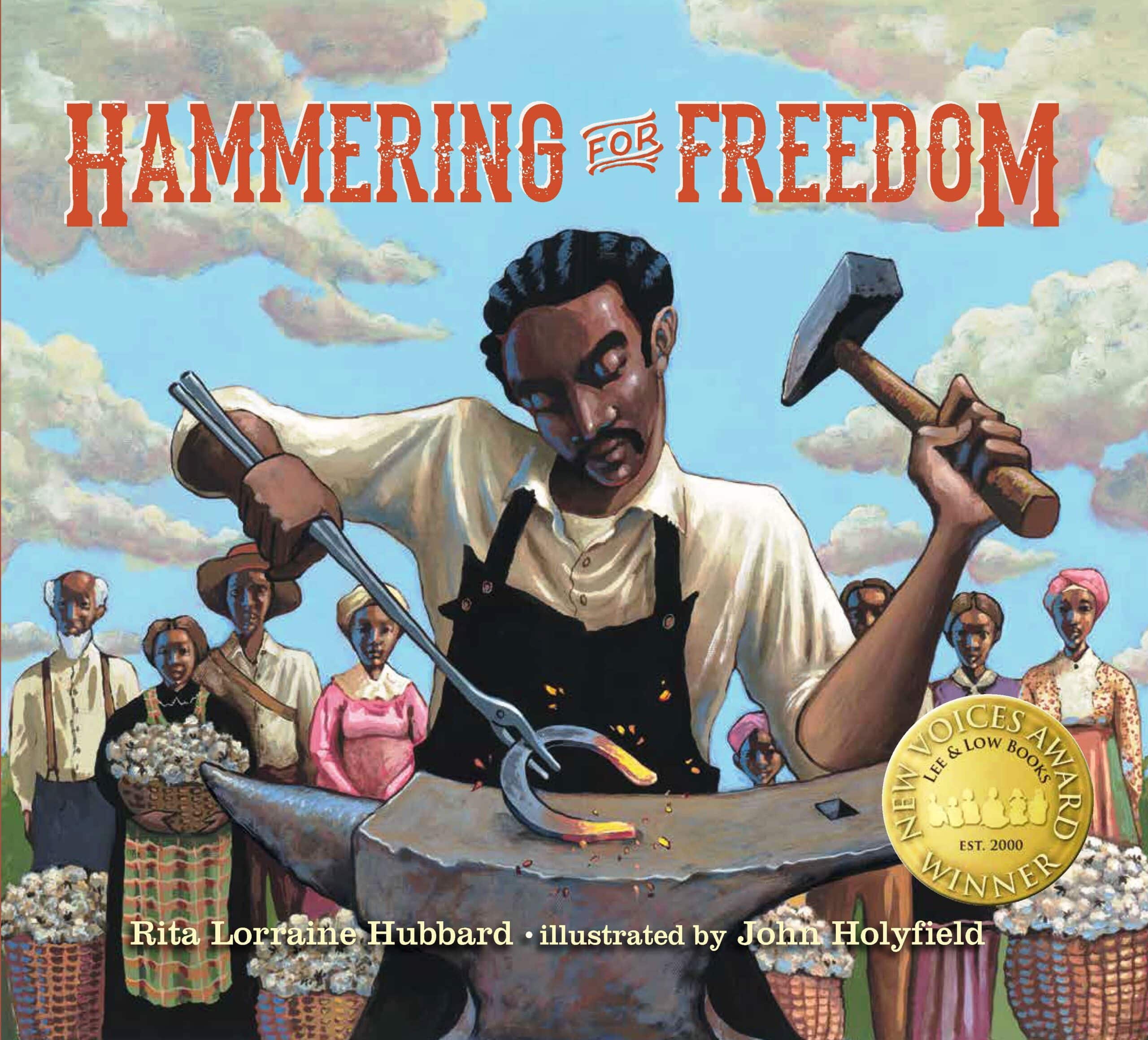 Some people will feel it's their duty to challenge what you've written. In the case of Hammering for Freedom, I had newspaper articles, early history books, historical city hall documents, first-person interviews of William Lewis' descendants—and even a real, live historical marker, to back up my claims. Despite this, several [well-meaning] history buffs hurried to my signings or readings for the express purpose of differing with me. One man told the amount of money William paid for his and his family's freedom was way more than the typical price for slaves in Hamilton County, TN, so I must have made a mistake. Another said that all plantations had their own blacksmiths, so William's services would not have been needed—which meant that he couldn't possibly have been as successful as I claimed. A third argued that the cost of tools and services were so low back then, William could not possibly have saved enough money to free his entire family. Now, none of these people were rude; they were all good-natured debaters who wanted to, well, debate. My advice to you is to keep your sense of humor, know your stuff, and be prepared for the challengers.
3 – The sink-or-swim phenomenon.
In a lot of ways, the launch of a book is like walking near the edge of a pool and suddenly feeling someone push you in without warning. As you free-fall toward the water, your brain is on fast-forward: "Who pushed me? How do I stop myself from falling? Do I know how to swim? Wait—yes, I can swim, but…just how deep is this water, and are there lifeguards out there if something goes wrong? How's my hair? Just wait 'til I get my hands on whoever pushed me!"
In other words, I wasn't prepared. I didn't know how to set up newspaper, radio, and face-to-face interviews. I had no flyers, and no clue what to charge for readings and other appearances—and I had no training on how NOT to be too shy to ask for my fee, because believe me, if you don't bring up a fee for your services, they usually won't. Since the debut, I have made it my business to learn about marketing. I now have flyers, order forms, bookmarks, a press kit, and an updated website. I even have bookplates!  I've also joined a picture book debut group and a group that helps you plan and successfully conduct school visits.  I'm feeling more confident now, but it would have been better to know these things BEFORE the book launched.
 WHAT'S IN THE PIPELIINE?
My newest picture book, THE OLDEST STUDENT: How Mary Walker Learned to Read (Random House) debuts on January 7, 2020. It's the true story of ex-slave Mary Walker, who enrolled in a reading class at age 114 and was certified as the nation's oldest student at 116. Here's the cover. I'm so excited!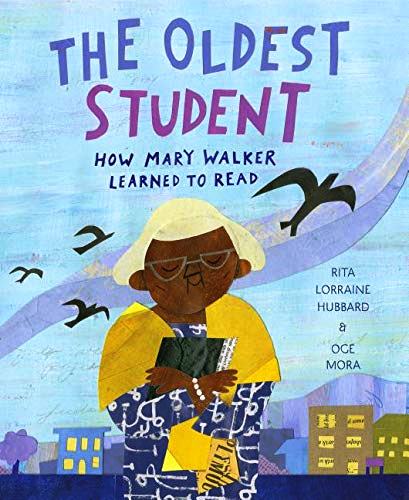 WHAT I'M WORKING ON NOW
I'm working on a historical pb about a little-known black inventor and innovator, and a second historical pb about two men whose friendship caused a national outrage.
Advice for aspiring authors
Read as many books in your chosen genre as you can. In fact, consider becoming a reviewer for trade publishers so you get to read, read, read! Also, if you haven't done so already, join ReFoReMo (Reading for Research Month), KidLit411, and of course, 12 x 12.
Put in the work! Write as often as you can, network with other writers, and join some fabulous writing groups—like this one. It's an investment in you.
Never compare yourself to others. It's too distracting – and disheartening. Cheer for others' successes and they will cheer for you when your time comes.
Something most people don't know about me
I'm also an illustrator. In early elementary school, I wrote and illustrated all my books. Then, somewhere along the path of life I forgot my love for illustrating.  For some crazy reason I thought I had to choose between writing and art…and I chose writing. Now that I have remembered and rekindled my love for doodling, I'm finally identifying as an illustrator again. My dream is to illustrate at least one of my books.
Where you can find me online:
Facebook: https://www.facebook.com/RitaLorraine
Twitter: https://twitter.com/RitaLorraine
Pinterest – https://www.pinterest.com/RitaLHubbard/
Rita Lorraine Hubbard writes picture book biographies and books for children, teens, and adults. She is the author of the HAMMERING FOR FREEDOM: THE WILLIAM LEWIS STORY (2018), a SLG selection; and THE OLDEST STUDENT: WHEN MARY WALKER LEARNED TO READ (Schwartz & Wade, 2020). She penned AFRICAN AMRICANS OF CHATTANOOGA: A HISTORY OF UNSUNG HEROES (The History Press 2008), winner of the 2014 East Tennessee Preservation Award, and she founded and manages Picture Book Depot and The Black History Channel. She resides in Chattanooga, Tennessee