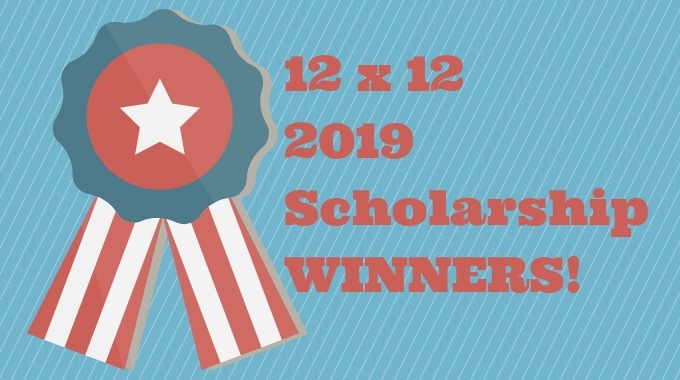 Meet the 2019 12 x 12 Scholarship Winners!
Let's ring in the New Year by congratulating and welcoming our 2019 12 x 12 Picture Book Writing Challenge Scholarship winners!
The 12 x 12 Scholarship Fund started in 2014, when the 12 x 12 community generously donated funds to provide four scholarships in two categories — Diversity and Financial Need — for pre-published picture book authors. Since 2016, our members have donated enough money to fund SIX scholarships per year! The purpose behind these scholarships is to cultivate underrepresented voices in children's picture books and to provide an opportunity for dedicated writers to join 12 x 12 who might not otherwise be able to. You can find out more details about the 12 x 12 Scholarship Fund on our Scholarship Page.
It is with great pleasure, and sincere thanks to the 12 x 12 community, that we announce the 2019 scholarship recipients.
Diversity Scholarship Recipients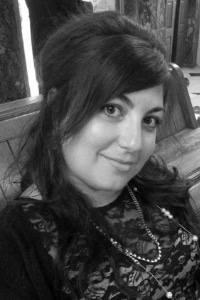 Costantia Manoli-Rumfitt was born in the UK to Cypriot parents and spent the picture book period of her life in London (battling with a name that even she has difficulty pronouncing in English!). She spent her middle grade and young adult years in Cyprus and then the USA and then back round again.
She now lives amid almond and olive trees on the outskirts of a hot, dusty Cypriot village; the Green Line and buffer zone checkpoints clearly visible from her kitchen windows. Her two young daughters, English hubby, grumpy old dog Sam and hyperactive newbie pup Woody keep her busy and are an endless source of story ideas, new characters and constant interruptions.
Costantia has worked with art, literature and young people in various professional guises; teacher, pastoral advisor and conflict resolution facilitator, and she continues to teach English Language and Literature to a vast number of teenagers at a local high school.
Costantia says, "The struggles of displacement and diversity are well-known to me, as are the questions arising from an ethnic history of conflict and violence (Cyprus' 1974 war) and as such, much (but not all!) of my work is around these issues. While some of my writing is clearly about Cyprus and our particular issues (we have the only divided capital left in the world after all), the underlying themes—identity, friendship. and a sense of self—are universal and relatable to children and adults alike – particularly as I write as a hybrid. The experience of being a hybrid and of living in various countries, always as a minority (yes even in Cyprus – hybridity does that!), has given me the direct experience of being 'other'. It is because of this that my writing tends to reflect this otherness; the constant internal conflict of wanting to fit in AND wanting to be true to one's self at the same time.
In light of this, my main concern as a writer and illustrator is to create work that helps children – all children – see themselves and understand others, and hope my picture books become both the 'window and the mirror' in that respect. I want to make books that children will come back to and relate to, always closing with a sigh and a smile."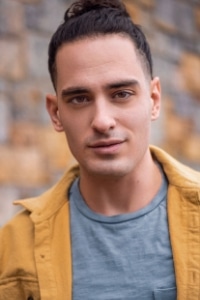 Justin Colón is a Latinx writer and active SCBWI member based in Long Island, NY. Last winter, he was selected as Pam Calvert's mentee for the Writing with the Stars mentorship contest and completed Anastasia Suen's picture book course. He runs a blog dedicated to children's literature (www.justincolonbooks.com/blog) and regularly posts agent and editor interviews and giveaways. He earned his B.A. in History from Fordham University. So naturally, he became a professionally trained, working actor and voiceover artist. He's a proud member of SAG-AFTRA and has appeared in shows for Netflix, Amazon, NBC, CBS, and FOX.
Justin says, "I've always been a storyteller, just in different mediums. Storytelling requires exploration and learning new things about yourself, the world around you and the wonderful (and not so wonderful) life that inhabits it. And that sense of childlike play is a place I enjoy being. Stories teach us. They inspire. They change us. Everything on earth is filled with stories. And stories at heart (regardless of the medium) are about change. I like to think by telling stories I am somehow creating positive change.
As for my picture books, heart, humor, and high concept are how I'd sum them up. They usually have a mystery aspect and some hidden themes in them as well. My intention is to create books that are essentially like little Pixar movies, but brimming with diversity. I want to pour diversity into my pages without the stories needing to be about diversity itself. It's important that ALL children (and adults) see themselves reflected in all types of picture books.
Picture books are an experience and each experience has the potential to shape our attitude, behavior, and actions in a unique way, forever. They're opportunities to bond, see the world in a new light and understand it just a little more, inspire the imagination, foster empathy, and much more. And what child shouldn't see themselves reflected in such a powerful tool? The answer is simple."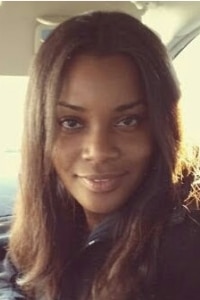 Urania Smith has been writing for children for 15 years. She has a B.A. in English and is a current and founding member of SCBWI-IL's Diversity Committee. She was the 2017 We Need Diverse Books Mentorship winner in the picture book category. She is also the Co-Founder of KidLit Nation, a non-profit dedicated to helping children's writers and illustrators of color with professional development.
Urania lives in the suburbs of Chicago with her family and owner, a shih tzu named Lucy. She loves to cook and is not humble about this talent. She's often found bribing friends and family with treats.
Urania says, "Humor in picture books is the one thing that drew me to the children's genre. If not for that, I'd be off somewhere penning steamy romance novels. Mo Willems' pigeon rescued me from a life of writing about feathery kisses and lingering caresses–at least in my real name.  😉
When you make someone laugh, you've touched them in some way. Laughter is universal. We do it when we're happy. We do it when we're sad. As a writer, it's my mission to break through all the crap that kids deal with in their life and make them smile. And for the kids that look like me, who are growing up in the inner city like I did, I don't want them to just see themselves in books. I want them to see themselves in books and laugh out loud."
 Financial Need Scholarship Recipients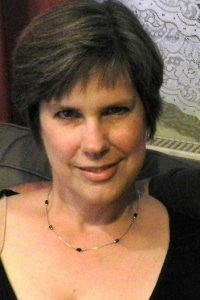 Linda Hofke has a B.S. in Elementary Education and began writing poetry and short stories for adults several years ago. She won a few contests, got published in literary magazines, was even nominated for a Pushcart Prize. But something was missing. The passion.
In 2014, she switched gears to write what she loves—children's books. That year she joined SCBWI and in 2016 she joined 12 x 12. Linda was a finalist in the FicFest Writing Contest in the category nonfiction picture book in 2016. She also was a winner in Susanna Hill's 6th annual Halloweensie Writing Contest and the Valentine contest. She attended her first conference and learned more about the craft. But one of the most important things that has helped her writing was being selected as the winner of the SCBWI Europolitan mentorship program last year and working with author Jill Esbaum for six months.
When Linda is not writing, she teaches EFL and serves as blog coordinator for the SCBWI Germany & Austria chapter.
Linda says, "I grew up as an avid reader, always having my head in a book. Sometimes a book was my escape from the troubles of the real world while other times it was a mini-vacation into another world. A good book always brought enjoyment.  Now I want to write material kids will love. I write both fiction and nonfiction picture books in prose and rhyme (but I also have a few middle grade ideas taking up a bit of space in my brain.) I aim to write stories that entertain while helping children learn not only about the world around them but also about themselves."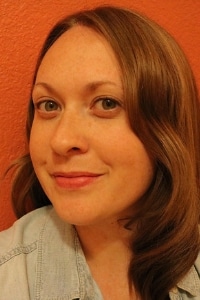 Having served diverse communities within multiple public library systems, Michelle Sumovich is an advocate for intellectual freedom and access to enriching resources for all. She has a professional background developing creative programs for young children, and has independently written and recorded rock music for kids. Michelle is dedicated to developing her picture book craft alongside ten fantastic critique partners and the 12 x 12 community. Her manuscript Wave After Wave: Charles Darwin's Journey was a finalist for the 2018 We Need Diverse Books Mentorship Program. She lives in Portland, Oregon, where she's mom by day and author by night.
Michelle says, "I write to entertain and empower young children as they navigate complex experiences, explore personal autonomy, and develop a foundation of emotional intelligence. As masterful inquirers in this wonderful and complicated world, children deserve to see characters who expect honesty and respect. I hope to write lyrical books that inspire and challenge children to be curious and think critically, while opening themselves to the beauty that surrounds."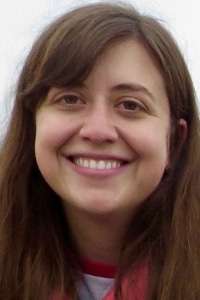 Sara Ackerman was born and raised in New Jersey but spent the last ten years overseas before returning to the US this year. She has spent many years as a Pre-K and Kindergarten teacher, and has published her research on how kindergartners develop as writers. Sara is a member of SCBWI and 12 x 12. She won second place in the nonfiction picture book category in the 2018 Rate Your Story Writing Contest. She lives in Brooklyn, NY with her six year old daughter.
Sara says, "I spend my days with picture books in my hands and readers on my lap. The only thing better than getting lost in a book is doing so with a group equally enraptured children. My reading life has evolved into a writing life as well. I write a mix of fiction and nonfiction, and am especially drawn to spunky female protagonists. I am looking forward to improving my craft and growing in my writing journey this year."
Congratulations to this talented group of writers, and WELCOME to 12 x 12!
We'd love to welcome you to 12 x 12 in 2019, too! General registration will be open from January 8 – February 28.
Returning members, look for registration information in your inbox staring January 3rd.
Happy New Year!