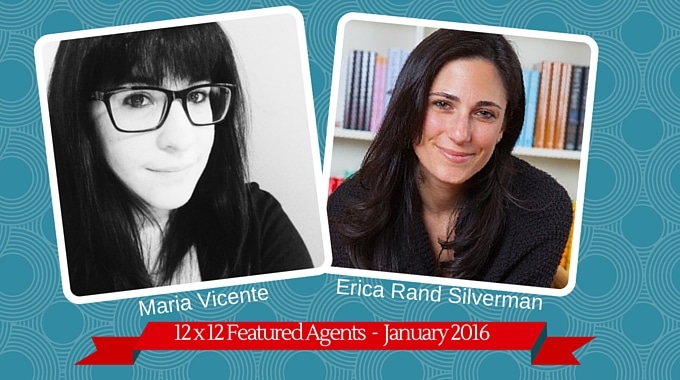 Maria Vicente & Erica Rand Silverman – 12 x 12 Featured Agents February 2016
Little GOLDen Book members of 12 x 12 will be able to choose one of two agents to submit their manuscript to each month.
Maria Vicente of P.S. Literary will be accepting picture book submissions from 12 x 12 Gold members February 1-15. Erica Rand Silverman of Sterling Lord Literistic, Inc. will be accepting picture book submissions from 12 x 12 Gold members February 16-29. Maria's profile appears first, followed by Erica's. Please read BOTH and then decide who would be the best fit for your work.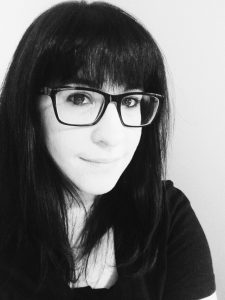 Maria Vicente
A little bit about Maria from the P.S. Literary website:
"Maria Vicente is a creative and editorial agent, providing support to her clients through all stages of the writing and publication process. Her publishing career began as an intern with Bree Ogden at D4EO Literary Agency, and she also interned at P.S. Literary before joining the agency as an associate agent. Her reading preferences vary across categories and genres, which is reflected in her client list. Maria holds a B.A. in English Literature from Carleton University and a B.Ed. from the University of Western Ontario. She has affinities for literary prose, strong character development, original storytelling formats, and anything geeky."
Maria gave us a wealth of information when we asked what she was looking for in picture books:
"I'm always looking for picture books with great rhythm (but rhyming text isn't usually my thing). I like whimsical and eccentric characters, especially unusual animals or (typically) inanimate objects. Having a high concept is very important. I love literary (or 'quiet') prose, but connected to a concept with a great hook.
A few specific items on my wish list:
– Picture book biography.
– Picture books about an aspect of geek culture.
– Eccentric animal protagonist (an animal you don't see very often).
I also gravitate toward illustrated projects created by an author/illustrator.
When I sign a new picture book client, I always want to know about other works-in-progress (either completed or at the idea stage). I only want to be queried with one project, but please know that if I am interested in a manuscript, I will most likely ask about other work. I like to know that my picture book clients have an idea in mind for their career and that their work is cohesive as a whole."
Maria was a Featured Agent last year. You can see our extensive profile post HERE. Here's a new interview:
A little bit about Erica from Sterling Lord Literistic website:
"Erica's primary interest is in books for and about children. She represents some of the most exciting new talent and treasured mainstays in the industry. Her clients' work has been translated into multiple languages, adapted into films, stage plays, apps, and been recipients and honorees of the Caldecott, Newbery, National Book Award, Sibert, and Edgar.  In the children's market she represents picture books through young adult novels, both fiction and nonfiction, and in the adult market she represents nonfiction predominantly in the areas of parenting  and humor. Some of her clients include Tony Abbott,  Adam Auerbach, Cathleen Bell, Michael Cart, Raquel D'Apice, Rachelle Doorely, Lois Duncan, Kevin Emerson, Alexandra Flinn, The Lydia Freeman Foundation (Corduroy), Eric Kahn Gale,  Chris Gall, Patricia Reilly Giff,  Jan Greenberg,  Joyce Hesselberth, Sandra Jordan,  Peter Lerangis, Leonard Marcus, Tom McNeal, Tim Miller, Alice and Martin Provensen, Mika Song, Annabeth Bondor-Stone and Connor White."
Here's what Erica is currently looking for in picture books:
"I really enjoy fun read alouds, character driven texts, thoughtful and thought provoking stories, clever retellings, interesting subject matter, books with a strong narrator voice, novelty or interactive elements and wordless books as well. Some favorites right now are Sidewalk Flowers, The Watermelon Seed, Interrupting Chicken, Blackout and How Little Lori Visited Times Square.  This is very general (and random) but I'd love to work on a picture book starring musical instruments, treasure (whatever that means to you), trees, maps or horses. "
This is Erica's first year as a 12 x 12 Featured Agent. Here are some resources for Erica:
Full submission guidelines for Maria and Erica will be posted in the Membership Forum.
Please note Little GOLDen Book Members may only submit to ONE of these agents. Please choose the agent who is the best fit for you and your manuscript.
Submissions will only be accepted for Maria Vicente from February 1st – February 15th at 6pm ET/3pm PT.
Submissions will only be accepted for Erica Rand Silverman from February 16th – February 29th at 6pm ET/3pm PT.
Good Luck!