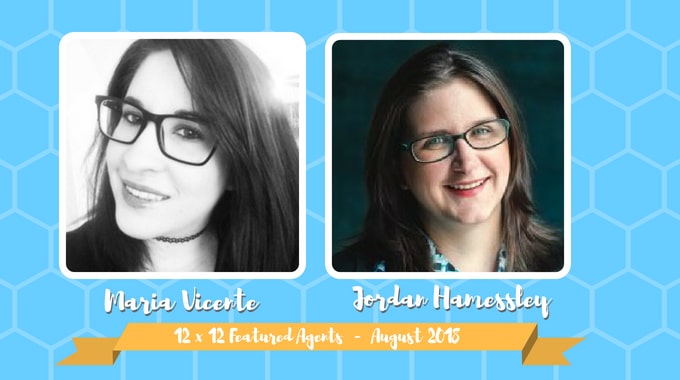 Maria Vicente and Jordan Hamessley – 12 x 12 Featured Agents August 2018
Little GOLDen Book members of 12 x 12 will be able to choose one of two agents to submit their manuscript to each month.
Maria Vicente of P.S. Literary will be accepting picture book submissions from 12 x 12 GOLD members August 1 -15. Jordan Hamessley of New Leaf Literary will be accepting picture book submissions from 12 x 12 GOLD members August 16-31. Maria's profile appears first, followed by Jordan's. Please read BOTH and then decide who would be the best fit for your work.
GOLD members: Please check the Submission Station section of the forum for additional instructions from each agent.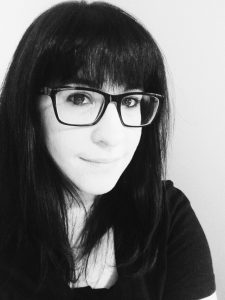 Maria Vicente
A little bit about Maria from the P.S. Literary:
"Maria Vicente is a literary agent at P.S. Literary, specializing in children's fiction and nonfiction projects for readers of all ages. As an editorial agent, she provides support to her clients through all stages of the writing and publication process. Her publishing career began as an intern with Bree Ogden at D4EO Literary Agency, and she also interned at P.S. Literary before joining the agency as an associate agent. Maria holds a B.A. in English Literature from Carleton University and a B.Ed. from the University of Western Ontario. She has affinities for literary prose, diverse characters, original storytelling formats, and anything geeky."
Here's what Maria is looking for in picture books:
"I love picture books that have a strong visual component. This absolutely includes stories created by author/illustrators, but also text-only manuscripts that really think about how the illustrations will work alongside the words.
Literary prose will catch my attention (two of my favourite picture books are This is Sadie and Virginia Wolf, if that helps), and I am interested in non-human protagonists that still have child-like qualities. I like nonfiction (whether it's real-life stories or facts-based) that takes wonderful concepts or narratives and makes them child-friendly.
Some specific topics on my picture book wish list include: unique biographies; the Wheel of the Year; cultural traditions/history; tales of mythology and lore; nature-based nonfiction; outer space; ghosts.
I should also note that I am extremely picky when it comes to rhyming text."
Maria was a 12 x 12 Featured Agent in 2016 and 2015. You can see our previous profiles HERE and HERE. Please find a couple updated resources below: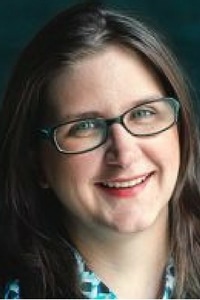 Jordan Hamessley

A little bit about Jordan: 
"With nearly a decade of experience working on the editorial side of publishing at Penguin Young Readers (Grosset & Dunlap), Egmont USA, and Adaptive Studios, Jordan Hamessley made the switch to agenting. Jordan had the pleasure of editing many award winning and critically acclaimed authors such as Sara Benincasa, Len Vlahos, Ilsa J. Bick, Adam-Troy Castro, E.C. Myers, Dori Hillestad Butler, Andrew Keenan-Bolger and Kate Wetherhead, Michelle Schusterman and more.
Now at New Leaf Literary, she is actively building a list of diverse children's fiction from picture books through YA and select adult science fiction and horror authors. Jordan has a deep affection for contemporary middle grade and YA with heart and humor. She is always looking to find stories that bring the queer experience to the children's space across all age ranges. In terms of genre, she is interested science fiction and horror. She is also looking for quirky, non-fiction picture books with a STEM focus.
Some of her favorite reads of the last few years include Nova Ren Suma's The Walls Around Us, Isabel Quintero's Gabi: A Girl in Pieces, Paul Tremblay's A Head Full of Ghosts, Charlie Jane Anders's All the Birds in the Sky, and Barbara Dee's Star-Crossed.
Her top five books of all time? A Prayer for Owen Meany by John Irving, Contact by Carl Sagan, The Haunting of Hill House by Shirley Jackson, The Egypt Game by Zilpha Keatley Snyder, and Carrie by Stephen King.
Jordan lives in the San Francisco Bay Area with her family and sings show tunes and tap dances in her spare time."
Here is what Jordan is looking for in picture books today:
"I'm looking for quirky, character-driven books. I'd also love to find a lyrical manuscript that makes me cry. I'm actively looking for non-fiction biographies and STEM/STEAM focused non-fiction. I'm on the hunt for great author-illustrators who find interesting ways for the art and text to interact. I'm not big on rhyming picture books."
Here are a few resources for Jordan:
Please note Little GOLDen Book Members may only submit to ONE of these agents. Please choose the agent who is the best fit for you and your manuscript.
Submissions will only be accepted for Maria Vicente from August 1st – August 15th at 6pm ET/3pm PT.
Submissions will only be accepted for Jordan Hamessley from August 16th – August 31st at 6pm ET/3pm PT.
Please double check the times on your submissions. Anything received before or after the submissions window is open will be disqualified and you will not be able to submit again this month.
Good Luck!
Want to make sure your submissions are tip-top? Grab this 7-Step Submissions Checklist.