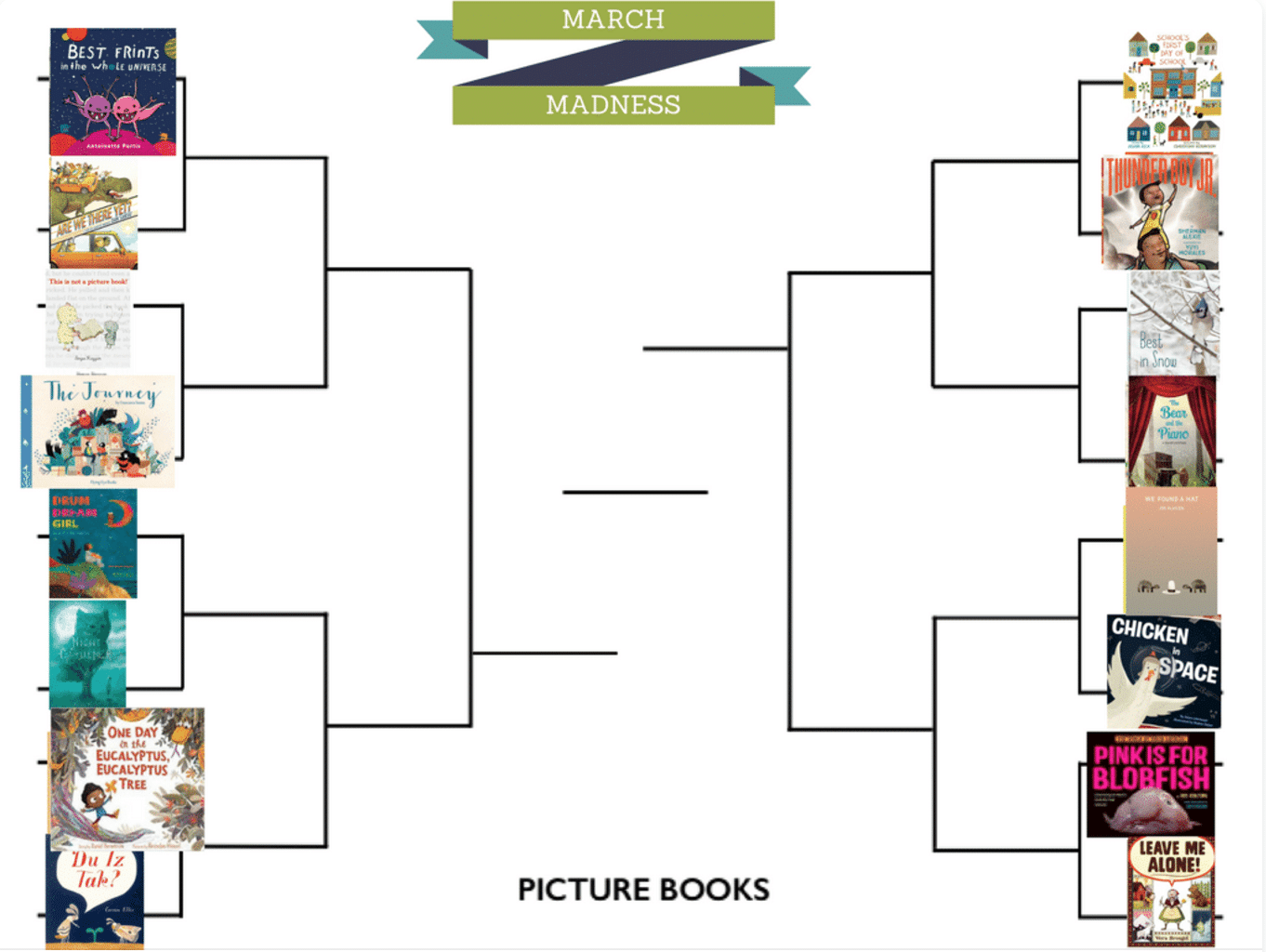 March Madness for Picture Books
How about a little March Madness for picture book fans? Yeah, I thought it would be fun too, so welcome to the first-ever 12 x 12 March Picture Book Madness!
It is important for writers to read contemporary picture books, so I chose books for the brackets that were all published within the past calendar year. I did NOT choose any 12 x 12 member books because: 1) there are too many of you! and 2) I didn't want any competition, however friendly, in the group. (To see 12 x 12 member published books, click here).
Here's how the contest will work. Everyone is welcome to follow along here on the blog, but voting is restricted to 12 x 12 members (Not a member yet? Join 880 of your picture book writing peers, but hurry! Tomorrow, February 28th, is the deadline to join for 2017).
The voting for each round will take place on the 12 x 12 Facebook group. Discussions about the books and rationale for voting one way or the other will be held on the 12 x 12 Forum. Once the voting is complete for each round, I will post the winners here on the blog along with some analysis from our discussions. At that time, I'll launch the next round.
The rough schedule is as follows:
Round 1 Reading: Now – March 13
Round 1 Voting: March 10 – 13
Round 2 Launch: March 14
Round 2 Reading: March 14 – 19
Round 2 Voting: March 17 – 19
Launch Round 3: March 20
Round 3 Reading: March 20 – 25
Round 3 Voting: March 24 – 26
Launch Round 4: March 27
Round 4 Reading: March 27 – 30
Round 4 Voting: March 29  – 30
Winner Announced! March 31
To vote on any bracket, you MUST read both books in that bracket. If you've only read one (or none), just skip voting for that bracket. Here are the first round books and brackets in case you can't see them on the image.
BRACKET 1
Best Frints in the Whole Universe, by Antoinette Portis
Are We There Yet? by Dan Santat
BRACKET 2
This is Not a Picture Book, by Sergio Ruzzier
The Journey, by Francesca Sanna
BRACKET 3
Drum, Dream Girl, by Margarita Engle
The Night Gardener, by the Fan Brothers
BRACKET 4
One Day in the Eucalyptus, Eucalyptus Tree, by Daniel Bernstrom
Du Iz Tak, by Carson Ellis
BRACKET 5
School's First Day of School, by Adam Rex
Thunder Boy Jr., by Sherman Alexie
BRACKET 6
Best in Snow, by April Pulley Sayre
The Bear and the Piano, by David Litchfield
BRACKET 7
We Found a Hat, by Jon Klassen
Chicken in Space, by Adam Lerhaupt
BRACKET 8
Pink is for Blobfish, by Jess Keating
Leave Me Alone! by Vera Brosgol
Ready, Set, READ!