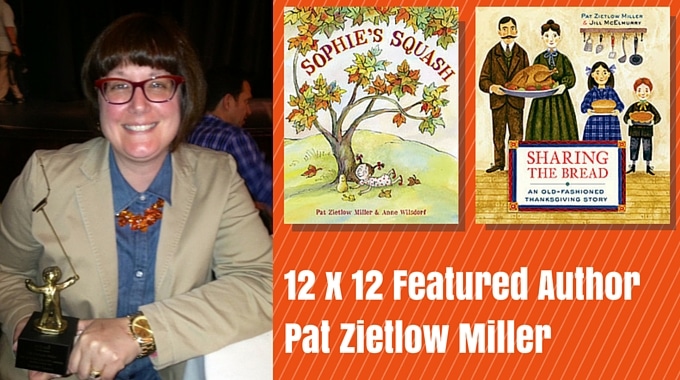 12 x 12 November Featured Author Pat Zietlow Miller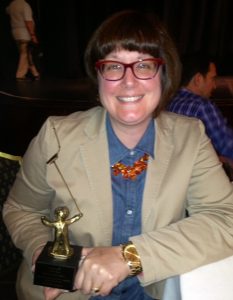 There could never be a BAD time to host the amazing author, Pat Zietlow Miller, on 12 x 12, but November seemed especially great. We own all of her books, and I am SO in love with SHARING THE BREAD. I was at the SCBWI-LA conference when Pat won the Golden Kite award for her debut picture book, SOPHIE'S SQUASH. Her speech made me laugh and cry, but most of all left me inspired to WRITE. In this month of November, I am grateful for her creative gifts AND her willingness to share them so generously with us. Please welcome Pat!
Starting at the beginning, what made you decide you wanted to write picture books as opposed to other types of children's books?
I have loved picture books for as long as I can remember. In grade school, I remember reading picture books in the library when I should have been doing my homework. In high school and college, I read them at bookstores. And, when I knew my first daughter was arriving, I bought more books than baby supplies. I still read all levels of children's literature with great enjoyment. But my heart will always belong to picture books. When they are done properly, they are perfection in 32 pages.
I've heard you received 126 rejections before your debut picture book, SOPHIE'S SQUASH, was picked up out of the slush pile. What kept you going?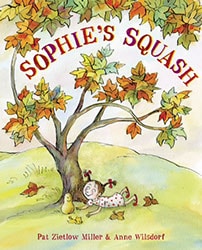 Throughout the 126 rejections, I got enough glimmers of encouragement to keep me going. I got lots of form rejections and silence, for sure, but I also got handwritten notes saying things like, "Cute, but not right for us." Or, "Please try us again." Or, "We'd be happy to consider other things that you write."  And I sold some stories to Highlights magazine. That made me feel like if I just hung in there, things would work out eventually. Also, when I really want something, I can be very persistent. I knew if I could just write something good enough, it would sell so I spent a lot of time focusing on improving my writing.
It can be tough to sell picture books on common themes, including holidays, yet you found a new angle with SHARING THE BREAD, by setting it in the 19th century. What inspired you to write that story? (P.S. I love how cozy it is! You can practically smell the food from the pages :-))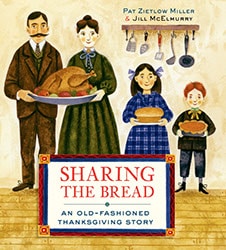 Thank you! That story was inspired by two rhyming lines that popped into my head while I was working at my day job. I had no idea what to do with them, so I emailed them to myself at home and then played around with them until I had a poem about a family making an everyday meal. Then, Emily Mitchell (who's now an agent and who used to be an editor) said she thought the story would be stronger if the family made a holiday meal. She thought that would give the book more of a hook – a specific reason for people to pick it up at a bookstore. My agent agreed, as did Anne Schwartz, the editor who acquired the book, and I rewrote heavily around a Thanksgiving theme – only to find that very few words rhyme with "turkey." My goal through the whole editorial process was for the book to have a warm, cozy, reassuring feeling.  I'm glad that came through for you.
You write in both prose and rhyme. Do you prefer one over the other? Did you take any classes focused on learning poetry and rhyme that you would recommend?
While I feel especially proud when I pull off a rhyming manuscript, I do prefer to write in prose. I've actually written myself notes that say "no rhyming" even though I've sold three rhyming books. I have not taken any rhyming or poetry classes. I am self-taught thanks to reading Dori Chaconas' excellent rhyming website and obsessively studying master picture book rhymers like Jill Esbaum, Karma Wilson and Lisa Wheeler.
Like many 12 x 12 members, you have a family and a full-time job. How do you find time to write, especially now that you have to balance writing with promoting your published books?
It is hard. Lately, more of my time has been going into promotions. But I still need to write new stuff or I'll have nothing to promote. And, I need to be focused on my full-time job so I have enough funds to do frivolous things like pay my mortgage and contribute to my daughter's college tuition. So whatever fire is burning the brightest usually gets my attention in the evenings or on the weekends. If I find I'm focusing too much in one area, I will try to shift to keep things in balance. But I'm always in danger of dropping something.
You have FIVE picture books coming out in 2016 and 2017. Will you retire? 😉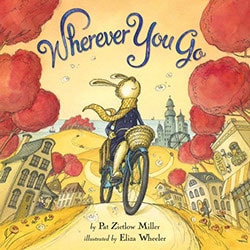 If only I could. But, alas, I am not J.K. Rowling. I am, however, very excited about each of my upcoming books. And I hope they will do well and earn royalties and contribute to my mortgage and my daughter's college tuition.
Lots of folks always want to know of published authors: How many manuscripts do you write compared to the number that are published? 
I probably have six picture book manuscripts in progress now. Some I've been agonizing over for years. They might not sell, but I'm not ready to give up yet. I have given up on selling several others. At any point, there's no way of telling how many of those six I'll sell. All I can do is write the best stuff I can, revise until I think it's ready and submit. Then, it's out of my control. It would be great if I knew every sixth manuscript would sell, but I don't. I could sell all six or none or anything in between.
What do you think are the biggest challenges of writing and publishing picture books? What are the biggest rewards?
The biggest challenges are getting an original, marketable idea and writing it in a compelling way. Both those things are hard. So many ideas are overdone or not creative enough. And getting your writing to a memorable level takes work and revision and focus. Fortunately, I like writing and I like revising. They're a great way to spend time. The biggest reward is when you get it right. Sometimes, when you do, you just KNOW.
What's your number one piece of advice to your fellow picture book authors?
Work harder than you think to have to. Achieving top-quality, professional results only happens when you really focus on mastering your craft and realize there is always more to learn.
Pat Zietlow Miller has three picture books in print and seven more on the way. Her debut, SOPHIE' S SQUASH, won the Golden Kite Award for best picture book text, an Ezra Jack Keats New Writer Honor and a Charlotte Zolotow Honor. It also won the Midwest Region Crystal Kite Award and was a Cybils' finalist. WHEREVER YOU GO briefly made Midwest Booksellers bestseller list, and SHARING THE BREAD was, at one point, the No. 1 Amazon.com release for new Thanksgiving books. Pat blogs about the craft of writing picture books at www.picturebookbuilders.com. She lives in Madison, Wisconsin, with one wonderful husband, two delightful daughters and two particular cats.