12 x 12 November Check-in!
Here's what happens when the last day of the month falls on a MONDAY after a holiday weekend: things get delayed. My sincere apologies, but fear not! You will still have the same amount of time to check in. We'll announce winners on December 3, and the featured author post will come tomorrow.
Meanwhile, we begin the final month of 12 x 12 in 2015. For me, it's always a time for celebration and a little sadness. The celebration comes from reflecting on the collective achievement of the HUNDREDS of you who participate, and the cup that's filled to the brim with good news. The sadness comes from the knowledge that this particular group of challengers, as a unit, has one month more before we begin anew.
I'm also a teensy bit melancholy due to the fact that I once again have no new draft to report. I did squeeze in a revision, but my latest bout of writer's block seems pretty severe. I know I just need go chop some wood, stick butt in chair, etc. The good news is, I have lots of fresh new ideas thanks to PiBoIdMo. Shiny balls await, and not just the ornament kind. 🙂
Now tell us your progress. Did you complete a draft and/or revision in November? Are you on track for a winner's badge in 2015? Let us know in the comments and in the Rafflecopter. This month's winner will win an autographed copy of SHARING THE BREAD from November's Featured Author Pat Zietlow Miller. Always remember, though, we're all winners because we accomplish more together than we would alone. In this month of gratitude, that is something I give thanks for every day.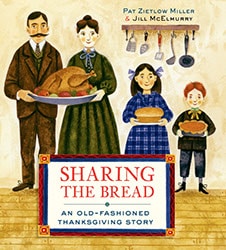 Here is what you need to do to check in for a chance to win:
See the Rafflecopter widget at the end of this post that says "Autographed Copy of SHARING THE BREAD by Pat Zietlow Miller" at the top.
Click on the "Comment on Pat's Blog Post" button. It will reveal the task, which is to comment on Pat's blog post. If you haven't comment yet, you can click HERE and comment. Commenting on Pat's Featured Author post and clicking enter will get you one entry in this month's Rafflecopter whether you completed a draft or not. When you click ENTER on that option in Rafflecopter, the next two options will open up.
Click on the "Wrote a PB Manuscript" button. This will ask if you completed a PB draft in November. If you did, click ENTER, if you did not, move on to the next step.
Click on the last "Revised a PB Manuscript" button. This will ask if you revised a PB in November. If you did, click ENTER. If not, move on to the next step.
Submit your entry. Rafflecopter will track your points.
You have until midnight Eastern on December 2nd to enter your results. Rafflecopter will draw a winner and I'll announce it on the blog on December 3rd.
It's the last month of the challenge for 2015. Finish strong with a new draft and revision!
a Rafflecopter giveaway