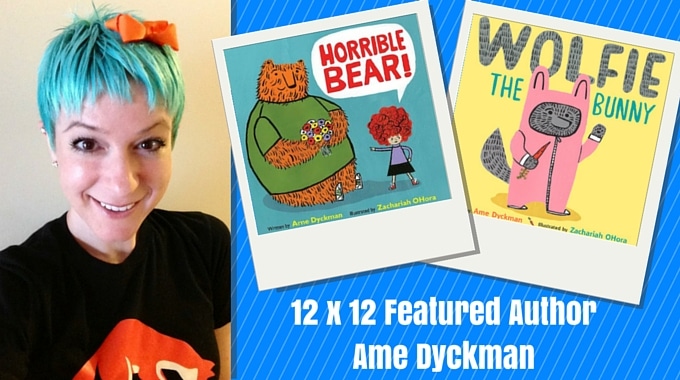 12 x 12 January Featured Author Ame Dyckman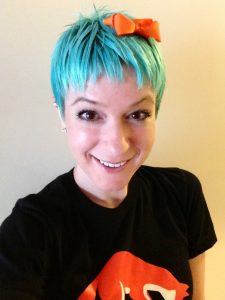 I told our FIRST 12 x 12 featured author of 2016, Ame Dyckman, that I wish I had even 1/8 of her energy and humor. You'll see what I mean after you read this EPIC post! It makes me so happy, I want to read it every day for the rest of my life. What a great way to kick off our 5-year anniversary! 
That's right! the 12 x 12 Picture Book Writing Challenge is now in its fifth year. We'll be doing lots of celebrating soon. If you're not already a member, you can join us beginning on January 12th. Information about membership is here, and you can sign up here to make sure you get an email reminder when general registration opens.
In the meantime, please get out your pom poms and welcome Ame!
WOO-HOO! THE NEW YEAR'S FINALLY HERE! HAPPY 2016, 12 x12ers!
*BANGS POTS AND PANS*
Oops. Shoulda put the spaghetti away first.
Ignore that meatball on my head, guys, 'cause I have sumthin' SERIOUS to share:
​One of my No-Fail Writing Tips For Kicking Off An AWESOME Twelve Months of Picture Book Writing!
​Ready to read it? Buckle up and goggles down, here we go! My Gearing-Up Picture Book Writing Tip is…
Get YOU…
​To a ZOO!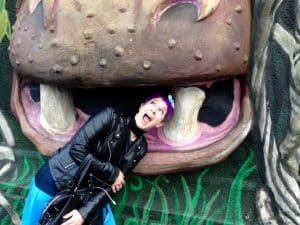 ​(Author-eating hippo head optional.)
​That's right, as soon as possibly possible, pop into a zoo!
​I'm not saying you hafta write a zoo book. Or even an animal book. But spending time in a zoo will help you write ALL KINDS of picture books!
​Why? What makes observing animals spark and shape your picture book writing?
​'Specially considering they don't have shirts, animals REALLY wear their hearts on their sleeve. They're not afraid to show whatever emotion they're feeling, whether it's:
​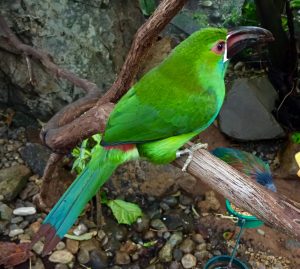 Indifference.
​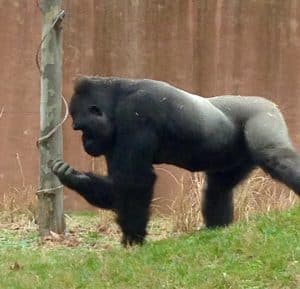 Curiosity.
​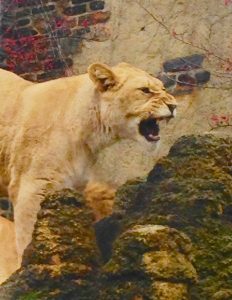 Even a Had Enough! moment.
Just like the kiddos we're writing for, animals LET IT ALL OUT.
But nobody makes the animals stop. Or BEHAVE. And this super-genuineness is important to see when envisioning characters—ALL characters—that are super-genuine, too.
​Watch animals through the morning, and you'll start HEARING possible dialogue:
​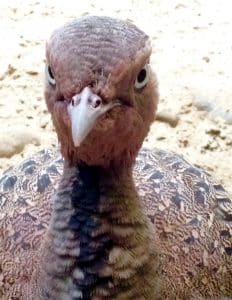 ​"TSK-TSK!"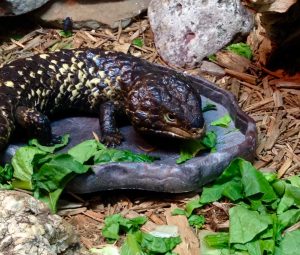 "Don't WANNA eat my veggies!"
​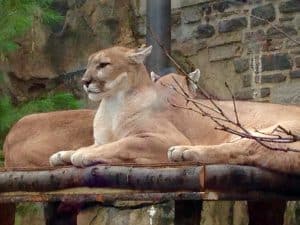 "No, YOU apologize!"
​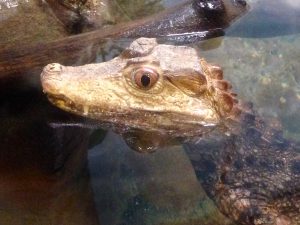 "STARING CONTEST! GO!"
And one that's happened to ME, too:
​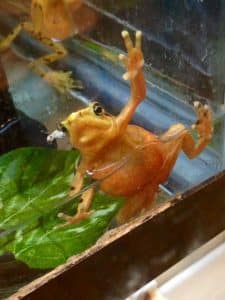 "Shouldn't have played with the Superglue."
Stay through lunch, and you start imagining whole SCENES:
​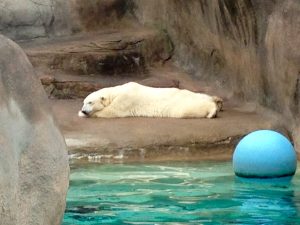 "Mean ol' walruses! Who needs 'em? Not ME! Takin' my ball and goin' home!"
And… KAPOW! That's when your Creative Switch flips on, and you GOTTAGOTTARIGHTNOW plunk down on the nearest available bench, shoo away nosy peacocks:
​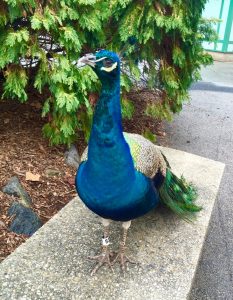 "Hey! Whatcha writin'? Is it about ME?!"
​and scribble down all those picture book characters and ideas that are suddenly EXPLODING outta your creative little mind like… like…
​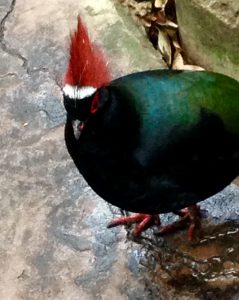 Like this dude's 'do!
While an all-seven-continents-represented zoo is best (and an eight-continents zoo's better—harder to come by, though), a small zoo'll work if that's all you got.
No zoo like today's fabulous Philly Zoo near you? Even a visit to your local animal shelter, pet store, or Crazy Cat Lady in your building will suffice in a pinch. (Apologies if you ARE the Crazy Cat Lady in your building! Nice robe!)
Point is, unless you have the aforementioned menagerie-at-home you can study at leisure, get thyself out and about and around animals pronto!
Your writing'll love ya for it.
Now, who wants spaghetti? Get it off the ceiling and it's yours!
(Bonus Tip: cleaning up the kitchen can ALWAYS wait 'til the writing brainstorm passes! Get those ideas down in the KAPOW! moment!)
2016, GUYS! Let's learn from the animals! Let's make it FUN! And LET'S MAKE BOOKS!
Ame Dyckman is the bestselling, award-winning, multi-zoo-membership-owning, mischief-making, funky hair-wearing, messy-cooking, short-and-loud little author of:
​and more picture books in the works, including: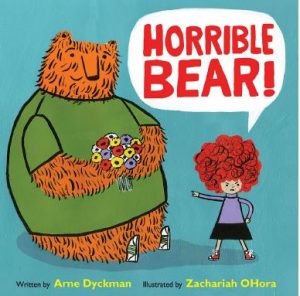 HORRIBLE BEAR! (also illustrated by the amazing Zachariah OHora), pubbing April 5, 2016! (And YES, Ame studied LOTS of zoo and park bears—and tantrums!—during the making of this book!)
Follow Ame on Twitter (@AmeDyckman), where she Tweets picture book reviews and pretty much everything that pops into her head.
PRIZES! Ame is offering one 12x12er a signed copy of her WOLFIE THE BUNNY, a picture book manuscript critique, and lunch (NOT ceiling spaghetti!) and/or a zoo outing with Ame and writing partner Adam Lehrhaupt if you're local to central New Jersey. Get that first draft written today!