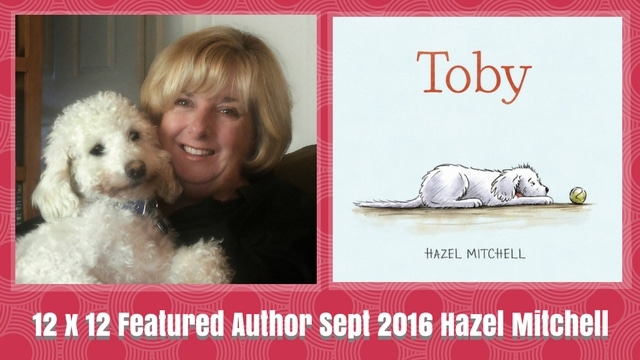 12 x 12 Featured Author September 2016 – Hazel Mitchell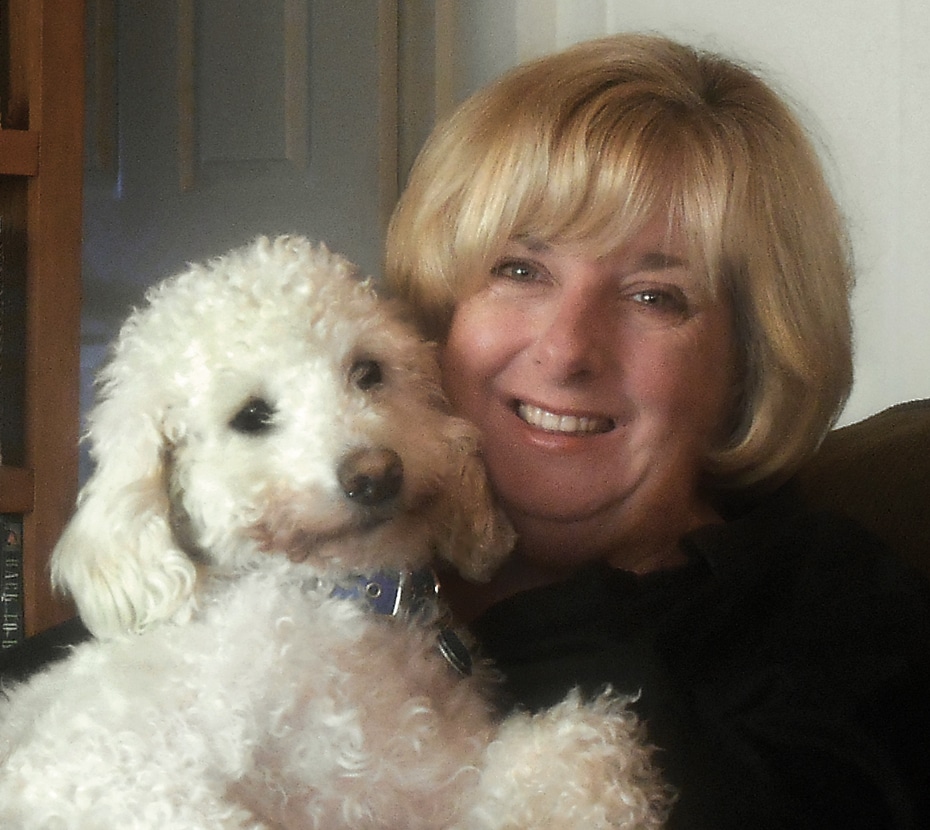 Hi everyone, I am SO excited to feature not one, but TWO very special guests for September's featured author post. The first is author/illustrator Hazel Mitchell, and the second guest is her beloved dog Toby, who is the author of his own story and the inspiration behind Hazel's latest book.
Like hundreds of others, I followed Toby on social media during his disappearance (see below), and opened Facebook every day hoping for news. Toby walked into the hearts of dog-lovers all over the world during that time. 
Knowing how difficult it can be to translate a real-life story into something that is child-relatable and appropriate for the picture book format, I asked Hazel to share her process of writing and illustrating TOBY with us. Please give a warm welcome to Hazel and her Toby.
Thanks for featuring me and Toby on 12 x 12! It's a great to be part of such a useful program.
A lot of people know Toby from my (now) years of posting about him since he was rescued back in 2013. For those who don't know, Toby's a poodle from a puppy mill in Maine. I adopted him, after a short fostering period. My husband and I decided we couldn't let him go. Toby became quite famous on social media after going missing for eight days in the summer of 2014 before he returned to us (thankfully!). A story I'd written about him was acquired by Liz Bicknell at Candlewick Press. It will be published on September 13, 2016. It's my debut as an author/illustrator and I'm very excited to see it on the shelves!
How did the story come about?
I decided to write about Toby after a conversation with editor Harold Underdown at a retreat where he said "Why don't you write about Toby?' and I said 'Doesn't everybody write a story about their dog?'. But Toby is special and they sa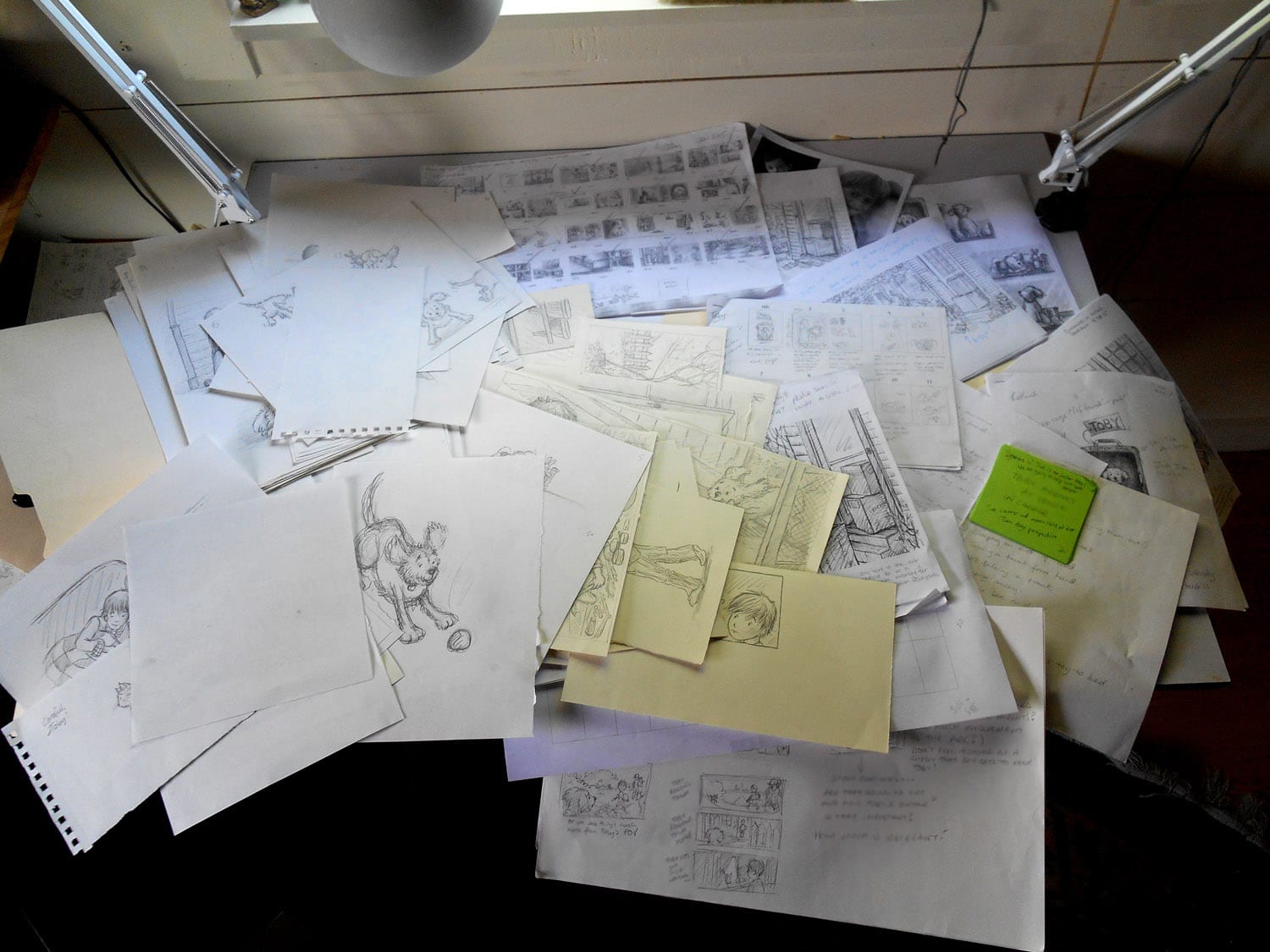 y write about that which you love. So I decided to give it a go.
I sat down and started to think about a book involving Toby and my immediate thought was 'Well I can't put me and my husband in it. That would be just plain boring!' and I couldn't think of a story arc to support it. (This was BEFORE Toby was lost, BTW). What if I put Toby in a fictionalized setting? I knew it had been done before. Tad Hills' Rocket books for example (another real dog). Rocket's books concentrate on learning to read and write. I didn't want to do something like that. I wanted Toby's emotional journey to be very much the center of the story and I wanted to include some of the real things he did in real life in the book.
People are always saying 'You should write about your dog', or your kid, or your llama (did Anna Dewdney have a llama? No, not that I can find on google). But how do you actually go about doing it? Well, how do you write any story? Same deal, you give the main character/s a purpose or a problem – teaching reading or writing, like Rocket, or going to the moon or on a sea voyage or rescuing something or making a cake. The list is endless.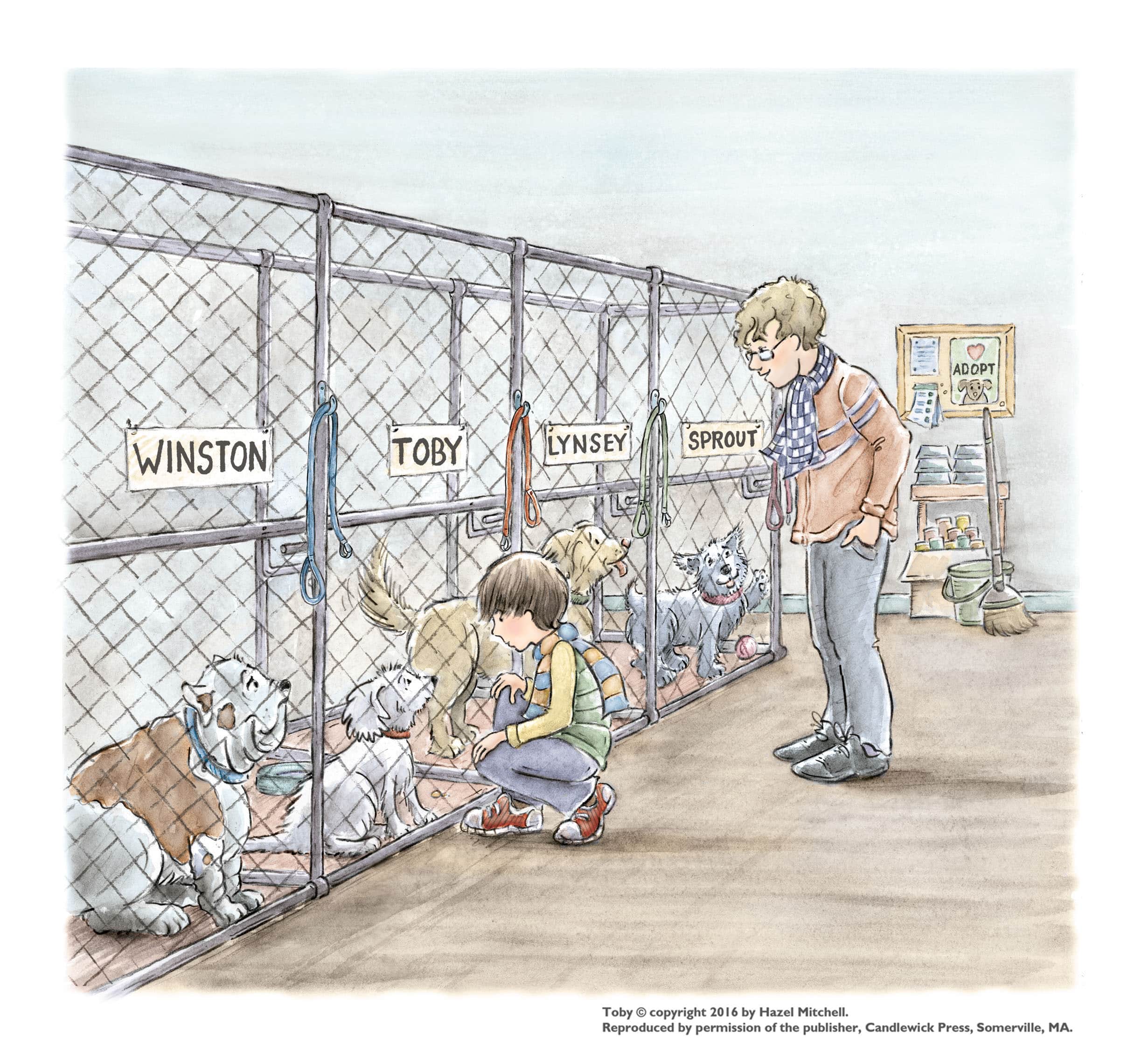 My first decision was to give Toby a new family. I wanted him to find a home and be loved, just like in his real life. And I also wanted a child in the book for young readers to relate to and for Toby to form a growing relationship with. I immediately decided on a boy. He's a bit lonely, I thought, like Toby, so they would have empathy. And that would draw the reader close to them. Did the boy have a family? At first I thought he had a mum and dad. But as I started to work on the story I decided it would become more interesting if I gave him a single parent. Mom or dad? I decided on dad. And the dad isn't coping too well. I didn't know why he was single and it is never stated in the story. (That's something the reader can fill in. You know, that space you leave, like accommodating the words on the page when you're illustrating).
A nice triangle began forming in my head: a lonely boy, a fearful dog,  an overloaded parent (three is the magic number, yes?). I love to show emotion and mood in my illustrations and I could see a lot of potential here. There would be a crisis point for sure (or two).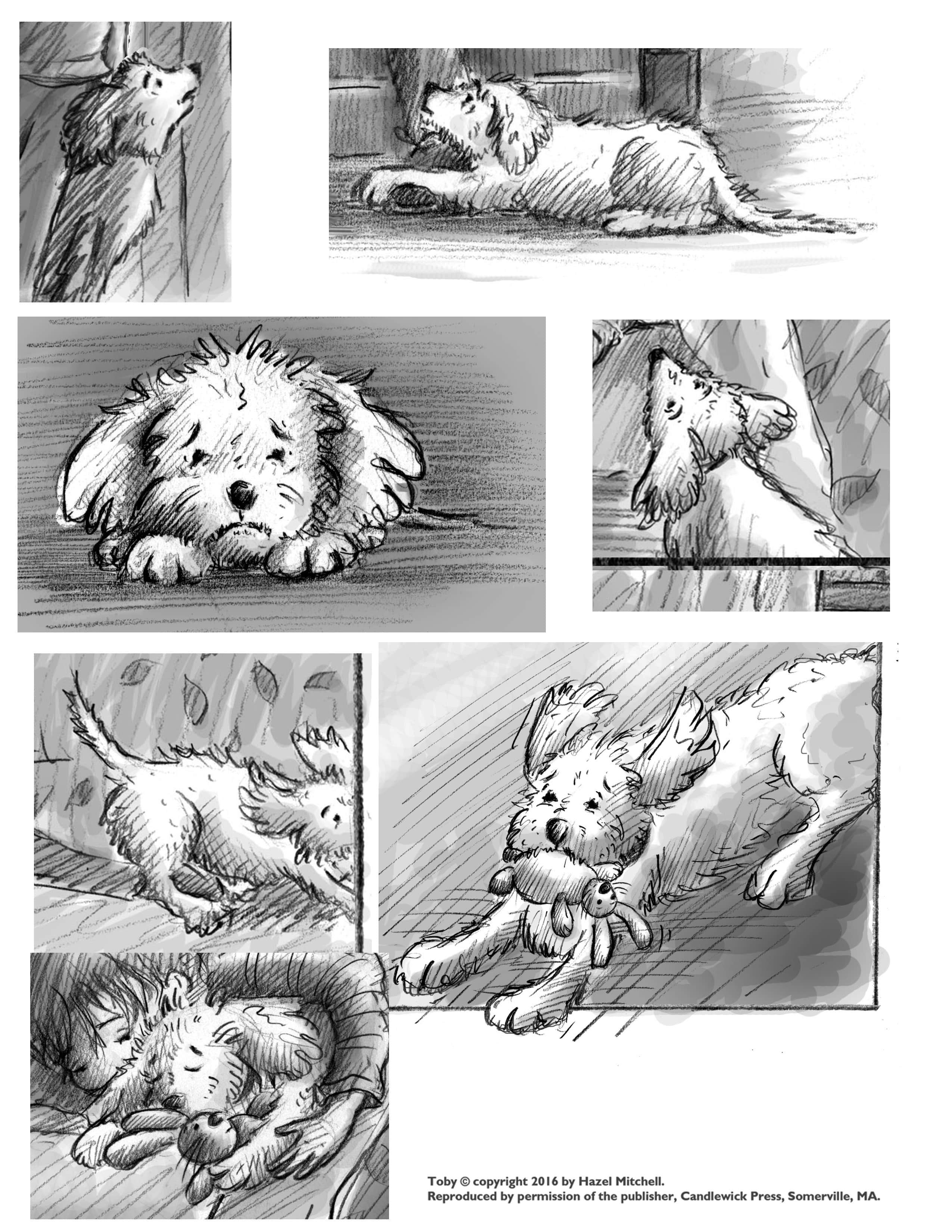 Next I thought about setting and the motivation for the problem. The setting was going to be a new home. They've just moved in. The set up? The boy is feeling strange and an outsider, a bit lonely. That's the motivation for adopting a dog, to help him settle in. The problem: the dog they adopt isn't the easy friend fix boy and dad was hoping for. The problem? To send Toby back to the shelter or try again with him until things improve.
And that was my story line. I had brought to the story Toby's fear of everything in real life and added some characters that would cause conflict.  It was also important for me to find a solution that would be brought about by Toby and the boy, not the parent. Every time I wrote the ending the parent was in charge, but finally I sorted it out. (You'll have to read the book to find out how that happens!) I hope the story succeeds on several levels … an entertaining story about a boy and a pet, the emotional journey they are on, and the persistence that boy and dog show to get things right in the end. To say nothing of a harassed parent! Every child knows how that feels.
Putting an animal into a fictionalized setting is probably easier than working with a person or child. I think a lot of writers put their children into books unwittingly, or at least elements of them, as fictional characters. I can think of a few real ones too, Christopher Robin for instance (and I guess Winnie the Pooh and his friends!), and Mo Willem's Trixie and Knuffle Bunny. How many more can you think of?
Perhaps you have an ani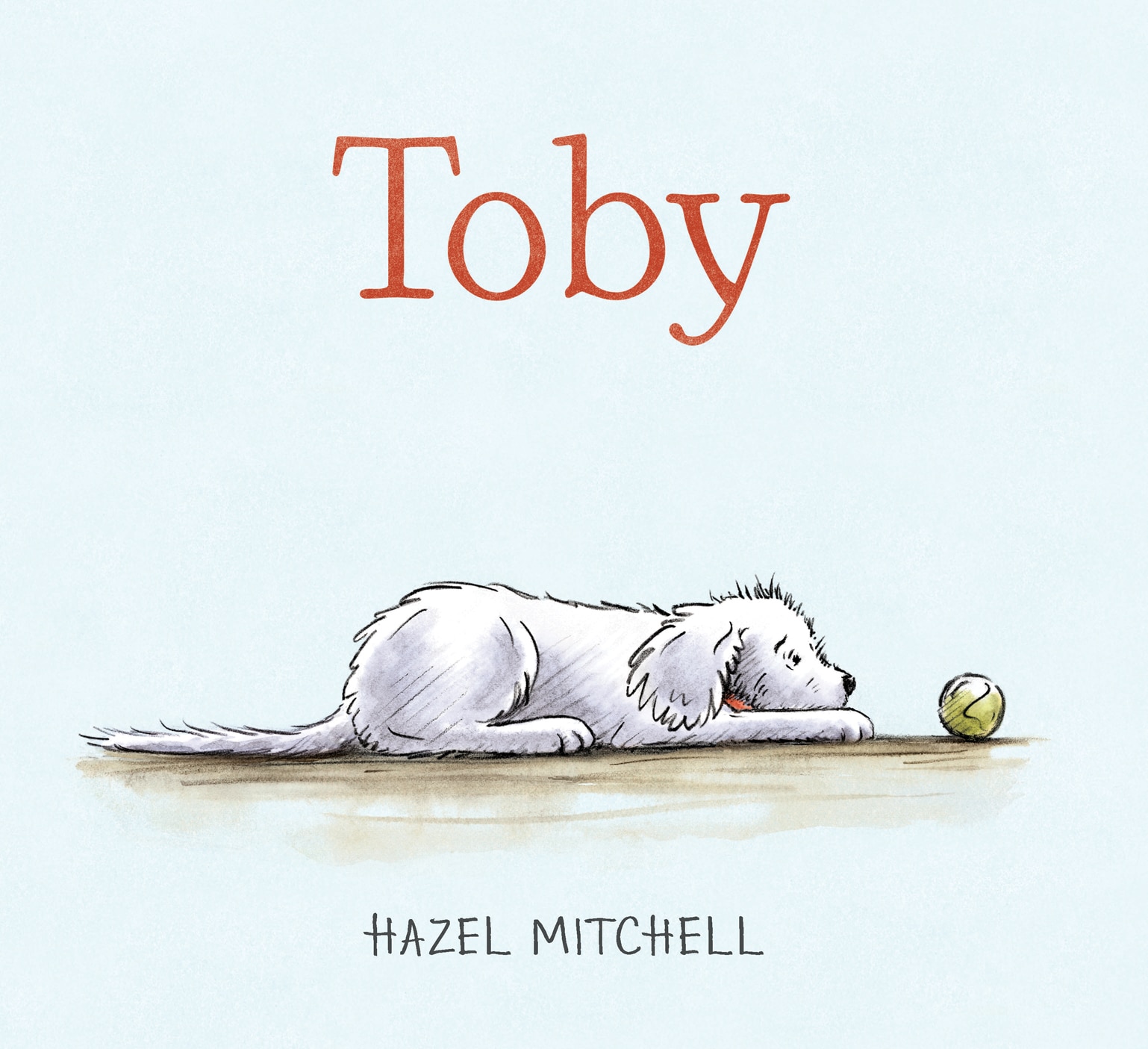 mal, or a child, or even an inanimate/anthropomorphized object you would like to put into your writing?
Here are some questions to ask yourself:
What's your motivation in writing about them?
Is there a reason you are not using fictionalized characters?
Is there something about them/it that's sparking a story?
Are you creating a fictionalized setting with real characters or are you writing a real life story? (Decide which and why! Or both! Can you carry it off?)
Most importantly – do you have a plot?
Thanks for reading and good luck with your writing.
Hazel and Toby (woof!)
Hazel Mitchell has always loved drawing and still cannot be reliably left alone with a pencil. She has illustrated many books for children including IMANI'S MOON, ONE WORD PEARL, ANIMALLY and WHERE DO FAIRIES GO WHEN IT SNOWS?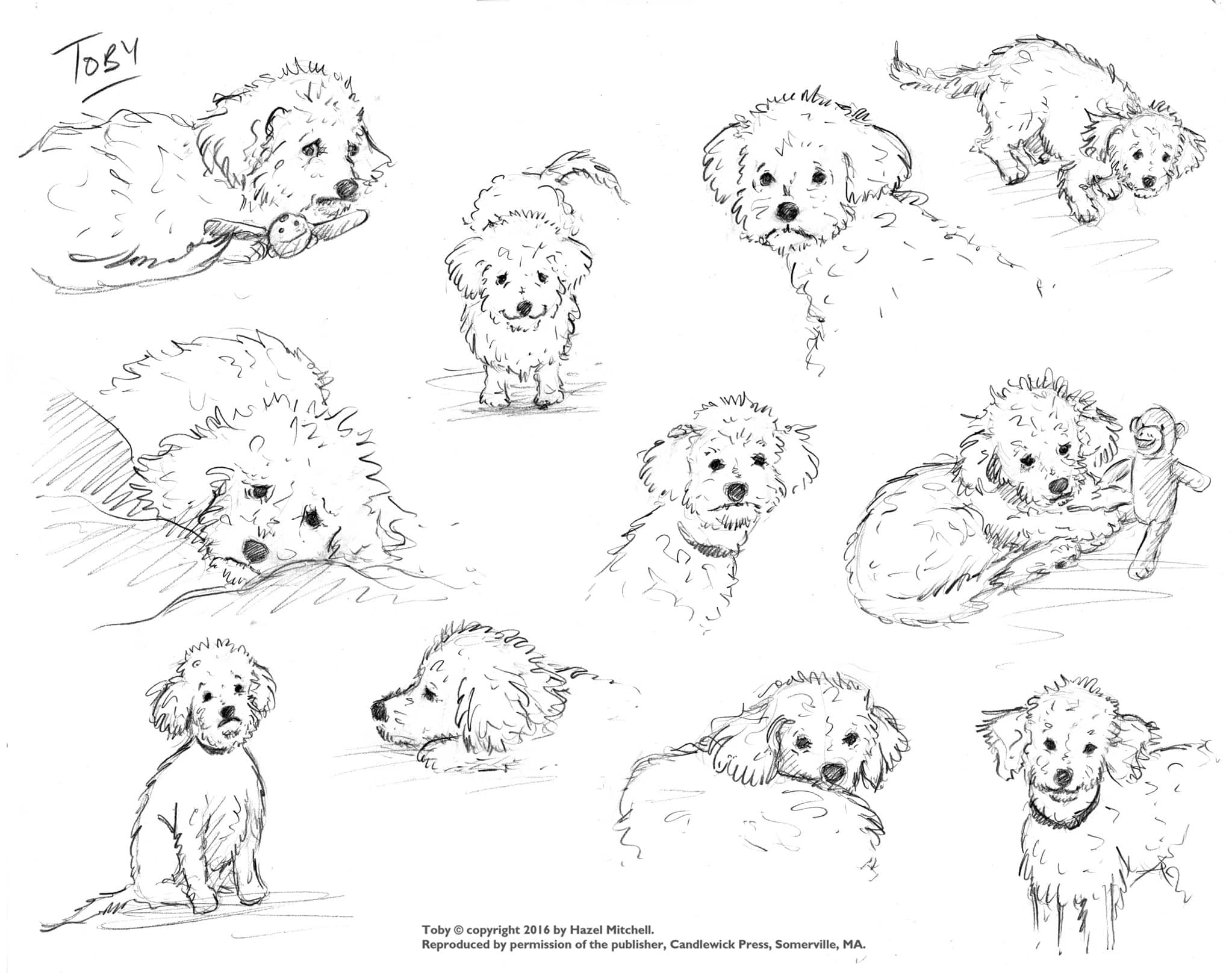 TOBY is her author-illustrator debut from Candlewick Press. Her work has received several awards and been recognized by Bank Street Books, Learning Magazine, Reading is Fundamental,  Foreword Reviews, NYCReads365, Society of Illustrators of Los Angeles Charlotte/Mecklenburg , Chicago and Maine State libraries among others. Originally from England, where she attended art-college and served in the Royal Navy, she now lives in Maine with her poodles Toby and Lucy and a cat called Sleep. She still misses British fish and chips, but is learning to love lobster.
See more of her work at www.hazelmitchell.com. Repped by Ginger Knowlton, Curtis Brown Ltd.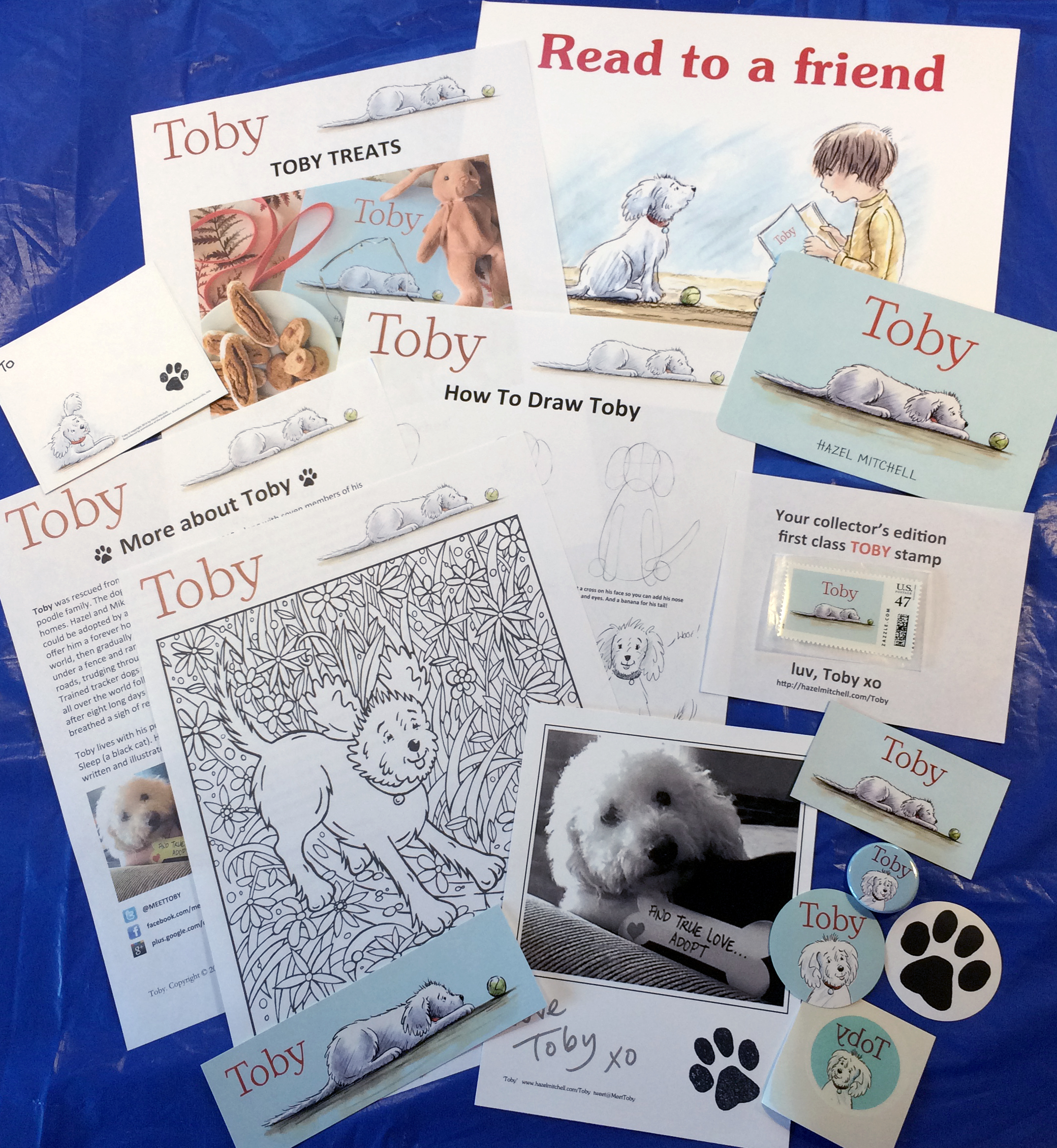 Hazel is offering one lucky 12 x 12 member a copy of her debut book Toby and a swag bag full of fun! So start writing and revising to have more chances to win. (Toby not included. ;-))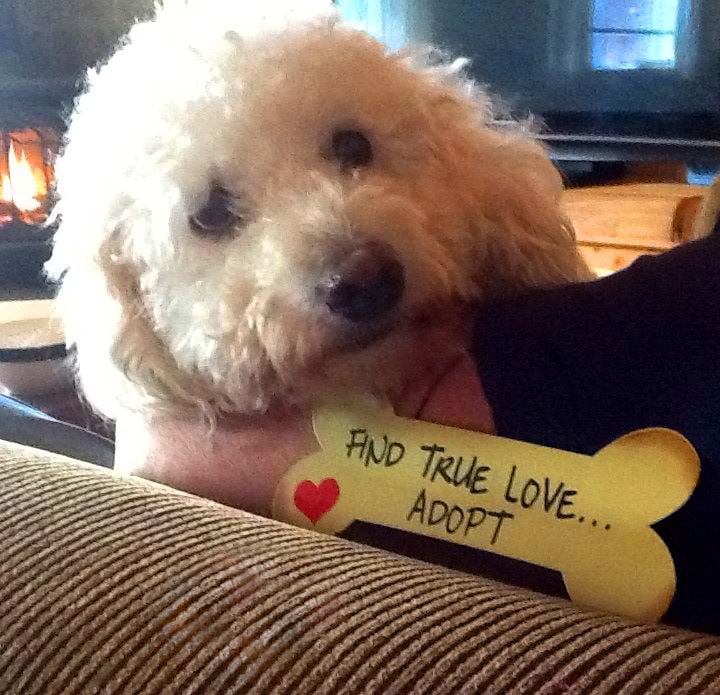 TOBY. Copyright © 2016 by Hazel Mitchell. Reproduced by permission of the publisher, Candlewick Press, Somerville, MA.