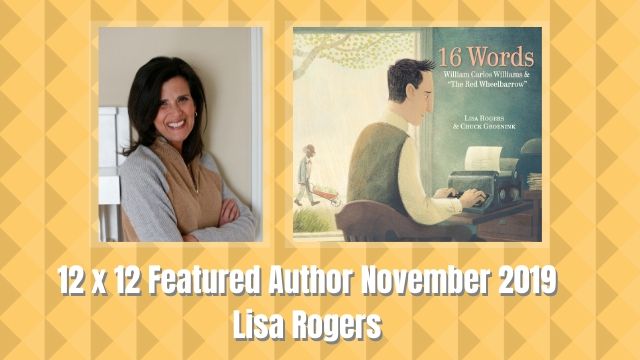 12 x 12 Featured Author November 2019 – Lisa Rogers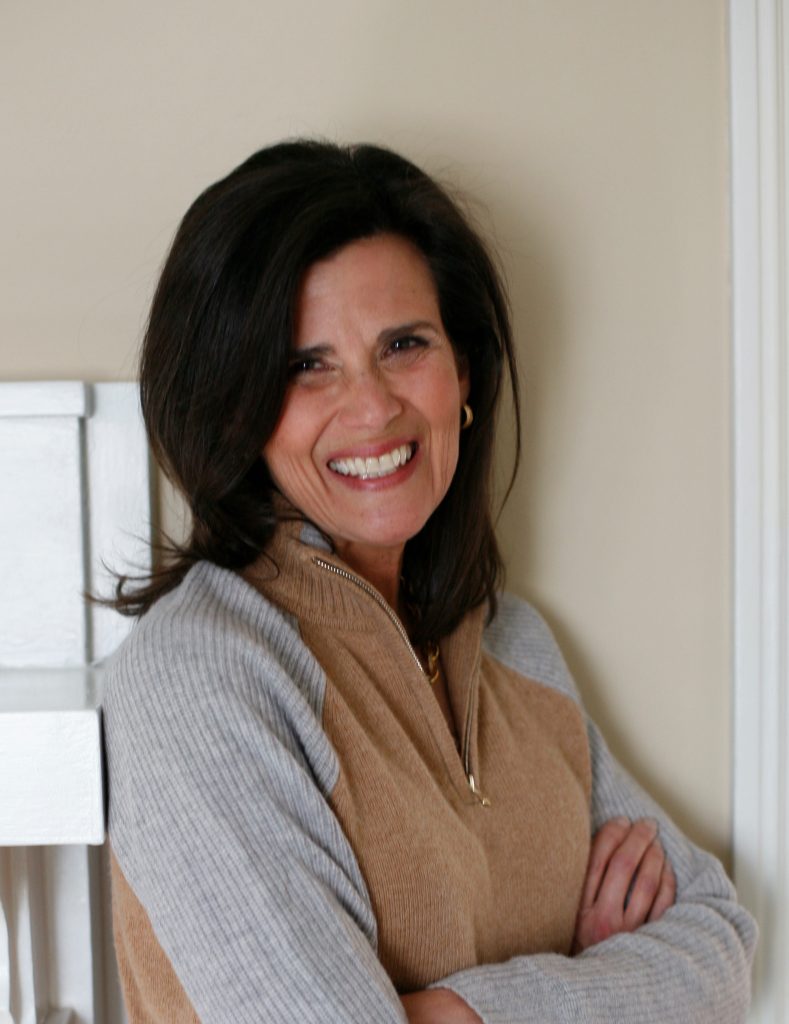 When I was a young picture book reader, I lingered on the illustrations more than the text, imagining that I was in those worlds that were just hinted at on the page. With my debut picture book, I've now been privileged to witness for the first time how the world I made with words came to life.
When I saw illustrator Chuck Groenink's images, I was astounded at how deep and complex that world was—something I never could have imagined. I love that the 16 WORDS cover attributes its creation to both of us. (Of course, that credit first goes to its brilliant editor, Anne Schwartz, whose vision ever so gently and deftly shaped it into being).
I didn't include a single art note for 16 WORDS, nor for my forthcoming fiction picture book, HOUND WON'T GO (Albert Whitman, 2020). But in 12 x 12 webinar after webinar (and gems they are!) one of members' top questions is whether to art note or not. I decided to ask other 12 x 12 authors (and one author-illustrator) debuting in 2019 how they approached this perennial conundrum. They generously shared how they use art notes.
Way #1: As an orientation to the story's world.
In Ishta Mercurio's SMALL WORLD, illustrated by Jen Corace (Abrams, 2019) Nanda's world expands from the circle of her mother's arms to the final image, where she views Earth from space. For this multilayered concept book, some guideposts were in order.
"I don't think of art notes as being for the artist; I think of them as being for the editor, to help them visualize the manuscript and to aid in guiding their choice of illustrator," Ishta says. "In SMALL WORLD, there were two progressions running throughout the book: a geometric progression, and a geographic progression.
"The story was driven by a character who sees the world through a STEM-centered lens. But I didn't want to bog down the manuscript with "Lots of triangles on this spread,"-type notes, so my agent and I agreed that one overreaching art note at the beginning to explain the concept would do, followed by just a couple of notes on pages where the language might have been interpreted in more than one way, for clarity.
For example, on the spread that talks about Nanda's world being the roar of twin engines and the curve of the planet beneath her, I put in a note that indicated that she was blasting off into space (as opposed to, say, taking off in an airplane)."
Ishta's advice:
"Art notes should only be used when it's impossible to tell the story without a specific visual cue that isn't stated in the text. In the case of SMALL WORLD, because the text was so lyrical and soft, a note at the beginning stating that Nanda is a child for whom the shapes and patterns in nature are important was necessary."
Read how Jen Corace met the challenges of this spectacular book!
Way #2. When the illustrations are telling a different story than the text.
In Sheri Dillard's COWHIDE-AND-SEEK, illustrated by Jess Pauwels (Running Press Kids, 2019) Bessie the cow thinks she's found the perfect hiding spot, but it's obvious from the illustrations that she's not hidden at all. Without notes, a reader of this manuscript might have misunderstood the book's premise.
"I love the moment of surprise that can come at the turn of a page. In COWHIDE-AND-SEEK, a lot of the humor is in those moments," says Sheri. "And even though that page-turn humor is in the illustrations, I wanted the manuscript to reflect the experience as much as possible, so I added brief art notes. Here's an example:
And then . . .
Bessie found an even better hiding spot.
[ART:  Soccer game. Bessie is "hiding" behind the soccer ball.]
"As you can see, the text is very simple and doesn't give any indication as to where the cow is hiding. But I love how, at the very moment the page is turned, the reader (and listeners 🙂 can see the humor of her hiding spot."
Sheri's advice: "Think of the person reading your manuscript and make sure they have the information they need to understand the story but don't lose them (or the moment) by sharing unnecessary details."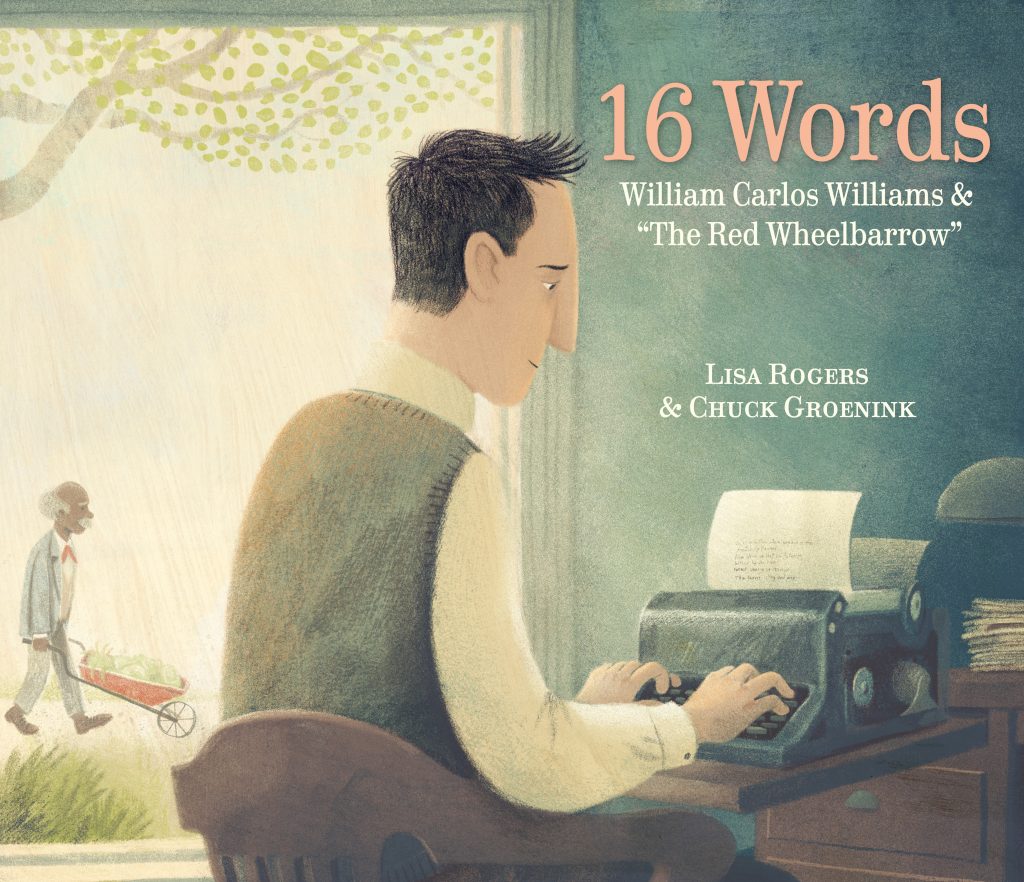 Way #3. When your manuscript contains figurative language.
When I read Bea Birdsong's I WILL BE FIERCE, illustrated by Nidhi Chanani (Roaring Brook Press, 2019) I wondered exactly how Bea communicated to the illustrator what dangers her character was facing. Turns out that she noted her intentions for EVERY line!
"If you ask anyone in publishing whether to include art notes in your manuscript, the answer you will hear is, "Yes, but only if they are necessary," says Bea. "This is true, but it can be difficult for beginning writers to distinguish between necessary and unnecessary art notes. For my manuscript for I Will Be Fierce, I included an art note for every line of text."
Bea shared this example:
I will charge the many-headed serpent.
[Art: Girl getting on the school bus with kids' heads hanging out the windows]
"The premise of the story hinges on the pairing of text with specific images, so the art notes were necessary. However, notice what this art note does not include. I did not note that it is a sunny day, that Fierce Girl carries a backpack, that there are six kids with their heads hanging out the windows, or any of the other details that show up in the final spread."
Bea's advice: "Ask yourself: Is this image essential to the premise of the story? If the answer is yes, then ask: Is this image obvious from the text of the story? If the answer is no, include an art note. Otherwise, you can trust your illustrator and leave it out."
Way #4. When your story's plot points depend upon the illustration.
In Kim Chaffee's NOTHING WEE ABOUT ME!, illustrated by Laura Bobbiesi (Page Street Kids, 2019) her main character, Liesel, wields a ladle to work magic.
"Throughout the story, Liesel's magical ladle turns into things that aren't stated in the text. For example, near the story's end, her ladle turns into a few things that are not very helpful to Liesel. None of the things the ladle changes into are stated in the text so I used an art note there to indicate what it should be.
"Also, there are moments when I added an art note to indicate Liesel's location. At one point she is banging on doors to warn the villagers and it is important that the last door she bangs on is the castle door. I don't state that in the text but added an art note for clarification."
Kim's advice:
"I tend to use art notes just to ensure clarity in places in my manuscript where I think the text might not indicate what the art should show. Use them sparingly and only where the text doesn't indicate something important that needs (not what you want) to be in the art."
Way #5. Create pictures with your words.
Ioana Hobai debuted as author-illustrator with LENA'S SLIPPERS (Page Street Kids, 2019) and also illustrated Annie Cronin Romano's BEFORE YOU SLEEP: A BEDTIME BOOK OF GRATITUDE (Page Street Kids, 2018) .
"I did not feel any reluctance on the author's part to let go of the manuscript and let me take make decisions. I remember that when I got the assignment to illustrate her manuscript, I felt such a responsibility because I thought of it as her baby.
Even though Ioana and Annie had met, Ioana says that "during the illustration process, we only communicated through the publisher. She was shown the sketch dummies at various stages of the process and she gave some input. She seemed quite happy with the way the book has turned out and that made me happy too.
Ioana's advice:
"I know that some writers are reluctant to let go of their text but I think that they have already painted a picture when they put that story on paper. Their voice, word choices, rhythm, use of pacing, tension, point of view, etc., can suggest whether the art will be soft, dreamy, realistic, more dramatic or abstract.
"The author has created a base image that fuels the imagination of the illustrator, who wants to make the best possible book as well. The illustrator's job is to take that base image, mold it, add to it, expand it and transform the story into something new, which will help the reader's imagination take flight."
That's our goal as writers—our words boost that imaginative leap; the illustrations direct that flight into an even richer universe than we could ever imagine.
LISA ROGERS is an elementary school librarian who's been a 12 x 12 member since 2012. Her debut picture book, 16 WORDS: WILLIAM CARLOS WILLIAMS AND "THE RED WHEELBARROW," (Schwartz & Wade Books) launched in September and will be followed by HOUND WON'T GO  (Albert Whitman & Company, spring 2020). Lisa lives near Boston with her family and stubborn hound dog.
Want even more information on art notes and how to use them? Check out our course on the subject, which includes examples of published books and the original manuscripts with art notes. TO ART NOTE OR NOT TO ART NOTE on our Teachable site.