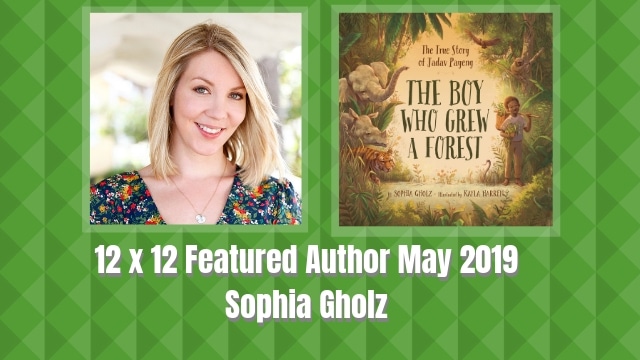 12 x 12 Featured Author May 2019 – Sophia Gholz
Revision and Opening Lines
Whether you've spent months researching a story idea or an intriguing character has just popped into your head, typing the first words on a blank page can be intimidating. Let's be honest, writing is hard and those first few lines are often the hardest. Thankfully, we don't have to share our first draft or the second or even the third. The revision process allows us the opportunity to dissect and polish our stories. We just have to put that rocky first draft on paper to begin with.
When I started writing my book, The Boy Who Grew A Forest: The True Story of Jadav Payeng, I went through many drafts and struggled with the opening lines. I'd spent weeks researching Jadav's story and had a general idea of the direction I wanted to go, but I couldn't quite figure out the best approach in the telling of this story. In nonfiction, it's important to be honest, while still crafting a storyline that readers connect with it. This was the opening line of my first draft:
By a river in India, Jadav Payeng is planting.
While that statement is honest, I wasn't sold on that line. I felt like I could pull the camera back even further to establish more of the location. Plus, I didn't think this opening fully set the mood I was hoping for. In fact, that sentence is actually a good example of "telling" the reader what is happening, without providing much else. That line might be factual, but it also wasn't very exciting and told us nothing about Jadav's motivation. What is so special about someone planting and why should the reader care? Where is the hook?
Some might feel that I'm reading too much into those nine words. But, as a picture book writer, I have learned how important each word is in a manuscript. Every single word has to be imperative to the story when working with word count limitations. We have to ask ourselves: Is each word or line establishing mood, the setting or character development and does it move the plot forward? On my next draft, my opening line read:
On a river island, in India, there was a beach where nothing grew.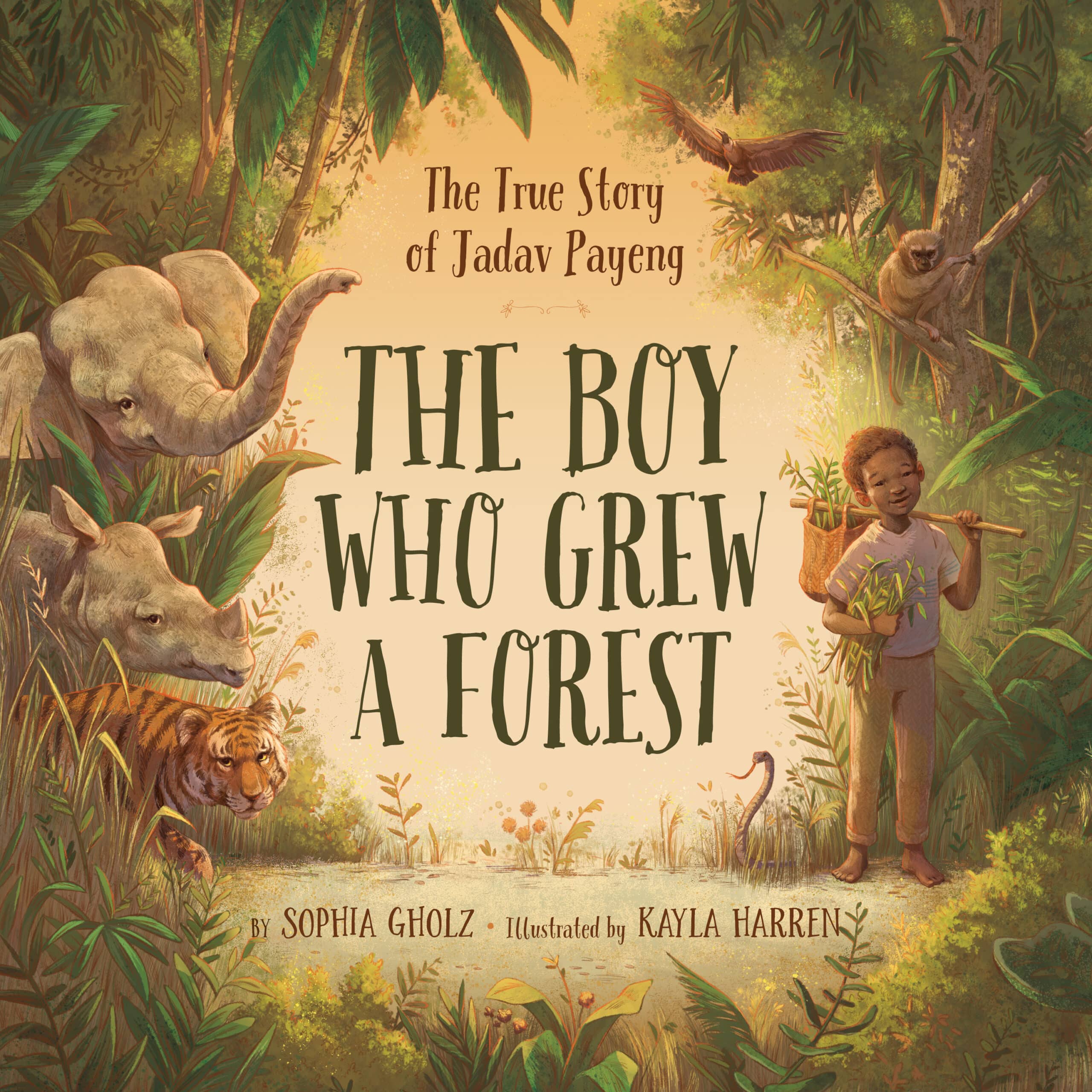 This opening sentence certainly is a little more exciting. It establishes an island as the location, and it creates a little bit of mystery. A place where nothing grows? Hmm… But that sentence immediately sets the reader on the barren island location, and I needed to rewind to set things up before arriving in this particular place. I felt like, at this rate, I might spend the first few spreads talking about the island and why things aren't growing, before even having the chance to introduce Jadav and his mission. A few revisions later, my new opening line was this:
On an island, among lush forests, farms and families hard at work, Jadav Payeng dreams of trees.
Now we're getting a little closer. I'm packing more into the opening line by creating a fuller setting, while simultaneously introducing Jadav and his dream/motivation. However, I felt like this opening line left room for some confusion. If Jadav is among "lush forests", why is he dreaming of trees and not out playing in them? I also knew that I wanted to establish India as the specific location, while showing how large this island is. I wanted to start with the camera zoomed out as far as possible and then zero in on Jadav. So, a few full manuscript revisions later, my final opening line became:
In India, on a large river island, among farms and families hard at work, there lived a boy who loved trees.
By removing Jadav's name and referring to him as "a boy", I felt like I had distanced the reader slightly and maintained a bit of magic and mystery. By switching "dreams of trees" with "loved trees" I felt that Jadav had more of a concrete reason and motivation for every single action to come. If he had just dreamed about trees, his motivation didn't feel as strong. Most importantly, however, I was able to use this new line to launch more naturally into the direction I wanted to take this story:
The boy loved trees because [show the reader why trees are important, which sets the stakes]…and therefore…[the stakes lead right into a call to action]…
In other words, this final opening line accomplished what I needed it to, while providing a springboard for the rest of Jadav's story.
One might look at my different opening lines and think that they're all similar or that any one of them could have worked. And maybe they would be right. But, for me, I knew I had to keep at it until everything clicked. Each of us is different in the way we think about and craft our stories. But the consistent factor among us all is how important the revision process is. If we don't allow ourselves the time to write and then rewrite, we might not ever know what our story's true potential is.
Writing isn't about that first draft or the second or even the third. Writing is a process of learning where we want a story to go and how best to get there. Through revision, we are able to chisel away at our stories like a sculptor with a piece of stone. Are our words moving the plot forward, maintaining mood or building character? Will our readers read past that first line or close the book right away?
Our first draft is like a rough geode pulled from the ground. Inside, there is a sparkling surprise. We just have to get there.
Sophia Gholz is a children's book author, a two-time Florida Society of Children's Book Writers and Illustrators Rising Kite Award winner, the managing owner of www.RateYourStory.org, and a board director at www.KidLiteracy.org, a nonprofit organization focused on early literacy initiatives. Sophia writes fiction and nonfiction for children of all ages. Her debut book, THE BOY WHO GREW A FOREST: THE TRUE STORY OF JADAV PAYENG was recently released and has received starred reviews and been featured on numerous lists. For more, you can find Sophia online with the links below:
Website: www.sophiagholz.com
Facebook: www.facebook.com/sophiagholzauthor
Twitter: www.twitter.com/sophiagholz
Sophia is offering an amazing prize this month! One lucky winner will get 6 submissions passes to Rate Your Story, plus access to the members-only newsletter through the rest of the year! Get cracking on those manuscripts and revisions!