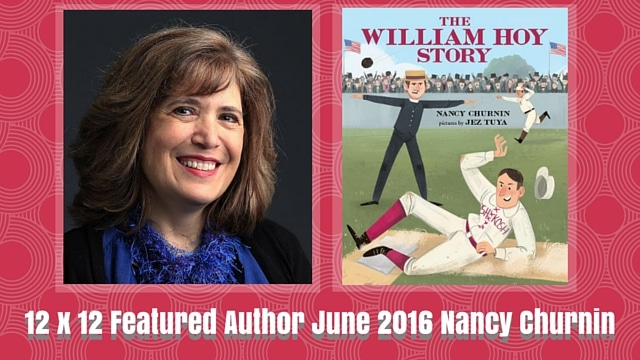 12 x 12 Featured Author June 2016 – Nancy Churnin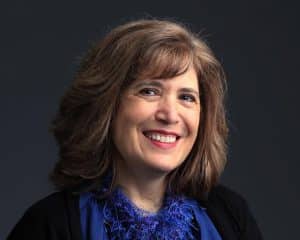 What a joy and an honor to bring you another featured author from within our own 12 x 12 community – Nancy Churnin. Her picture book biography, The William Hoy Story, has released to fantastic critical reviews and even appeared as a recommendation in People magazine! We are so proud of her and grateful that she's given her time to tell us a bit about her process writing this biography (and her writing process in general).
Nancy is offering a signed copy of The William Hoy Story to one lucky 12 x 12 member. So, get started on those June drafts today!
Please welcome Nancy!
1. What book do you wish you had written?
The one I am working on! It is wonderful to finish a book so that you can move on and work on the next. I never look at a book that has been written and wish I had written it. Instead, if the book is wonderful (and particularly if it's wonderful), I am grateful because I think: That's been done and done well, so I don't need to do that. Life is short and one can't do or write everything. The existence of a wonderful book is an absolute good that frees me to turn my attention to the stories that I feel need to be in the world. The absence of the story that needs to be in the world is a responsibility and I push forward doing my best to bring it into the world in the best possible way I can, striving always to increase its chance to survive and thrive in children's hearts and minds.
2. Who would you like to write your biography?
I would be honored by anyone who wants to do that! All that I ask is that the person who takes on such a task tries to know and feel my heart and understand why I do what I do.
3. Tell us about your research process. i.e. How many sources? Did you get permission from your subject or his estate? How much did you have to leave out of the story? What kind of original research did you do?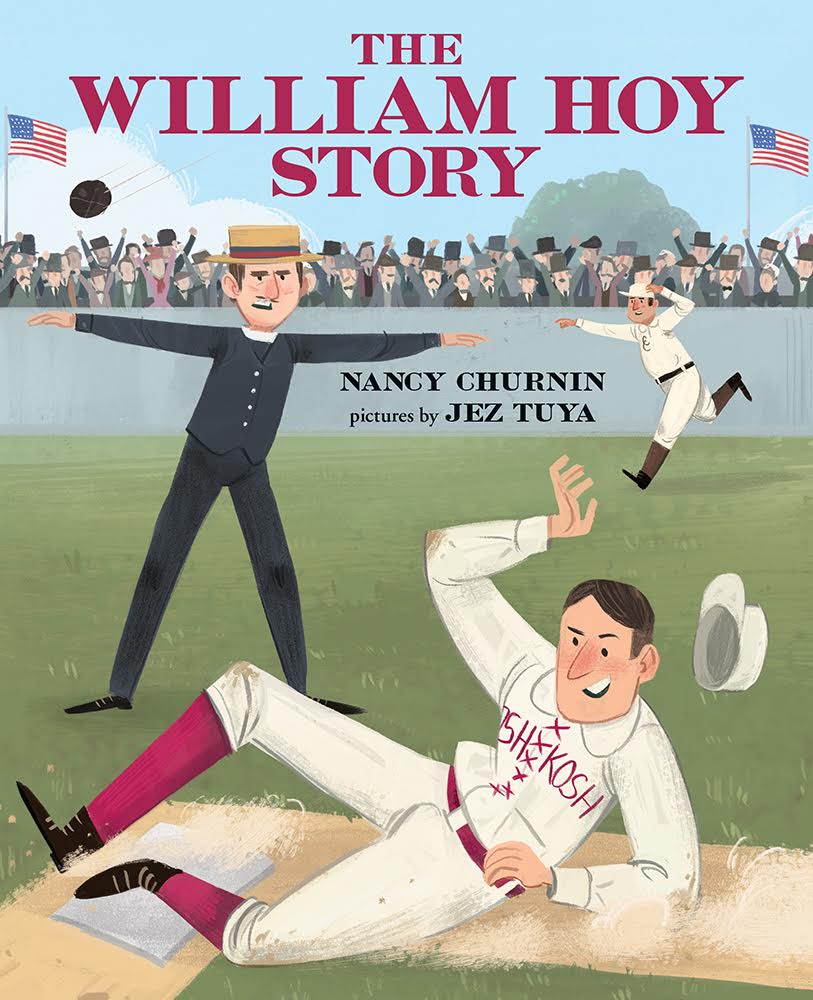 The William Hoy Story sprang out of my email correspondence with Steve Sandy, a Deaf man who has made it his mission to spread William's story and get him inducted in the National Baseball Hall of Fame as the first Deaf baseball player. The more Steve shared about William's character and how he taught umpires and teammates signs so he could play the game he loved, I felt it could be an inspirational story for children. I also hoped that if the children got inspired they would help with this worthy cause. I asked Steve if he would help me with the research. Steve is a friend of the Hoy family and he supplied me with family photos and newspaper articles dating back from the 19th century. He also made himself available to answer every question and I had a lot of questions! One of the toughest parts of the writing journey was finding the focus of the story — the signs — and dropping all the great biographical details that slowed down that focus.
4. How did you choose the subject of your picture book biography?
After learning what William Hoy meant to Steve Sandy and the larger Deaf community, I felt compelled to bring the story of this great Deaf hero to both Deaf and hearing children. For children not to know his story felt like a wrong that had to be righted. I had to do it. Now I am engaging kids who love the story to write letters and draw pictures about why he should be in the Hall of Fame. I have been invited to present the book at the Hall of Fame on an Author Visit July 6 and I will hand deliver all those letters and drawings to the Hall of Fame when I'm there.
5. Did your story change from concept to final draft? Meaning, did you have an idea about how to tell the story initially and then have it evolve after you'd done more research?
The story changed so much! I began overwriting, getting bogged down with details, thinking I had to tell his story from birth to death. As a longtime journalist, I started out at a distance, not writing with the immediacy needed to bring children into the emotions of the story. For me, it was not that I needed more research. I needed to put the research aside and start listening to my heart to help me feel what William felt and share his journey from the inside out.
6. How did you decide what to focus on – slice of life or birth to death?
Birth to death was too dispassionate — I saved that for the back matter. Slice of life didn't quite cut it either as there wasn't one isolated moment that told his whole story. What I focused on was William's journey and how the very thing that made him different — being Deaf — would turn out to be his strength. He didn't overcome his difference, he used it to make the game better for everyone. I started out the story with his mother giving him Deaf applause when he practiced as a boy. As he sits on a baseball bench, upset after having been struck out by a pitcher taking advantage of him not hearing the umpire's calls, he remembers his mother's applause and it gives him the idea for the signals. At the end, his greatest triumph, the one that reminds him of his beginnings, involves the signals again.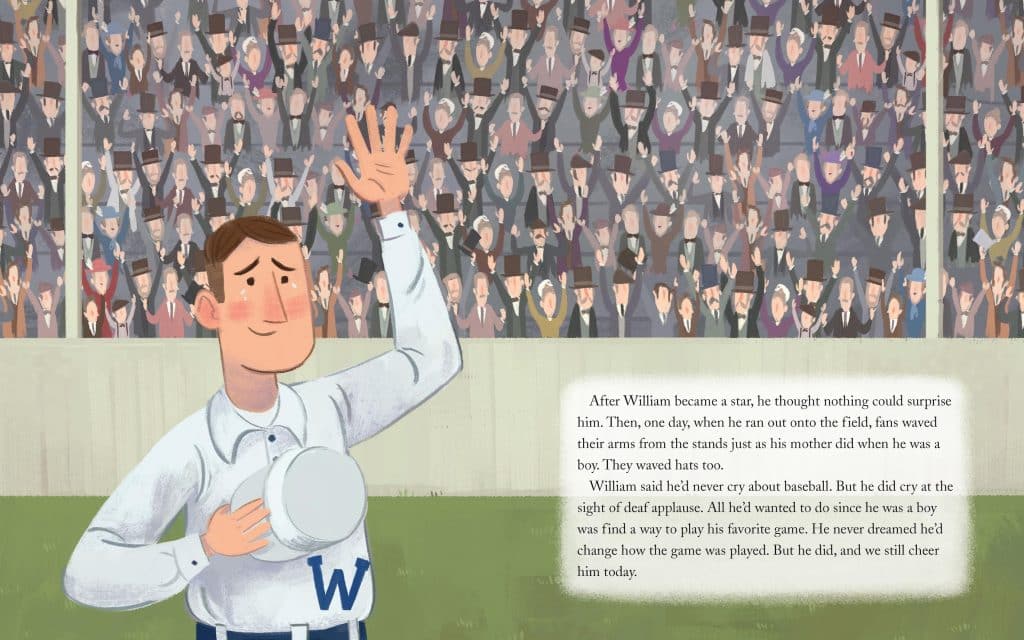 7. How did you handle back matter and who decided what to put in? You, your editor, etc.?
The back matter was a relief and a pleasure to do. I had to cut out so much to keep my story focused and tight, with sentences that would make the children want to keep turning the pages. In the back matter, I could include so many biographical details I had left out, including how William lost his hearing (from meningitis at age three), how he was referred to as Dummy (I didn't want that in the main text because it would be too much for the younger kids to process) and his life after baseball, including his marriage and children and how he lived 99 years from Abraham Lincoln to John F. Kennedy and how he is in several Halls of Fame including the Cincinnati Reds Hall of Fame. The challenge there was to keep that focused and tight. I couldn't put EVERYTHING in there either!
8. Did you have to deal with any conflicting information on the person's life? If so, how did you handle it?
The most fascinating problem I had to resolve were different baseball statistics about his career from different sources. What I learned was that the reason the statistics were different is because some calculations were made on his performance in the two leagues we have today: the national league and the American league. But William was one of the few baseball players that played in FOUR leagues. Yes, there were originally four leagues and he played in all of them in a Major League career that spanned 14 years. I solved that problem by dropping numbers in favor of words that resonated more with the kids — the fact that he lead the league one year in stolen bases and that he was called the king of centerfield.
9. How did you put the emotional arc in while still keeping it 100% nonfiction?
I channeled the story as I felt it. When I worried that I had taken liberties, I ran the book by the two people I trusted most, Steve Sandy, who knows everything about William Hoy and Texas Rangers Hall of Fame announcer and all around good guy Eric Nadel who had written about William Hoy in a book for adults. When they both gave me the seal of approval, that gave me confidence.
10. How did you create kid appeal in the writing?
I started with William as a boy, practicing his throws, trying to hit an X he'd scratched on the barn wall. I wanted the kids to identify with the child William and feel that longing to play that continued as he grew to be a man.
11. What are your top tips for folks who want to write PB bios?
Write the story you feel will make a difference in the world. Tell the story that will inspire kids to believe in themselves or have courage or to reach out and lend a helping hand to someone who seems different and whose difference might be the very thing the world needs.
12. Any other words of wisdom?
Join a writing community! After my first solo efforts with The William Hoy Story flopped in the slush pile, I considered giving up. At some point, after initial form rejections, I realized that even though I was a professional journalist, I did not know what I needed to know to write a successful children's book. Somehow, online I discovered 12 x 12 and it changed everything. I found a place where I could ask questions, where I could get tips and techniques, where I found out about online writing classes like those offered by Kristen Fulton, Mira Reisberg, Susanna Hill and challenges like Tara Lazar's PiBoIdMo and Miranda Paul's Rate Your Story. Through 12 x 12, I was able to query one agent each month. After six months of learning, learning, learning and drinking in support and encouragement, I had a breakthrough about how to revise The William Hoy Story. I sent it to the agent of the month that July. Karen Grencik of Red Fox Literary responded that same day, saying she wanted to represent the book! Another round of rejections, this time personalized and regretful, and another major revision after yet another breakthrough, and Wendy McClure of Albert Whitman & Company accepted it just a day or so after receiving it. And here we are. So find your tribe, keep the faith, encourage others and don't give up. Remember, you serve the story and your journey to bring it to children is your quest. For some that quest will be longer and more difficult than it will be for others, but you will get there if you are strong and faithful to your subject and don't give up.
Nancy Churnin is a native New Yorker and a lover of baseball who is happy to call Dallas her home. Go Rangers! She's the theater critic for The Dallas Morning News and a graduate of Harvard University, with a master's from Columbia University School of Journalism. She lives in North Texas with her husband, Dallas Morning News arts writer Michael Granberry. Between shows and deadlines, they're raising four sweet boys and two crazy cats.