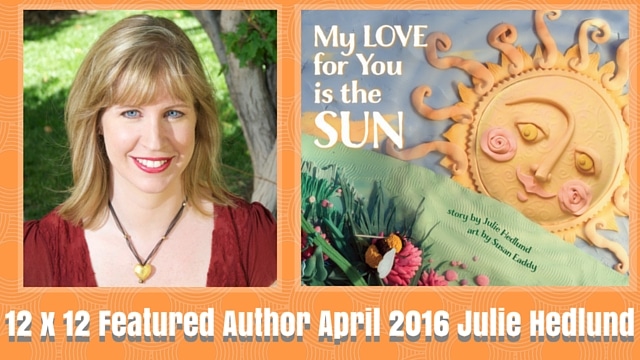 12 x 12 Featured Author April 2016 – Julie Hedlund
As the founder of the 12 x 12 challenge, people often ask me, "How do I know if I should quit writing?" Not surprisingly, this question often comes in moments of extreme self-doubt after what feels like (or actually is) the 100th rejection. I never put it quite this bluntly, but in this post, I'll give you my answer.
If you CAN quit, you should.
Allow me to explain.
I have been in and out of a pretty major writing funk since about last August for various reasons. If I had to pin it down, I'd say much of it comes down to two things. First, I've been recovering from a pinched nerve/herniated disc in my cervical spine. The impact of that bleeds into everything I do, and has limited my regular exercise routine to such an extent that I don't get my usual dose of daily stress relief. The second is related to a number of difficult rejections, feelings of self-doubt and yes, sometimes even despair.
My reasons aren't important, though. Surely you've been in writing funks too and while your reasons will be different from mine, the effect is the same. It makes you miserable.
When I'm not writing, nothing else feels right in my life. Everything is "blocked." My house is a mess. My temper with my kids is shorter. I'm less motivated to exercise or work or even open the mail. I don't enjoy sunny days as much as I should. I cook less and eat more take-out. The list goes on and on.
Why then, wouldn't I quit? Why would I subject myself to this type of funk when I could choose a different career? I have an advanced degree and plenty of experience in business. Why do I keep writing?
The answer is simple. Being a writer is not what I DO. Being a writer is who I AM. I could no more quit writing than I could stop being female. It's in my DNA. For real writers, write or die is not just a website. We have words inside us that must come forth or we will become ill. When we resist (as I have been lately), the discomfort piles up until it becomes unbearable and you find yourself in front of the page once more, whether it's a blank piece of paper or a blinking cursor.
If you are a real writer, quitting is not an option.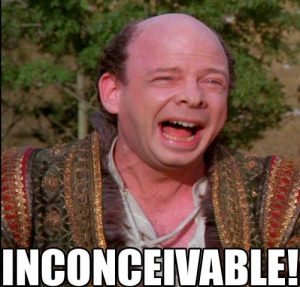 Now, you may discover that your voice is in novels or nonfiction instead of picture books. Or you might discover you need to write a memoir or become a reporter instead of a children's author. But quit writing? No. As Vizzini in the Princess Bride would say, "INCONCEIVABLE!"
The people who quit are the ones who write solely for the glory of publication and seeing their names in bright lights on a bookstore shelf. When or if that doesn't happen, they become disillusioned and go on to do something else.
That's why I say if you CAN quit, you should, because writing is probably something you want to do rather than something you are. You can do other things. You can't be someone else.
For the rest of us, we need to keep writing. Luckily, in 12 x 12, we get to do it together. We also know and understand that we are not alone, no matter which stage, which phase, of writing we're even (even these wretched funks).
So if anyone out there reading has ever felt like you are circling the drain with your writing and that it will never amount to anything, know two things. One – you are not alone. Two – as long as you keep writing, it WILL amount to many things. Great things. Even if your name isn't in lights (yet) on a bookstore shelf, your words create meaning for you and will do so for others.
Case in point. You know what is getting me out of my funk this time? Writing this blog post for you.
I have to give Kelli credit for this though (speaking of having people to reach down and help lift you out of your funks). She was the one who suggested I write about what I'm going through because she thought it might resonate with you and make you feel better about your own funks. So if this post DID help you, make sure to thank Kelli too!
Now, if you'll excuse me, I have an April draft to write before the check-in post goes live tomorrow. 🙂