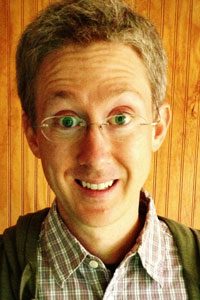 Over the years Tim McCanna has been an actor, musician, musical theatre writer, graphic designer and dad. Now, he's combining all those experiences into being a writer for children.
Tim has several new picture books currently in development. BITTY BOT, with illustrations by Tad Carpenter, arrives Fall 2016 through Paula Wiseman Books, an imprint of Simon & Schuster. A sequel to BITTY BOT will follow.
WATER SONG, with illustrations by Richard Smythe, is due out in 2017 also through Paula Wiseman Books.
JACK B. NINJA, with illustrations by Stephen Savage, is due out in 2017 through Cartwheel Books, an imprint of Scholastic, Inc.
His debut picture book, TEENY TINY TRUCKS, released in October 2013 as a hardcover book and as an interactive, musical iPad app. Kirkus Reviews called TEENY TINY TRUCKS "a delightful story" and "a clever rhyming adventure."
In 2004, he wrote and produced the off-off Broadway musical, THE COSMIC CALAMITIES OF HENRY NOODLE. And, he used to play accordion for a folk band called the Hobo Nickels. Along with composing songs for iPad story apps and picture book trailers, Tim has created jingles for the Picture Book Summit, 12×12, and Katie Davis's Brain Burps About Books podcast.
After growing up in Missouri, Tim spent his undergrad years at TCU, then earned an MFA in Dramatic Writing for Musical Theatre from NYU's Tisch School of the Arts. As a member of the Society of Children's Book Writers & Illustrators (SCBWI), Tim serves as Assistant Regional Adviser for the San Francisco/South chapter. He currently lives very happily in Mountain View, California with his wife and two kids.