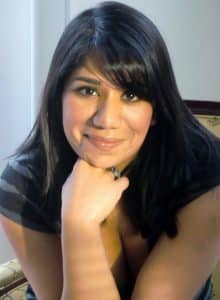 Sudipta Bardhan-Quallen never thought she'd grow up to be a writer. As a child, she thought of being a doctor (but she's afraid of blood), a lawyer (but she doesn't like losing arguments), a carpenter (but she's too clumsy), a model (but she likes eating too much), a presidential candidate (but she had a dissolute youth), a UN ambassador (the argument losing thing again)… almost everything but a writer.
In fact, in 2001, Sudipta was well on her way to not being a writer. She had graduated from the California Institute of Technology in 1998 with a BS in Biology, spent a year in Boston, and then had returned to Caltech as a PhD candidate in developmental biology. That's when she had her first child, Isabella. Bella's birth didn't change Sudipta's plans – she thought she'd take a long maternity leave then return to graduate school. Then, her daughter Brooklyn came along.
With two small children, Sudipta found herself less interested in biology as she was in parenting. And for the first time, she found that she had stories to tell, stories she wanted to share with her daughters, and she decided to try to get published. After a half-dozen rejections, in 2003, Sudipta sold her first story to a children's magazine, Highlights for Children.
Using her science background as a springboard, Sudipta began writing nonfiction for children, including Championship Science Fair Projects, Last Minute Science Fair Projects, AIDS, and Autism. She branched out into other nonfiction, including biographies of Franklin Delano Roosevelt and Jane Goodall, and altogether, Sudipta has written 18 nonfiction books for kids.
Her first love, however, was always picture books, so using a facility with word play and a love for animals (especially pigs), Sudipta worked on a number of manuscripts. Most of them were rejected (she freely admits, when she started writing picture books, they really stank!).
Sudipta kept at it, and fittingly, her first picture book, Tightrope Poppy, the High-Wire Pig, illustrated by Sarah Dillard, about a proud pig who perseveres was published in 2006. This was followed in 2007 by The Mine-o-saur, illustrated by David Clark, in 2008 by Ballots for Belva: The True Story of a Woman's Race for the Presidency, illustrated by Courtney Martin, and in 2009 by The Hog Prince, illustrated by Jason Wolff. Sudipta has nine other picture books scheduled for the next few years, including Pirate Princess, illustrated by Jill McElmurry, Half Pint Pete the Pirate, illustrated by Geraldo Valeria, and The Hampire, illustrated by Howard Fine. Her children, now including a son named Sawyer who was born in 2006, are a constant source of inspiration. Sudipta has heard the words "Mine! Mine! Mine!" shouted so many times that The Mine-o-saur almost flowed out of her mind naturally. Watching her daughters devour donuts inspired The Hampire, dress up playdates inspired Pirate Princess, and she refuses to admit what (or whose snoring) inspired Snoring Beauty.
As for The Hog Prince, well, any girl–including Sudipta–will tell you that you have to kiss a lot of hogs before you find what you want in life.
Sudipta visits schools to share her stories and experience, and teaches writing to children and adults. She lives in New Jersey with her family and an imaginary pony named Penny.