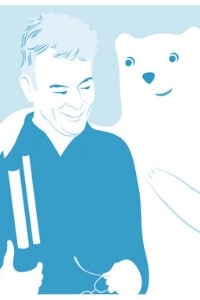 For nearly 15 years, Rick Margolis worked for School Library Journal, the world's largest reviewer of books for young readers. As SLJ 's executive editor, he had the pleasure of interviewing many remarkable children's book creators, including Kate DiCamillo, Mo Willems, Katherine Paterson, Gene Yang, Rita Williams-Garcia, Rebecca Stead, and Jon Klassen. One of the best parts of Rick's job was writing a monthly interview column, which highlighted new and promising authors (like John Green and Suzanne Collins) who went on to have amazing careers. And for some reason, almost every year Rick was able to predict the winner of the Caldecott Medal, which honors the year's best-illustrated book.
Although Rick loved his stint at SLJ, he was ready for a new challenge. But not just any job would do.
Rick wanted to find one that felt like his true calling—one that he was wild about—and that could contribute something of value to the world. He also wanted to stay connected to kids' books—because he loves them and because he was once a reading specialist (working with students who struggled to read) and he knows firsthand what a profound difference the right book can make in a young person's life.
To make a long story short, five years ago Rick launched Rising Bear Literary Agency, specializing in what he most loves: picture books, early- and middle-grade fiction, and young adult literature. Rick is constantly looking for outstanding picture books and novels for kids and young adults. He represents everyone from award-winning authors and illustrators, such as Gary D. Schmidt, Kate Banks, Ron Koertge, and Jennifer Yerkes, to gifted newcomers. Rick is especially attracted to people who have something to say to children and teens, and he admires creative risk-takers who aren't afraid to try something new or to shake things up.