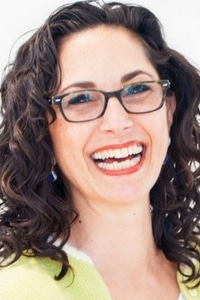 Author and illustrator Katie Davis is an award-winning marketing maven. She's written and illustrated in total, 11 books for children, including picture books, middle grade, and young adult novels through major traditional publishers, and has independently published a picture book and two marketing guides for adult writers. Her picture books have sold over 755,000 copies.
Her experience in publishing and marketing was the perfect precursor to establish her business helping other writers. Katie does this on many levels: through Brain Burps About Books, her #1 iTunes podcast (in Children's Publishing), by teaching tech-wary writers how to build and strengthen their platforms through video, and coaching writers on social media and marketing, or as Katie calls it, "making friends and meeting people."
She teaches through downloadable courses like Video Idiot Boot Camp, and How to Create Your Author Platform as well as through online courses like Get Your First 1,000 Followers and Launch Your Book Blueprint. In Get Your First 1,000 Followers, Katie shares what she's learned and teaches the strategies, tips, and secrets she's learned on her journey to creating her own online community which includes everyone from her 219,938 podcast subscribers, to her 983 YouTube subscribers, to her email list of 10,296 "peeps," and more.
Katie and her husband Jerry, (author of the picture book Little Chicken's Big Day), just took over the venerable Institute of Children's Literature, a 46-year-old educational company that teaches people to write through one-on-one college level (yes, with credits) courses.