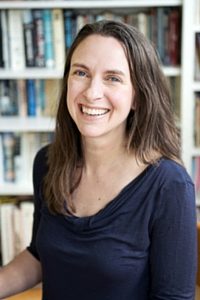 Julie Falatko writes books for children. She likes to write about talking animals. And talking furniture. Sneakers, flowers, muffins, all talking. It's like there's nothing in her world she won't slap a mouth on just to hear it blab.
Julie's first picture book, Snappsy the Alligator (Did Not Ask to Be in This Book), illustrated by Tim Miller, will be published by Viking Children's on February 2, 2016. More books are coming after that, too!
When Julie was 8 years old, she wrote her first story, about a family of ornery foghorns. Making things up was so much fun, she knew she had to figure out how to do that forever. She went on to earn an English degree and a library degree, and now she mostly writes stories about misunderstood animals trying to find their place in the world. Julie lives in Maine with her husband, four children, and big-eared chiweenie dog, where she maintains a Little Free Library in front of her house.
Julie lives with her husband and their four children in Maine, where she maintains the Little Free Library in front of their house. They also have a chiweenie dog named Cosmo.