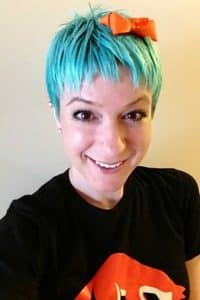 Ame Dyckman is the bestselling, award-winning, multi-zoo-membership-owning, mischief-making, funky hair-wearing, messy-cooking, short-and-loud little author of:
• BOY + BOT (illustrated by Dan Yaccarino),
• TEA PARTY RULES (illustrated by K.G. Campbell),
• WOLFIE THE BUNNY (illustrated by Zachariah OHora),
and more picture books in the works, including: HORRIBLE BEAR! (also illustrated by the amazing Zachariah OHora), pubbing April 5, 2016! (And YES, Ame studied LOTS of zoo and park bears—and tantrums!—during the making of this book!)
Follow Ame on Twitter (@AmeDyckman), where she Tweets picture book reviews and pretty much everything that pops into her head.