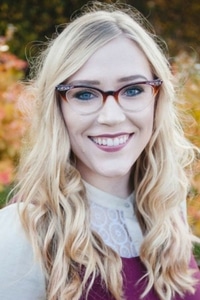 Adria Goetz is a Literary Manager with Seattle-based Martin Literary & Media Management. She primarily represents picture books, middle grade, young adult, Lifestyle books, quirky gift books, as well as everything under the Christian umbrella.
Her mission statement shares that she looks for books that delight readers, that help inspire wonder and imagination, that foster deep empathy and compassion for our fellow human beings, that provide rich character representation of marginalized people groups, that take the reader on an adventure, that uncover fascinating stories from history's footnotes, that explore issues of faith and how to apply Christ's teachings to our own life, that celebrate women and the female experience, that ask nitty gritty questions and don't settle for easy answers, that make people disappointed when they have to close the book and go to bed, and books that add a touch of magic to readers' lives.
A few books Adria has worked on recently are: the magical coffee table book THE COMPENDIUM OF MAGICAL BEASTS, written by Melissa Brinks and illustrated by Lily Jones (Running Press, 2018); the picture book RICE FROM HEAVEN, written by Tina Cho and illustrated by Keum Jin Song (Little Bee Books, 2018), the picture book WHEN DAY IS DONE by Natalee Creech (Sparkhouse Family, 2019), and the middle grade series THOSE DREADFUL FAIRY BOOKS by Jon Etter (Amberjack, 2019).
Adria is a 2016 graduate of the Columbia Publishing Course in New York City, a six-week intensive course on all aspects of book, magazine, and digital media publishing. She is also a graduate of the University of Washington in Seattle with a B.A. in English with a creative writing emphasis.
Adria lives in an old Victorian home in Tacoma (which she hopes dearly is haunted with a few friendly ghosts) with her husband Alex and their two darling kittens, Maple and Mulberry.
To learn more about Adria and what she is (and isn't) looking for, check out her wish list.
She tweets at @AdriaMGoetz.