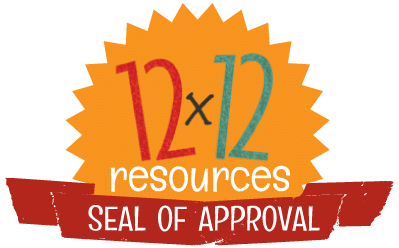 Nowadays, authors and illustrators have a vast array of in-person and online courses to choose from to improve their craft and advance their careers. The 12 x 12 Team feels it is part of our responsibility to share courses and resources offered by our members that we believe are worth the investment of your time and money.
This is by no means an exhaustive list, and there are many fabulous courses and programs out there (for example, any and all SCBWI conferences and programs) that are not on this list. The programs we do list, however, are ones that are offered by 12 x 12 members and have been taken, tested, and endorsed by 12 x 12 members.
Simply being a member of 12 x 12 is not enough to get your course or program on this list. 12 x 12 Founder Julie Hedlund has either taken and/or reviewed the content of each and every offering AND has verified the quality with testimonials from other 12 x 12 members. As such, we share these recommended resources with confidence and pride in the quality our members provide in their courses and programs.
CRAFT OF WRITING, EDITING, AND SUBMITTING PICTURE BOOKS
MANUSCRIPT AND/OR QUERY CRITIQUES
MARKETING & AUTHOR PLATFORM COURSES AND RESOURCES