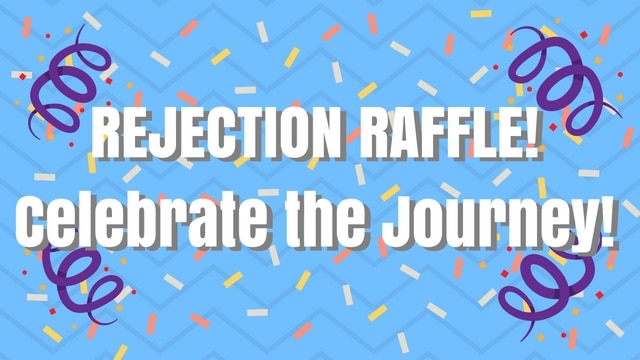 12 x 12 member Darshana Khiani was so inspired by one of our member's rejection streak, she planned a giveaway for you! Read on for details!
This past week Hannah Holt announced that she was celebrating her 100th rejection! I thought what a wonderful idea. After all, it's not about the end result but rather celebrating the journey. Celebrating the persistence, the B.I.C., the learning, the hair-pulling moments – celebrating the courage to put one's heart out there for all to see.  And having the courage to keep querying and continuously writing despite the rejections. First, congrats to all of you for putting yourself out there whether it be sharing your stories for critiques, querying agents, entering contests, or subbing to publishers. You are all WRITERS that are "On Your Way".
Because the journey to getting that first book deal can be twisty and arduous, I wanted to give a little something. In the spirit of celebrating milestone rejections, I am sponsoring two raffles for 12×12 members. Both contests will have the same prize pack.
The prize pack will include one inspirational writing craft book and a box of chocolates. The winner will choose one book from the following: Big Magic by Elizabeth Gilbert, The War of Art by Steven Pressfield and Shawn Coyne, or Bird by Bird by Anne Lamott. If the winner lives in a warm area, I might substitute the box of chocolates for another sweet confection. Would hate for the chocolates to arrive melted.
The first contest is open to writers who do not have agent representation and are unpublished (may not have a book under contract) and have amassed at least 25 rejections over their lifetime.
The second contest is open to writers who are unpublished (may not have a book under contract) and have amassed at least 50 rejections over their lifetime. This is open to writers with and without agent representation.
The rejection count includes rejections to agents, publishers, and magazines. For the purposes of this contest, a "pass/no thanks/no reply" received for one or more manuscripts from a single query should be counted as a single rejection. Conversely, querying the same agent twice, but months or years apart should be counted as two rejections.
This contest is being run on the honor system, so need to submit anything just enter the appropriate raffle if you meet the qualifications. If you qualify for both contests, then please only enter the second contest (50 rejections) to give everyone a fair chance.
Best of luck to everyone in the query/submission trench in 2017!
Happy Holidays!
25 Rejections Giveaway
For unagented and unpublished (no book under contract) members with at least 25 rejections over your lifetime. (If you have 50 rejections or more, please enter the second Rafflecopter below.)
50 Rejections Giveaway
For unpublished members (no book under contract) with at least 50 rejections over your lifetime. (Member may or may not be represented by an agent.)