Registration for 12 x 12 in 2016 is OPEN!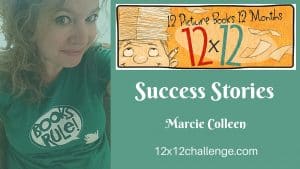 Today is the day many of you have been waiting for. EVERYONE who is interested in joining the 12 x 12 Picture Book Writing Challenge is now invited to come on in!
To celebrate this first day of general registration in our FIFTH year anniversary, I bring you a Success Story from one of our inaugural members, Marcie Colleen.
Marcie's story is particularly awesome because she was not only one of the first members to join waaaay back in 2012, but the FIRST manuscript she wrote in the FIRST month of participating became her FIRST book deal!! Listen to her tell us, in her own words, how 12 x 12 has helped her career.
Also, Marcie hosts our 12 x 12 Dance Party Fridays. If you don't know what those are yet, you're in for a real treat. Be sure to check out the Membership Page for details on how to sign up. Remember, registration is only open in January and February. Hope to see you on the other side!