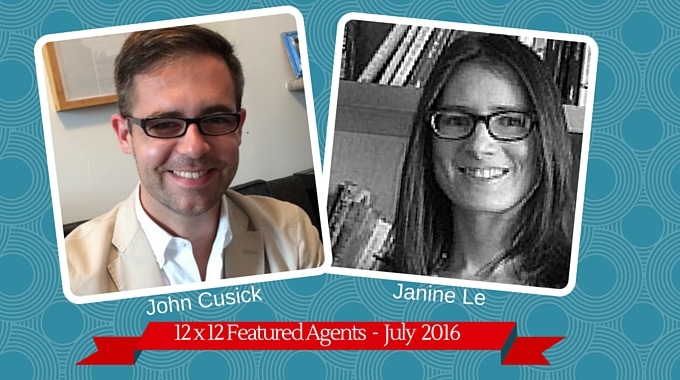 John Cusick & Janine Le – 12 x 12 Featured Agents July 2016
Little GOLDen Book members of 12 x 12 will be able to choose one of two agents to submit their manuscript to each month.
John Cusick of Folio Junior will be accepting picture book submissions from 12 x 12 Gold members July 1-15. Janine Le of Sheldon Fogleman Agency will be accepting picture book submissions from 12 x 12 Gold members July 16-31. John's profile appears first, followed by Janine's. Please read BOTH and then decide who would be the best fit for your work.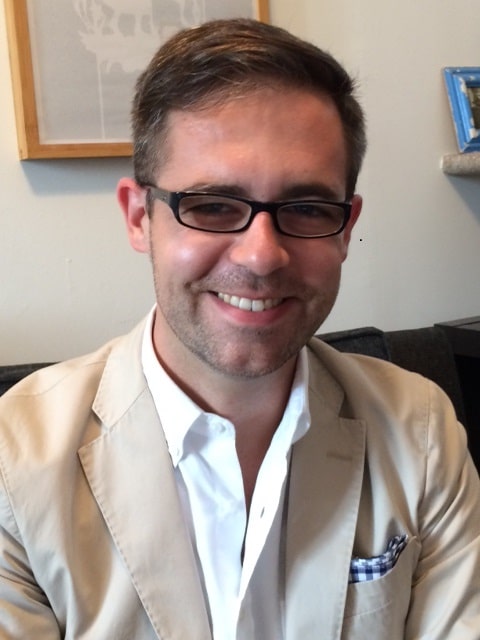 John Cusick
A little bit about John and Folio Junior:
"Folio Jr., the division of Folio Literary Management devoted exclusively to the representation of today's most stellar children's book authors and artists, is wholly committed to offering our clients impeccable, individually-tailored care. We strive not only to discover and cultivate the most compelling new voices and the most original and memorable styles of illustration, but also to indefatigably and strategically support our established writers and illustrators as they thrive and develop their careers in the publishing industry.
Folio Jr. places both fiction and non-fiction with major publishers throughout the U.S. and around the world. We represent many first-time authors and illustrators, some of whom have gone on to become bestsellers and major award-winners. We also represent many well-established authors and artists, and work closely with them to take their careers to new heights. Folio Jr. is proud to offer a full complement of literary services in a changing publishing landscape, and to provide our clients with access to marketing services, website development, and media training that it takes to make each book a success.
WHAT I'M LOOKING FOR:
I'm seeking unique voices in fiction for young people, stories that move readers, moments that make me look up and say "Wow, yes. I've felt that." I want books that keep me turning the page. I love proactive protagonists, kids and teens chasing a dream or a hero who swings in with a song in her heart and a knife in her teeth.
I'm also seeking innovative, funny, quirky, and vibrant illustrators and author-illustrators. In picture books I'm seeking unforgettable characters, as well as story-driven texts. Some favorites (not represented by me) are SECRET PIZZA PARTY (Adam Rubin, Daniel Salmieri), SPARKY! (Jenny Offill, Chris Appelhans) and THAT'S NOT A GOOD IDEA! (Mo Willems).
ABOUT ME:
I represent a diverse list of iconoclastic voices in young adult, middle-grade, picture books, and everything in between.
IN MY FIFTH-GRADE BACKPACK: The Hitchhiker's Guide to the Galaxy by Douglas Adams, Bridge to Terabithia by Katherine Paterson, Dogs Don't Tell Jokes by Louis Sachar, The Indispensable Calvin & Hobbes by Bill Watterson, chewing gum, a notebook filled with drawings of robots.
ON MY NIGHT STAND TODAY: Bone Gap by Laura Ruby, Rot & Ruin by Jonathan Maberry, Life After Life by Kate Atkinson, an empty coffee mug, a notebook filled with slightly-better drawings of robots.
HOW I WORK: As an author myself, I bring both a creative and commercial sensibility to my agenting style. I'm an editorial agent who works closely with my clients, whether it's developing a debut project or helping a seasoned author achieve that breakout novel. My goal is always to match authors with their dream editor, to secure the best deals possible, and grow an author's readership over a long career."
John was previously with Greenhouse Literary where he could only represent authors in North America. We are happy to announce that with John's move to Folio Junior he is able to accept submissions from authors worldwide!
This is John's 4th year as a 12 x 12 Featured Agent! You can see our previous profiles on John HERE, HERE and HERE. Below are a few more recent online resources for John: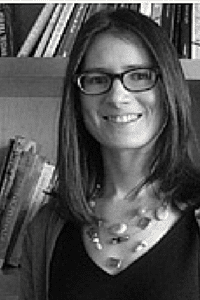 Janine Le
A little bit about Janine from the Sheldon Fogleman website:
"Janine Le joined the Sheldon Fogelman Agency in 2010 and has gained experience in all aspects of the business, with a focus on editorial, contracts, and foreign rights. She enjoys the balance of creative-minded and business-minded work and knew she had found her niche in the field when she interned at an agency and realized the agent is the author's biggest advocate. Janine graduated from Bucknell Unversity with honors in English (Creative Writing) and completed NYU's Summer Publishing Institute. She is accepting submissions for fiction and narrative nonfiction picture books through YA. She is particularly drawn to stories that have emotional resonance and complex characters and relationships. She also looks for innovative concepts, diverse perspectives, humor, fantastic elements, and concise but playful or poetic language. In illustrations, she is looking for fresh styles, expressive characters, and visual storytelling."
When asked what she's looking for, Janine responded, "I'm looking for picture books with innovative concepts and one-of-a-kind characters who grow over the course of the story and who readers can connect with on an emotional level. Humor or fantastic elements are a plus. In addition to fiction, I'm open to narrative nonfiction on subjects or events that are less well known but have a broad appeal. In the writing, I enjoy playful language (but not usually rhyme) and manuscripts that make every word count and leave room for the art. In illustrations, I like fresh styles, visual storytelling (not just mimicking the words in pictures but adding another layer of story to them), and expressive characters (faces and body-language)."
Janine was a Featured Agent in 2014 and 2015. Please see our previous profiles HERE and HERE.
Below are a couple updated resources for Janine:
Please note Little GOLDen Book Members may only submit to ONE of these agents. Please choose the agent who is the best fit for you and your manuscript.
Submissions will only be accepted for John Cusick from July 1st – July 15th at 6pm ET/3pm PT.
Submissions will only be accepted for Janine Le from July 16th – July 31st at 6pm ET/3pm PT.
Good Luck!
Want to make sure your submissions are tip-top? Grab this 7-Step Submissions Checklist.