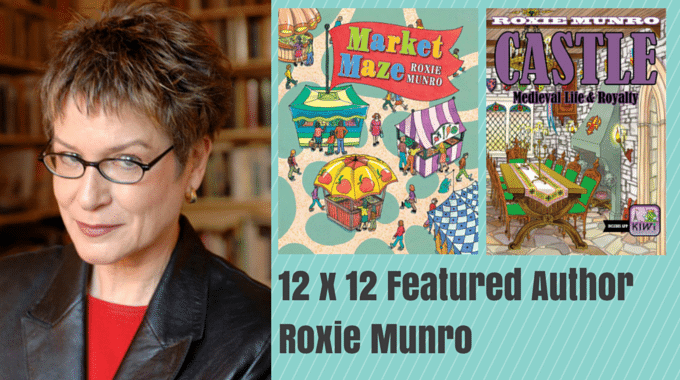 Author Illustrator Roxie Munro – 12 x 12 Featured Author June 2015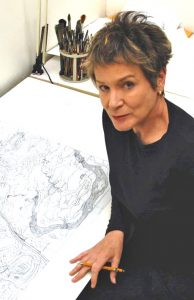 Our June featured author, Roxie Munro, is doing some of the most exciting work in children's books today. She is an author, illustrator, innovator, and tireless advocate of learning through literacy, no matter what form that learning takes. She is equally as passionate about helping fellow authors and creatives in this brave new world of publishing. I first "met" Roxie when I called her to ask for advice prior to publishing my own digital storybook apps.
I own several of her books and apps, and I never fail to be a'MAZED! 🙂 Last summer, I had the pleasure of presenting with her on the topic of digital publishing for nonfiction. I can assure you Roxie is nothing short of a superstar.
These days, it's almost impossible to catch up with Roxie, busy as she is on so many projects across the globe. But she was kind enough to stop for a moment to talk to 12 x 12 participants about creativity in children's books, and how to stretch ourselves to embrace new possibilities. 
Roxie has an outrageous schedule this summer, but since I am so familiar with her work and a digital author myself, the prize for this month's winner will be a consultation with me to answer your questions about the possibilities in publishing today, including crowdfunding, digital books, games, etc. 
Now, please welcome Roxie!
The wonderful thing about children's books is the broad latitude in which our creativity can function. There are many forms content can take, and now, increasingly, many platforms in which we can express ourselves. One of my favorite ways to deal with nonfiction informational content: making interactive books using "gamification."
People don't always think of print books as being interactive, or using games, but they are and they do. I create mainly nonfiction and concept books, as well as interactive apps.  To engage children, keep them interested, and to impart information in a fun way, my work uses a form of "gamification": lift-the-flap, mazes, guessing games, hidden objects, inside-outside concepts, search-n-find, ABCs and numbers, puzzles, matching games, word/noun object recognition, and so forth.
These are a device, a construct, to impart information in a new, fun, and creative way of looking at the subject.
I didn't realize, until recently, that almost all of my picture books, starting with the very first works – a series of six Inside-Outside books – involve "gamification." My four lift-the-flap books are finding games; six others use mazes; and recently I've been writing about science in a guessing game format.
EcoMazes: 12 Earth Adventures uses mazes to explore and understand ecosystems, and a finding/counting game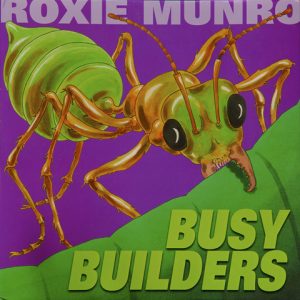 to learn about which animals live in the habitat. In Hatch! an egg or clutch of eggs is shown. Children guess what kind of bird it is from hints ("The bird that lays these eggs is found on every continent except Antarctica." "This one never drinks water" "…fastest running two-legged animal on Earth. But it can't fly.").
In Busy Builders children see the giant bug, and then turn the page to check out the unusual structures certain bugs make, and why. And in Slithery Snakes they are encouraged to figure out what kind of snake it is from close-up scaly skin patterns, along with tantalizing facts about the critter: "Its common name comes from its skin pattern (like a precious stone) and its unique tail (which sounds like a child's toy)." Turn the page and the answer appears, with fun facts, and the snake in its home, with other creatures that live in the habitat.
In Mazeways: A to Z, the letter of the alphabet forms a maze … A for Airport (ever been to Heathro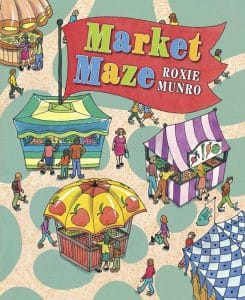 w or JFK?), H for Highway, L for Library, P for Parking Lot, and so on – you are playing, but also learning about the places and how they work. In Market Maze children explore where food comes from and how it arrives at their town greenmarkets.
Many subjects lend themselves to game-like interactive formats. Authors and illustrators of children's nonfiction materials should consider these devices for learning about a person, an animal, a historical period, science, a place, or even a fictional character.
Engaging in games helps with concentration, setting goals, problem-solving, working together and collaboration, perseverance, and celebrating achieving goals. Many games, mazes in particular, also help children learn decision-making and critical thinking skills – planning steps in advance, thinking ahead. Mazes teach alternative ways to solve problems and judge spatial relationships. For younger children, they help develop fine motor skills; for older children, maneuvering through mazes helps improve handwriting. Game formats are particularly suited to reluctant readers, boys, and special needs children.

And it makes sense that interactive game-like books would make good apps, so in the last few years I've also been making apps. Not fantasy or digital video-type games – mine are mainly adapted from a book or a book series: Roxie's a-MAZE-ing Vacation Adventure (interconnected mazes, seek-n-find, counting games); Roxie's Doors (a direct book-to-app adaptation; seek-n-find/naming/vocabulary w/word highlighting); Roxie's Puzzle Adventure (16 interconnected jigsaw puzzles).
Using games in apps, like in picture books, enhances learning, engagement, and collaboration. And, they're fun!!! In the educational community, and among parents, learning via games has gained credibility, respect, and lots of interest in recent years.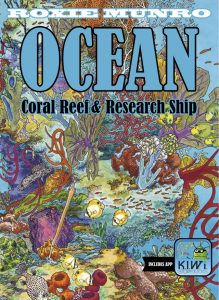 Interested in new media, I've also gotten involved with a fun project – creating giant (5 ft high by up to 14 feet wide!) walk-in books… a huge wordless picture book, about Castles, Rainforests, Oceans, more (KIWiStoryBooks.com). Included are curriculum, plays, and an app with lots of cool content and games. They're also being made into desktop fold-out books.
Think about ways that new media opens up possibilities for you.
Consider all of your hard work a tangible asset – your creativity and ideas, research, craft and production – all your intellectual property. Its value does not end when the print book or an ebook is published. Think of it as unique content, available to be "exploited" – taken crossmedia, sometimes in an adapted form.
This is a wonderful and exciting time in publishing – there are so many ways to create great original work, and to raise your profile, enhance your creative presence, and have your ideas discovered!
Roxie Munro was born in Texas, and grew up in southern Maryland, by the Chesapeake Bay. At the age of six, she won first prize in a county-wide contest for a painting of a bowl of fruit. She has been a working artist all her life, for a while freelancing in Washington DC as a television courtroom artist. It was great training for life drawing, concentration under pressure, and making deadlines. Clients included CBS, the Washington Post, and the Associated Press. Fourteen of her paintings have been published as covers of The New Yorker magazine.
Roxie is the author/illustrator of more than 40 books for children. Her most recent books include MARKET MAZE (Kirkus Star), SLITHERY SNAKES; ECOMAZES: 12 EARTH ADVENTURES (Starred Review, School Library Journal; Smithsonian's Best Science Book for Children);  DESERT DAYS, DESERT NIGHTS; HATCH! (Outstanding Science Trade Book, NSTA and CBC; Society of International Librarians Honor Award; Bank St College Best Books of 2012, with Outstanding Merit); BUSY BUILDERS (Bank Street CCLL Cook Prize Honor), and a series of nine nonfiction fold-out KIWi Jr. Storybooks.
Would you like to own a piece of Roxie's artwork?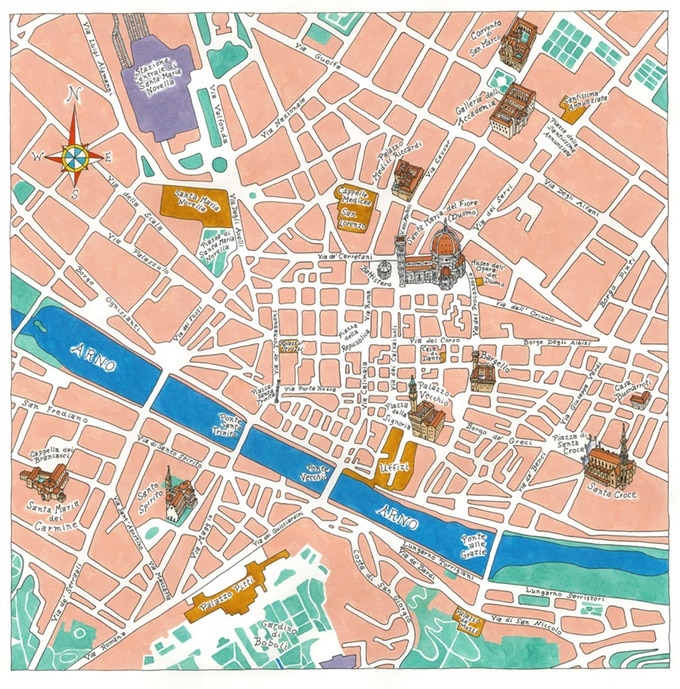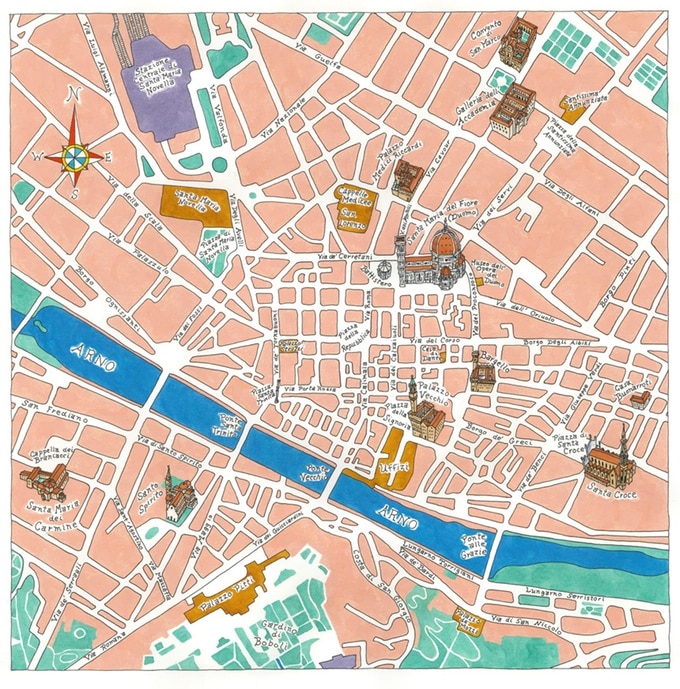 This gorgeous map of Florence was created expressly for the Time Traveler Tours & Tales Kickstarter campaign by world-class picture book & app illustrator, the amazing Roxie Munro. It can be yours through this campaign in a variety of prices and formats. Our own Marcie Colleen is part of the team behind Time Traveler Tours & Tales as well as friends of 12 x 12 Sarah Towle and Mary Hoffman. Check out this Kickstarter campaign HERE.
Looking for an agent or editor for your own picture book(s)? Grab this free 7-Step Submissions Checklist!