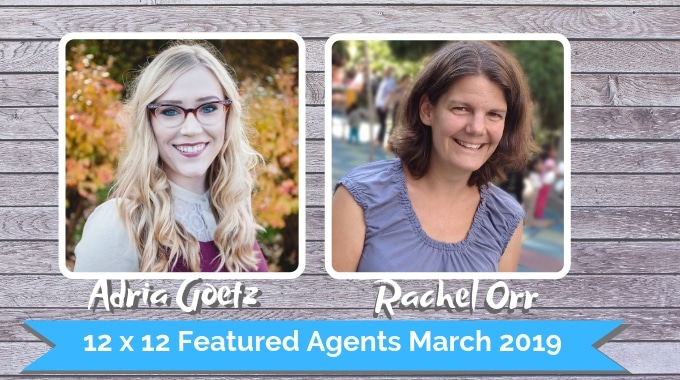 Adria Goetz and Rachel Orr – 12 x 12 Featured Agents March 2018
March is on its way! 2019 Little GOLDen Book members of 12 x 12 will be able to choose one of two agents to submit their manuscript to each month.
Adria Goetz of Martin Literary Management will be accepting picture book submissions from 12 x 12 GOLD members March 1-15. Rachel Orr of Prospect Agency will be accepting picture book submissions from 12 x 12 GOLD members March 16-31. Adria's profile appears first, followed by Rachel's. Please read BOTH and then decide who would be the best fit for your work.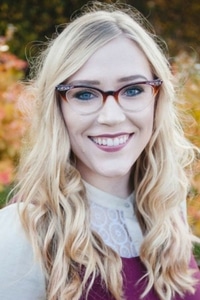 Adria Goetz
A little bit about Adria:
"Adria Goetz is a Literary Manager with Seattle-based Martin Literary & Media Management. She primarily represents picture books, middle grade, young adult, Lifestyle books, quirky gift books, as well as everything under the Christian umbrella.
Her mission statement shares that she looks for books that delight readers, that help inspire wonder and imagination, that foster deep empathy and compassion for our fellow human beings, that provide rich character representation of marginalized people groups, that take the reader on an adventure, that uncover fascinating stories from history's footnotes, that explore issues of faith and how to apply Christ's teachings to our own life, that celebrate women and the female experience, that ask nitty gritty questions and don't settle for easy answers, that make people disappointed when they have to close the book and go to bed, and books that add a touch of magic to readers' lives.
A few books Adria has worked on recently are: the magical coffee table book THE COMPENDIUM OF MAGICAL BEASTS, written by Melissa Brinks and illustrated by Lily Jones (Running Press, 2018); the picture book RICE FROM HEAVEN, written by Tina Cho and illustrated by Keum Jin Song (Little Bee Books, 2018), the picture book WHEN DAY IS DONE by Natalee Creech (Sparkhouse Family, 2019), and the middle grade series THOSE DREADFUL FAIRY BOOKS by Jon Etter (Amberjack, 2019).
Adria lives in an old Victorian home in Tacoma (which she hopes dearly is haunted with a few friendly ghosts) with her husband Alex and their two darling kittens, Maple and Mulberry."
We asked Adria what she's looking for in picture books. Here's what she had to say:
"I'm looking for fun, magical books featuring kids of color, because as the legendary Andrea Davis Pinkney once said: 'We need to see more Black kids riding dragons.' I'm looking for picture books that capture ordinary or natural moments that feel like they're magical—moments like capturing fireflies, bread dough rising, watching a bird murmuration, the Northern Lights, planting a seed and having it grow into a living plant, and so on. I'm also particularly looking for an adoption story, a story about some aspect of Native culture, and picture books that explore something peculiar that happens in nature or science. I'm not looking for super hero, sports, or circle of life stories. I'm also looking for humor, whether that be a dryer wit like HOW TO MAKE FRIENDS WITH A GHOST, or a splashy book like DRAGONS LOVE TACOS. Make me laugh!"
Adria was a Featured Agent in 2018. You can read our previous profile on Adria here. Here are a few updated resources for Adria: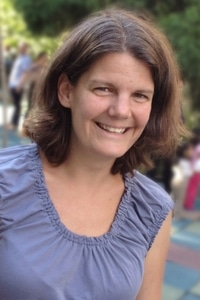 Rachel Orr

A little bit about Rachel: 
"Rachel Orr is celebrating her twelfth year with Prospect Agency, where she represents both authors and illustrators in projects ranging from picture books through YA. She previously worked for eight rewarding years at HarperCollins Children's Books, and uses those editorial skills to help prepare her clients' work for submission.
Her clients include Sudipta Bardhan-Quallen (The United States v. Jackie Robinson / HarperCollins), Cori Doerrfeld (The Rabbit Listened / Dial), Rebecca Minhsuan Huang (Bobo and the New Baby / HMH), and Todd Tarpley (Three Grumpy Trucks / Little, Brown). Rachel lives in Hoboken, New Jersey, with her husband and two young children. She has no spare time—but, if she did, she would spend it dancing, running and reading, of course."
When asked what she was looking, Rachel responded:
"I'm really craving stories right now that are for kids, not for adults. Humor is great, and character-based is even better. Rhyming stories are fine, particularly if there's some element of repetition/chorus (as opposed to a series of couplets with no refrain). I also love nonfiction, specifically historical."
Rachel was a 12 x 12 Featured Agent in 2018. You can see our previous profile HERE.
Here are some updated resources for Rachel:
Please note Little GOLDen Book Members may only submit to ONE of these agents. Please choose the agent who is the best fit for you and your manuscript.
Submissions will only be accepted for Adria Goetz from March 1st – March 15th at 6pm ET/3pm PT.
Submissions will only be accepted for Rachel Orr from March 16th – March 31st at 6pm ET/3pm PT.
Please double check the times on your submissions. Anything received before or after the submissions window is open will be disqualified and you will not be able to submit again this month.
Good Luck!
Want to make sure your submissions are tip-top? Grab this 7-Step Submissions Checklist.