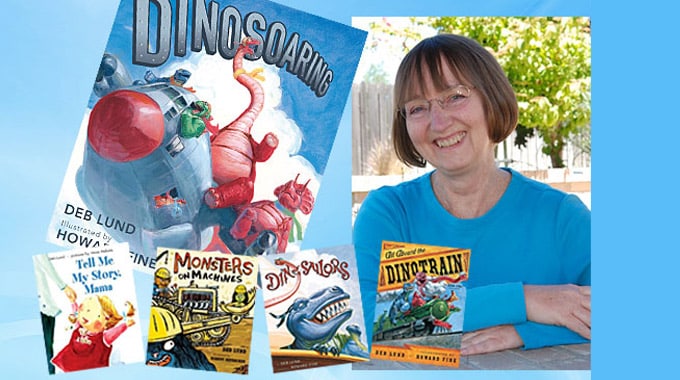 Deb Lund: June 12 x 12 Featured Author
1.

Deb Lund: June 12 x 12 Featured Author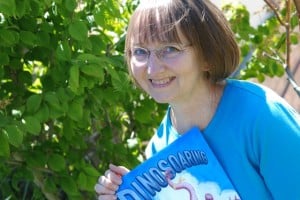 I am more than a little tickled to announce that our June 12 x 12 featured author, Deb Lund, is not only one of my kids' favorite picture book authors, but also a two-time 12 x 12 member herself! And not JUST a member, but a 2012 winner too! You can see her in the video on the Winner's Wall.
I am also ecstatic to announce that one lucky 12 x 12 participant will win copies of both DINOSAILORS and ALL ABOARD THE DINOTRAIN. But I must also issue this warning: the books are addictive. We own all three books in the "dino" trilogy, and my kids are NEVER content to read just one. No. So I need to make sure I leave enough time at bedtime to read all three – perhaps more than once. This is an especially fitting prize since Deb's post this month talks about stealing from the masters to benefit your own writing. And since Deb herself is a master, this month's winner will be receiving another fantastic study tool. (Can you tell I am a fan???) Please welcome Deb!
Piggyback Picture Books
Remember giving and getting piggyback rides? The bouncing, the falls, the laughter, the fun… Pure Play! Today we're going to play piggyback again. And you're getting a free pass into my Piggyback Picture Book Workshop. Well, that is, if you really hop on the back of your favorite authors and try out my suggestions. So, if you're ready, hop on…
We learn to talk by imitating the voices around us. We know the value of immersion classes for language. When I teach writing classes for teachers, I stress modeling the process and encourage them to write with their students. We learn by example. And when I teach children's writers, I encourage them to not only follow in the footsteps of those who have gone before them, but to jump right on and get a piggyback ride.
As children's book creators, we have amazing masters to follow. Masters to emulate. Masters to borrow from—okay, steal—but it's all in the name of education. Besides, picture book creators have always been troublemakers—we get our characters in trouble.
Yes, I'm promoting thievery. With a twist. Here's how it goes…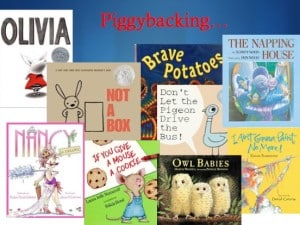 You love a book—maybe The Napping House. And then you realize it's the structure you love, the cumulative format. Your favorite song as a child was "Old McDonald" and when you got a copy of This is the House Jack Built for your birthday, you wore it out before the week was over. Or maybe your own kiddo loves If You Give a Mouse a Cookiebecause of the surprise ending that closes the circle. Have you tried a circular story? What format keeps calling you?
Use that format!
Maybe your cumulative tale becomes a story about how a kid is later and later for school each day because of the additional tasks she adds on to her routines. Hmmm… I'm calling dibs on that one!
Maybe you'll pick up Fancy Nancy and decide to create a book that's the direct opposite of it. Yup. I already did that, and my agent likes it, so we'll see what happens.
And really, is there anyone with more attitude than Olivia? She's based on the book creator's niece, and the real Olivia is not much different that the red-loving piggy portrayed inside the book. Now there's a perfect piggybacking opportunity.
And then there's I Ain't Gonna Paint No More (which I wish I would have written)! Take a fun song you love to sing, rework the text, weave in a theme, and presto—another new manuscript.
Brave Potatoes has forward motion, potatoes whose rhythm and word choice is nonstop staccato movement. Where else could you use that? What rhythm works best for your story?
Owl Babies helps kids with separation anxiety without being didactic. And it's got lots of "threes" and repetition, as well as being a great cuddle book. What little kid issue can you use in a story? What pattern would work well with it?
Awww… the Pigeon. How about another animal—or object— having a temper tantrum over a completely different issue? Or make the pigeon a child with an unreasonable request and see what happens.
Not a Box… Could "imagination" be the theme of your next manuscript?
My most popular titles come about from combining picture book elements. Rhythm, rhyme, subjects kids love (always more than one). Dinosaurs and forms of transportation. Monsters and construction machinery. What can you combine in a story of your own?
Do you see what's happening here? Then get to your library and begin piggybacking! Here's your assignment…
Read piles of picture books. What elements of those books appeal most to you? Ask yourself "What if…?" as you read. What if you borrowed this or that? What if you added a twist or did the opposite? How can you use picture book elements to make your own stories?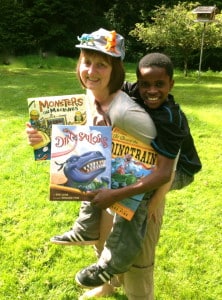 Don't just do it in your heads. It won't save time. This means reading lots of picture books, folks.
Make friends with your local librarians. Find out when they process and display new picture books. Get the books before any of those greedy little hands (JK) grab them off the shelf, and study them!
This is called Leaning From the Masters.
Okay, got that stack of books in front of you now? Ask yourself these questions about the following picture book elements and you'll be piggybacking in no time:
Ideas and Plot
Does the story remind you of an experience you've had, witnessed, or heard about? Try writing a story based on that experience.
Can you identify the story arc (beginning, middle, and end) and use it as a model to create your own?
Character and Voice (the character's and the author's)
How is the character revealed?
Are there any special phrases or other quirks that make the character compelling?
Can you borrow an attitude or "voice" and write your own story?
How are rhythm and rhyme used? Check for internal rhyme, alliteration, and assonance.
Format
What is the structure of the book? Is it a conversation?
Find the patterns. Does it have repeated lines or actions?
Is it written in prose or verse form?
What is the viewpoint or tense?
It's okay to piggyback on the elements of picture books.  Mix and match them.
Stretch yourself. Try an element you haven't tried before. Step out of your comfort zone. Take an existing manuscript and add one of these elements to it.
Okay, I took my turn, and now it's your turn to piggyback. Let us know how it goes.
Deb Lund is a bestselling picture book author who piggybacks, juggles, and rides a unicycle. Her master's project 25 years ago was on teaching writing, and she's taught writers of all ages ever since. She's a popular presenter at schools, libraries, and conferences. As a trained creativity coach, Deb partners with writers and artists to help them achieve their dreams, coaches authors on school visits, offers limited manuscript consultations, and teaches continuing education courses for writing teachers.
You can hear more from Deb at these links:
http://www.facebook.com/DebLundCoach
http://www.facebook.com/DebLundAuthor
http://www.twitter.com/deblund