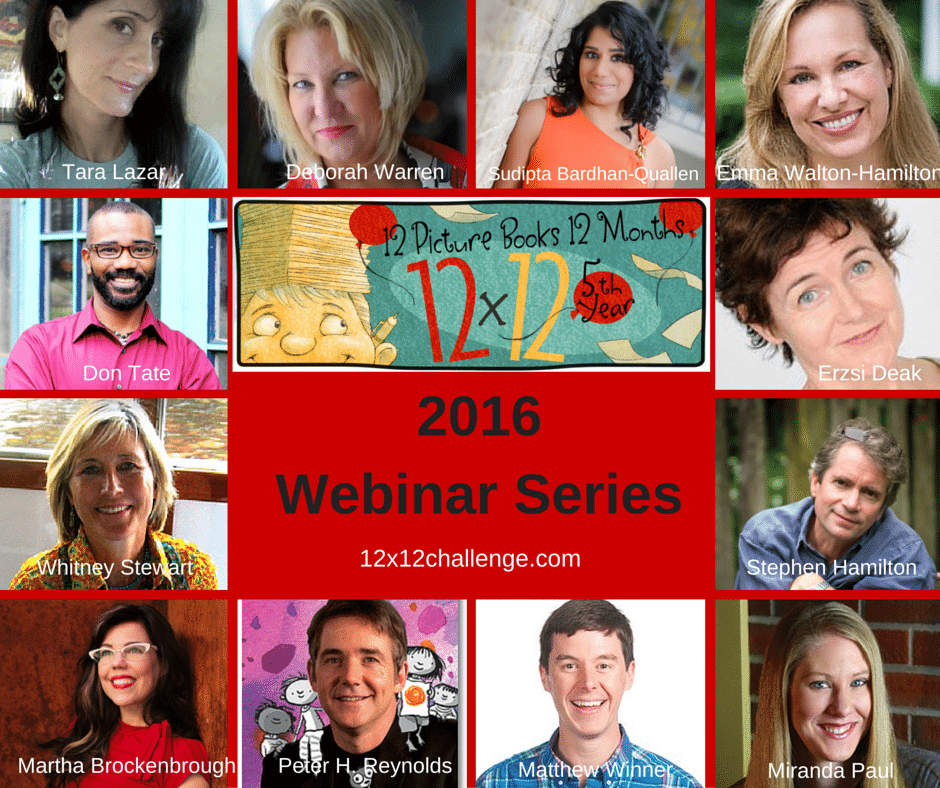 12 x 12 Webinar Series for 2016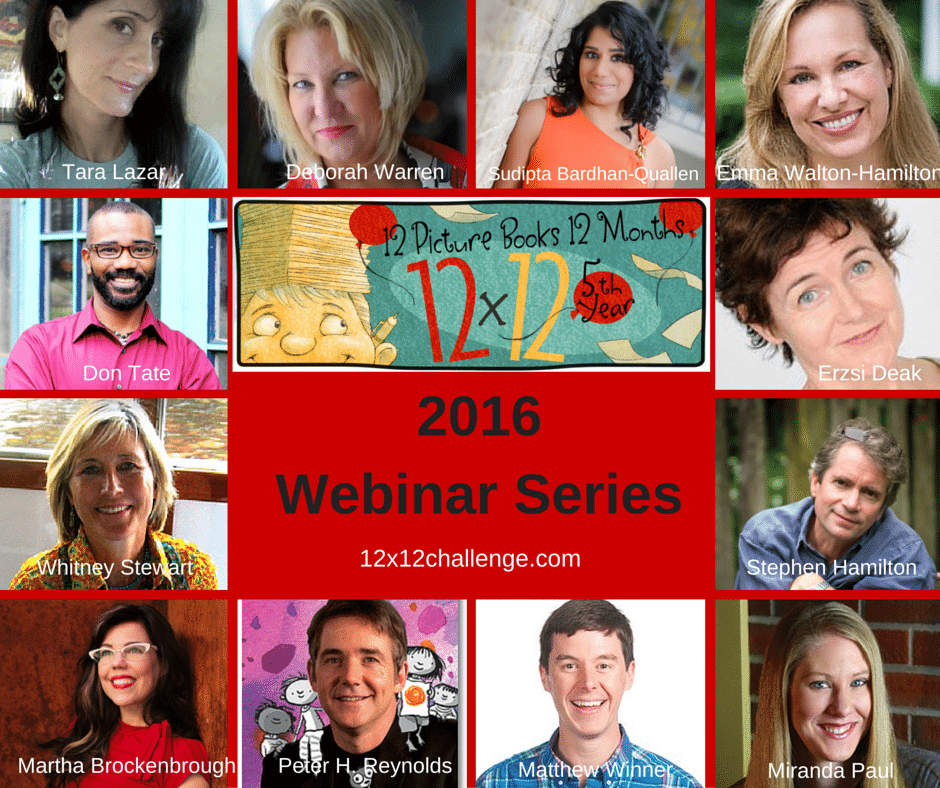 It's an embarrassment of riches! Look at the amazing lineup of speakers scheduled for the 12 x 12 monthly webinars this year. We've already had two outstanding sessions (Author Tara Lazar and Deborah Warren/Erin Dealey of East-West Literary). Both were so packed with learning and inspiration, it's hard to comprehend how much more we'll know about the craft and business of writing by the end of the year after we experience the remaining TEN webinars!
The webinars are only available to 12 x 12 members, and there are only three more days left to sign up if you haven't already. Registration ends on Monday, February 29th at midnight PST. Join us and you'll be just in time to attend our next webinar on Picture Book Characters with author Sudipta Bardhan-Quallen on March 3rd.
JAN: Tara Lazar (Author and founder of Picture Book Idea Month) – Keeping it Real: What it really takes to get published, why self-doubt is your friend, and putting your heart on the page.
FEB: Deborah Warren and Erin Dealey (Agent and Author/Reader at East-West Literary) – Picture Book First Pages Workshop featuring pages from 12 x 12 Gold-member manuscripts.
MAR: Sudipta Bardhan-Quallen (Author, Writing Teacher & Co-Founder of Kidlit Writing School) – Be a Picture Book Jedi: How Applying Yoda's Lessons Will Strengthen Your Characters
APR: Emma Walton Hamilton (NYT Bestselling Author, Freelance Editor, Professor of Children's Literature at Stonybrook Southampton University) and Julie Hedlund (Author and Founder of 12 x 12) – Cracking the Picture Book Query for Stellar Submissions + we'll be opening enrollment into The Complete Picture Book Submissions System for a limited time.
MAY: Erzsi Deak (Founder, Hen&ink Literary) & Julie Hedlund – What Agents look for in Picture Books + "Behind-the-Curtain" discussion on agent-client relationships.
JUN: Stephen Hamilton (Theater producer, director, actor & teacher) – Incorporating Theatrical Techniques to Benefit Your Writing and Your Book Presentation Skills (to help you give great presentations at school visits, bookstores, etc).
JUL: Miranda Paul (Award-winning Author and Chair of We Need Diverse Books Mentorship) – How to write successfully in multiple picture book genres (fiction, nonfiction, rhyme, prose, diversity).
AUG: Matthew Winner (Elementary library media specialist, Co-Founder of All the Wonders children's literature website and host of the Let's Get Busy podcast) – After 225+ episodes of interviewing authors and illustrators on his podcast, Matthew will dig deep into What Makes a Great Picture Book and Why?
SEP: Peter H. Reynolds (Award-winning Author/Illustrator, Founder of International Dot Day and Co-Founder of FableVision) – Make Your Mark, Create a Spark: Using Creativity in All its Forms to Reach Readers.
OCT: Martha Brockenbrough – (Award-winning author & SCBWI blogger) – Be Real: Develop a Social Media Strategy that Works.
NOV: Whitney Stewart (Award-winning author) – Writing True: The Art and Craft of Narrative Nonfiction and Picture Book Biographies.
DEC: Don Tate (Award-winning author/illustrator, Artist Outreach Coordinator for We Need Diverse Books, and co-founding host of The Brown Bookshelf) – Telling the Untold, Unsung Stories in Words and Pictures.