12 x 12 Success Story: Tim McCanna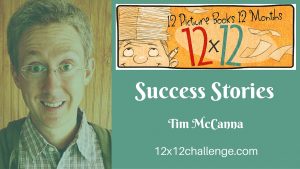 On registration day, I shared Marcie Colleen's 12 x 12 success story. Today it's Tim McCanna's turn.
Tim is another inaugural member of 12 x 12, going into his fifth year of membership. Since joining 12 x 12, he's published a storybook app and a print book with Little Bahalia Publishing, signed with an agent, and signed four book deals!
Another important fact about Tim is that he is a talented musician, and even created our 12 x 12 Jingle Video that you see on the home page. Haven't seen it yet? Click here! He also did the music for my two storybook apps, A TROOP IS A GROUP OF MONKEYS and A SHIVER OF SHARKS. Both of those links take you to the book trailers if you want to hear his songs.
Want to join 12 x 12 and have YOUR success story featured one day? sure to check out the Membership Page for details on how to sign up. Remember, registration is only open in January and February. Hope to see you on the other side!