12 x 12 January 2016 Check-in!
Well, well, well. We've reached the end of the first month of the fifth year of 12 x 12! And what an exciting one it's been!
As of this writing, we have exactly 740 members who've joined us in 2016 and are already filling the Forum and the Facebook group with manuscripts for critique, tips, tricks and resources, words of encouragement, and of course, dances for Dance Party Friday. Our first webinar with author Tara Lazar was a huge hit, and we're preparing for our second one on February 2nd with East-West Literary. So yes, I'd say we're off to an amazing start! If you're not a member and want to join, there are only 30 shopping days left to do so. Click here for all the information.
Now for the real purpose of the monthly check-in which is to report on whether you wrote a new draft or revised this month. I'll go first. I am pleased to report that I wrote a brand new draft. It needs a lot of work but I love the concept and the main character. I also did multiple revisions on two different manuscripts this month. One of which is very close to being submission-ready. I love being off to a strong start!
Now tell us your progress. Did you complete a draft and/or revision in January? Let us know in the Rafflecopter and in the comments. This month's winner will win an autographed copy of WOLFIE THE BUNNY and a picture book critique from January's Featured Author Ame Dyckman. Plus, Ame has offered lunch and/or a zoo outing with her and her writing partner Adam Lehrhaupt if you're local to central New Jersey. Awesome, right?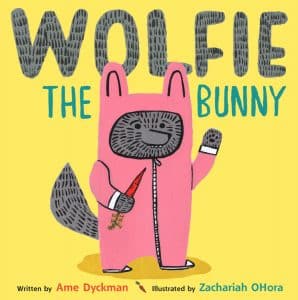 Here is what you need to do to check in for a chance to win:
See the Rafflecopter widget at the end of this post that says "A Signed Copy of WOLFIE THE BUNNY" at the top.
Click on the "Comment on Ame's Blog Post" button. It will reveal the task, which is to comment on Ame's blog post. If you haven't comment yet, you can click HERE and comment.
Commenting on Ame's Featured Author post and clicking enter in the Rafflecopter will get you one entry in this month's drawing whether you completed a draft or not. When you click ENTER on that option in Rafflecopter, the next two options will open up.
Click on the "Wrote a PB Manuscript" button. This will ask if you completed a PB draft in January. If you did, click ENTER, if you did not, move on to the next step.
Click on the last "Revised a PB Manuscript" button. This will ask if you revised a PB in January. If you did, click ENTER. If not, move on to the next step.
That's it! Rafflecopter will track your points.
We've created a quick video to walk you through your monthly check-in. You can view in the Video Tutorial section of the forum HERE.
You have until midnight Eastern on February 1st to enter your results. Rafflecopter will draw a winner and I'll announce it on the blog on February 2nd.
You're on your way!