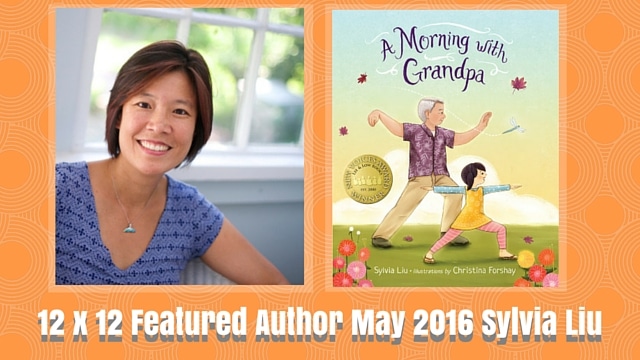 12 x 12 Featured Author May 2016 – Sylvia Liu
I wish I could describe the joy I feel when I get to participate and celebrate the success of a dear friend who has worked long and hard, all while giving back a tremendous amount to the Kidlit community.
Today is one of those days, and I started writing the introduction to this post with full-body goosebumps. Sylvia Liu is one of the inaugural members of 12 x 12 challenge. Each year, she's been on the winner's wall (having written 12 picture book drafts). Each year, she's provided a testimonial for the challenge. Each year, she's volunteered to help behind the scenes not only here but over at the blockbuster website, Kidlit411. Each year, she's cheered on and supported the success of others. Each year, we've watched her get closer and closer to her goal of becoming a published author. Now it's her moment in the spotlight, and I am honored to have her here on the official release date of her beautiful book – A Morning with Grandpa.
After you are finished reading Sylvia's terrific post about how to write a true story with heart, check out HER 12 x 12 Success Story video below. I know you will finish both feeling empowered and inspired. Please welcome, Sylvia!
We are proud to be part of 12 x 12 member Sylvia Liu's book launch blog tour for A Morning with Grandpa. For chances to win prizes on Sylvia's book blog tour, find all the participating sites HERE. Sylvia is offering one lucky 12 x 12 member a copy of her debut picture book A Morning with Grandpa. Get your drafts written and revisions revised so you'll have more chances to win!
Write Your True Story with Heart
We all know many of the ingredients of writing a picture book: A great concept. A character kids will love. The importance of a beginning, middle, and end. The rule of threes. Surprising the reader with an ending that is unanticipated yet inevitable and satisfying.
But what is the secret sauce that really elevates a story? For me, it's writing a true story with heart.

I don't mean write nonfiction or about something serious. I mean write a story that is so true to who you are that it sings to you, tickles that quirky funny bone of yours, or resonates with your being. If you can write a story that sparks that sense of truth and the story conveys an emotion that a child can connect with (such as joy, love, hilarity, wonder, anticipation, curiosity) you've got a winning story.
How can you tell if your story is a true one with heart? Sometimes you just know. The story zings. When others read it, they get excited and get it. Other times, ask yourself these questions: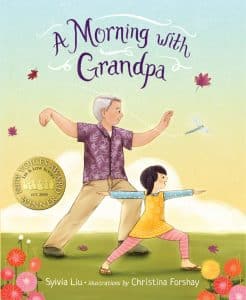 1) The Marie Kondo question: Does this Story Spark Joy?

Marie Kondo is the Japanese author of the worldwide bestseller, THE LIFE-CHANGING MAGIC OF TIDYING UP. She teaches people to declutter their lives by examining every item they own and asking the question, "Does this spark joy"? If it does, keep it. If it doesn't, donate or discard it. People have reduced their material belongings significantly using her method.
Do the same with your story. Is this one you wrote because it's in fashion, but it's not really who you are? Is it an idea you've been carrying around too long, like the bridesmaid dress hanging at the back of the closet? If it sparks joy, it's probably because it reflects who you truly are. You can keep the story (and those rocking boots).
But, unlike clothes, you do need to venture to the mall (library) and see what is selling (being published) these days. If the story equivalent of your 70s bell bottoms is the true you, go ahead and write it, but don't be surprised if others don't want to buy it.
2) The Physics Question: Is there Harmonic Resonance?

Harmonic resonance occurs when an object vibrating at its natural frequency causes an increase in the vibration of another system because they are on the same frequency. For example, pushing someone on a swing at the same natural interval causes the swing to go higher. In music, resonance increases the intensity of sound.
For your writing, do your words ring a bell? Cause you to laugh, cry, or nod your head, or say, "Yes!"? When you are writing at your own natural frequency (your truth), your words will find resonance and amplify in someone else on a similar wavelength.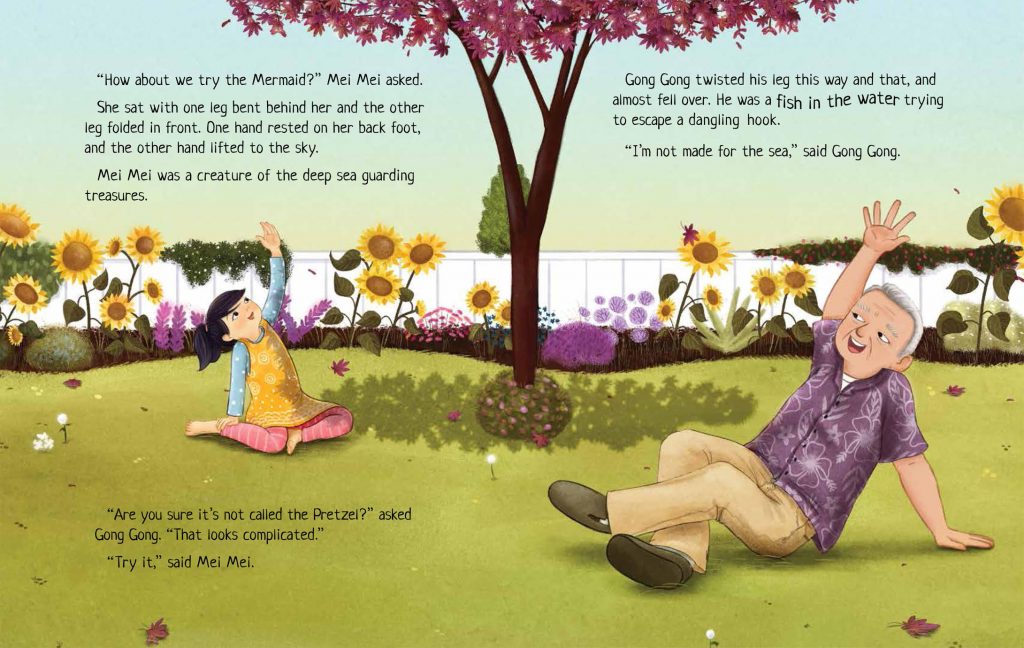 3) The #WeNeedDiverseBooks question: Is this an untold story? Does it fill a hole in the mosaic of stories?

Civilizations are created from stories, from the first myths of cave people, to fairy tales and fables, to religious narratives and more. Stories are the way people make sense of the world and how they convey their values. People in power tend to have more of their stories told.
Luckily, there is no monolithic story and publishers are looking for stories that reflect the full experience and diversity of people. Novelist Chimamanda Ngozi Adichie made this case eloquently in her TED talk, The Danger of a Single Story.
But there is still a long way to go. My publisher, Lee & Low Books, recently completed a comprehensive baseline survey of 8 review journals and 34 publishers and found that the industry as a whole is 79% white, 78% women, 88% straight, and 92% nondisabled. The number of authors and illustrators of color who are published in trade books is correspondingly low. According to the Cooperative Children's Book Center's annual survey, in 2015, of the 3400 books they reviewed, 3% were written by African-Africans, .6% by Native Americans, 5% by Asian-Americans, and 1.7% by Latinos. I will share more thoughts about diversity in kid lit in other stops on the blog tour, but feel free to check out Kidlit411's Diversity in Kidlit resource page for thought-provoking articles.
If you are in a position to tell a story that adds to the narrative and that hasn't been told before, then you have a true story. This applies to any untold or underrepresented story.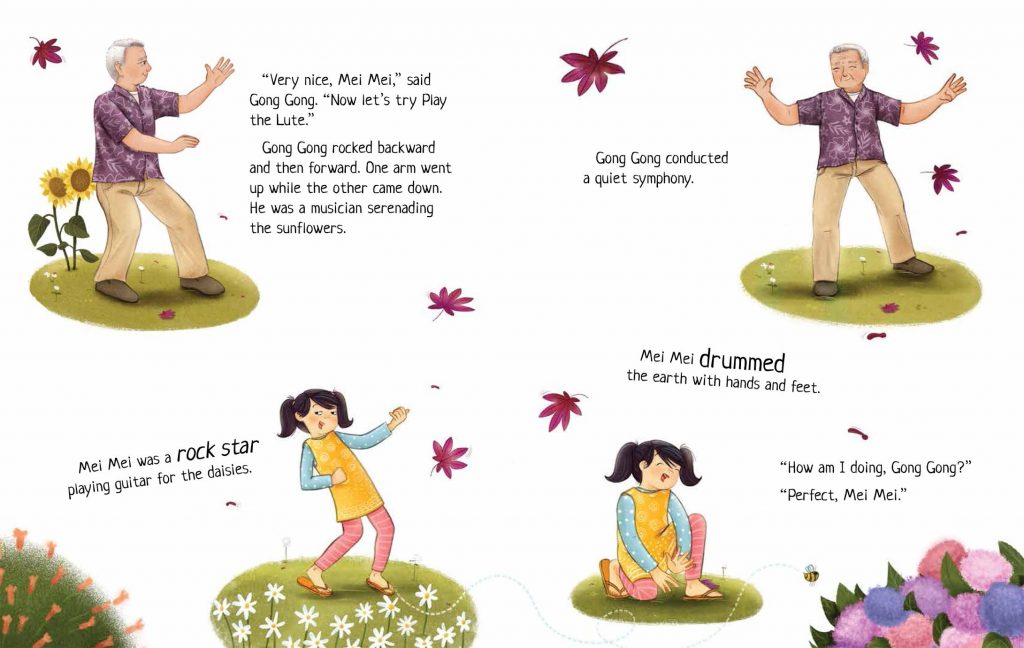 4) The Vulcan question: Does it Make you Feel?

The emotional truth of a story is what makes it stick. For example, I remember:
The pain of loss in Oliver Jeffers' THE HEART AND THE BOTTLE, or Jessixa Baxley's BOATS FOR PAPA
The warmth of a parent's love in Amy Hest's KISS GOOD NIGHT, Sam McBratney's GUESS HOW MUCH I LOVE YOU, or Julie Hedlund's MY LOVE FOR YOU IS THE SUN
The despair and anger in John Marsden's and Shaun Tan's THE RABBITS (a must read about the colonization of indigenous people in Australia)
The joy of connecting with a true friend in Marlee Frazee's THE FARMER AND THE CLOWN, Dan Santat's THE ADVENTURES OF BEEKLE, or Meg Rosoff's JUMPY JACK AND GOOGILY
The transgressive humor in Edward Gorey's THE GHASTLY CRUMBS TINIES or Jon Klassen's THIS IS NOT MY HAT
The thrill of the unknown in Maurice Sendak's WHERE THE WILD THINGS ARE
What emotions do you get from your story? Are they strong or slight? Heartwarming or gut busting? Make sure you feel something. Because if you do, your readers will too.
So, go forth and write your true story with heart. Tell the story only you—a miraculous being who won the lottery of life, made of the stuff of stars—can do.
Sylvia Liu is an environmental lawyer turned children's author and illustrator inspired by aliens, bunnies, kraken, and oceans. She debuts as a picture book author with A MORNING WITH GRANDPA, illustrated by Christina Forshay (Lee & Low Books, May 2016). She spent a decade protecting the oceans and the environment at the U.S. Department of Justice and the nonprofit group Oceana, and now she paints, draws, and writes for children. She lives in Virginia Beach, Virginia, with her husband and their two daughters. Visit her portfolio at www.enjoyingplanetearth.com, her blog at www.sylvialiuland.com, and her kid lit resource site, www.kidlit411.com.
Be sure to check out the rest of the blog tour for A Morning with Grandpa HERE.