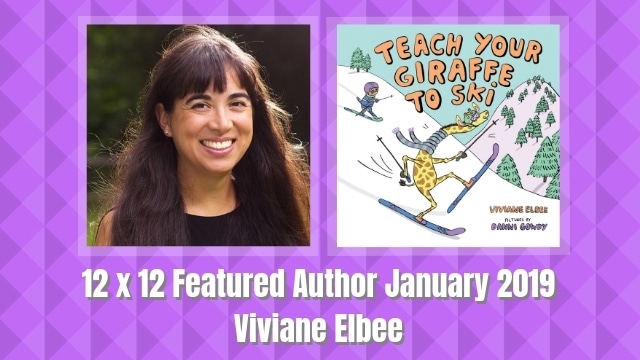 12 x 12 Featured Author January 2019 – Viviane Elbee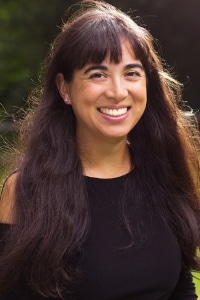 Happy New Year, 12 x 12 Members! We're are excited to announce that for the third year in a row, our Featured Author posts will come from our 12 x 12 community. We are so proud of the success of our members and love that we get to celebrate with you this way. Remember these posts are here to encourage you. If you don't have an agent or a book deal yet, that's where these authors were just a few years ago. It takes time to walk the publishing path and we're here to help, educate, and encourage you along the way. 
We are particularly happy to bring you this month's Featured Author. Viviane Elbee was a 2016 12 x 12 Diversity Scholarship recipient. During her time as a scholarship member, Viviane signed with her agent and received an offer for her debut picture TEACH YOUR GIRAFFE TO SKI, which just came out this past November. Today, Viviane shares her journey and what she's wishes she would have known earlier. Thanks, Viviane!
Yay! It's a new year! It's a great time to advance your storytelling career and start learning about book marketing.
A decade ago, I joined an SCBWI critique group, determined to improve my writing skills. Then I joined 12 x 12 and gained so much knowledge about the craft, thanks to excellent webinars, blog posts and community discussions. During all these years, I was working on the craft, but I didn't pay much attention to marketing. Then, two years ago, shortly after winning a 12 x 12 diversity scholarship, I received an offer for TEACH YOUR GIRAFFE TO SKI and signed with an agent (Natascha Morris @socalledYAlife). Suddenly I discovered a whole new world– the world of book marketing.
Here are some tips and things I WISH I HAD KNOWN and DONE EARLIER. Hopefully when you get that yes! and your publisher asks you for your marketing plan, you'll be prepared.
#1 – You can start planning your marketing NOW – even if you don't have any manuscripts under contract or publications. Some successful self-published authors recommend starting even before your manuscripts are polished!
#2 – Reserve a proper domain name and set up a basic website.
Websites should have an: ABOUT ME page, a CONTACT page (usually an email form), and a SOCIAL MEDIA link page. If you have publications, you should have a PUBLICATIONS / BOOKS page(s). If you're agented, mention your agent.
You may also wish to include an EVENTS page.
Some authors and illustrators have blogs and newsletters.
Email signups can be a great way to build a platform too.
It's important that your website be about YOU. You're the brand. (Hopefully one day you'll have LOTS of books listed on your website.)
If the "about me" page is tough, read other author and illustrator bios for inspiration. Gather your ideas, rough drafts, and polished manuscripts and look for recurring subjects. A generic idea is: YOUR NAME is a _____ [writer, illustrator…] who loves _____ [giraffes, the great outdoors, food] and is currently working on ____ [a picture book, an art portfolio, a novel…]. (Keep your bio in 3rd person because it's better for search engine optimization).
Taking an author branding course can help. (This is one that I took.) Andrea provides a lot of videos, worksheets and exercises about branding, and there are sections that will help you plan your website.)
Having a website makes you look like a serious professional. This cannot be replaced by a Facebook page or Twitter or Instagram.
Update your website regularly
#3 – Social Media. Reserve your name on all the major social media platforms even if you don't intend to use all of them. You don't want a bot to grab your name and post nonsense. Set aside some time to figure out which social media platforms you like best – you don't need to be active on all platforms, but after you get a yes, your publisher and agent may ask you to be active online, so it helps to know the basics and which sites you like best.
If you feel lost online, reach out to your fellow 12 x 12ers! They'll gladly friend you in FB and follow you on Twitter and Instagram and Pinterest and Goodreads and more.
Join Goodreads. Use a real photo of yourself (a good one that you are proud of) and your bio. Add books you've read and want to read to your virtual shelves. Update your book shelves regularly. About 4-6 months from publication, you'll have the opportunity to register yourself as a Goodreads author and "claim" your book. That will make it easier for book fans to find you and connect. (It's easy to add published 12 x 12 books to your to-read list – there's a Goodreads 12×12 Listopia list – https://www.goodreads.com/list/show/122442.12x12_Books).
If you find you like Instagram, use the hashtag #bookstagram to find the book lovers.
Think before you post– how will this content reflect on you? It's safe to post pics of baby giraffes in the snow, but complaints about book industry people could hurt your chances with some agents and editors.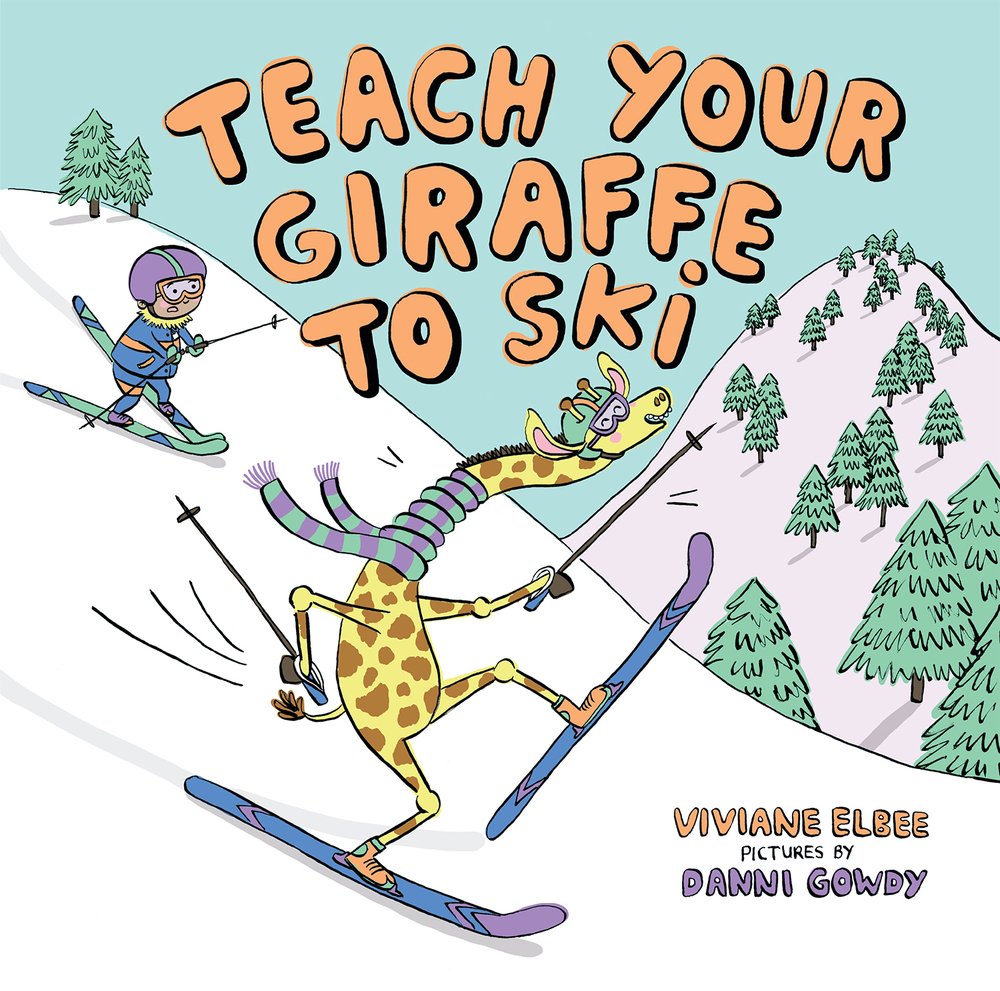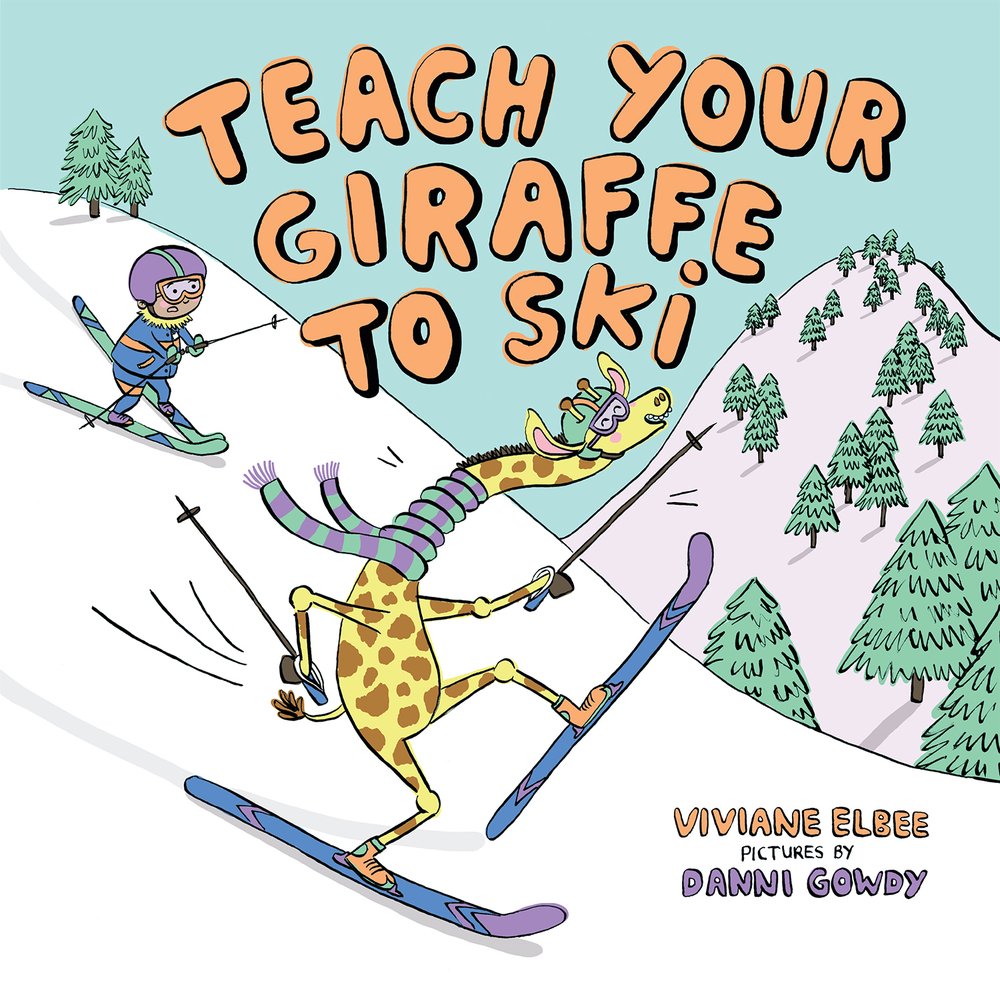 #4 – Get to know your local bookstores. Plan regular trips a few times a year. Ask booksellers for their recommendations. If you have a relationship with the booksellers and they recognize you, it'll be a lot easier to tell them about your book when it comes out and they'll be more willing to help you set up a launch party. (Yes, buy a book while you're there. But if you overspend in bookstores, bring cash only.)
#5 – Get to know your libraries and librarians. Some libraries organize wonderful events with authors and illustrators.
#6 – Build connections with people. Even if people don't buy your book, they may recommend it to others. Networking is important, and SCBWI and 12 x 12 are great ways to connect with others in the KidLit industry. It's also good to network with people who are not in the book industry – you never know who might buy your book!
#7 – Pay attention to local presses –newspapers, radios and TV. Do you know any of the journalists/freelancers? Can you follow them on social media and build a connection? Your publisher may ask about your press connections in your marketing plan questionnaire. As a new debut author, it can be hard to get an article or interview that's just about you, but expanding the subject matter may lead to a winning article idea. Here's an article a local paper ran about my critique group after I suggested the idea to one of the journalists. The press thought it was interesting that there was a large group of local talent in our area, the article helped boost my critique partners' work, and it mentions TEACH YOUR GIRAFFE TO SKI. (https://www.minthilltimes.com/featured/successful-local-group-of-childrens-authors-illustrators-a-mint-hill-time-exclusive-interview/)
#8 – After you get a book deal, it's time to update your website. Include the upcoming book, update your social media profiles, and let your personal connections know.
#9 – Once your book appears in Amazon, you'll want to claim your book and set up your Amazon author profile.
#10 – Joining EPIC 18 was my single most helpful marketing tactic after I got a book deal. This is a debut group of authors and illustrators with books releasing in 2018 (https://epiceighteen.weebly.com/). I found out about EPIC 18 via 12 x 12, and similar groups form regularly. If you have a book scheduled for release, check with 12 x 12 to connect with a similar group. Some author/illustrator groups include previously published authors with a new book releasing that year. Epic 18 was incredibly supportive and educational – everyone shared tips about things like book marketing timelines, how to set up a book launch party, the importance of signing up for an Amazon author central account, how to contact ARC review chains and bloggers, which pens to use for autographs, and the best places to buy book swag such as bookmarks, postcards and stickers. (If any of you would like to share extra marketing tips in the comments, it'd be much appreciated.)
I'm hoping this year will be a great year for all of us. There are always things to learn in the book industry, but I also hope that you'll explore and discover new ideas and hobbies outside of your writing life. If I hadn't taken the time to learn to ski a few years ago, I would have never written TEACH YOUR GIRAFFE TO SKI. New activities can enrich your life and may inspire a winning manuscript.
So, like a certain adventurous giraffe, I encourage all of you to enter the new year with a Whoosh! and a Wheee! and bravely seek out new opportunities.
Viviane Elbee is a children's author creating fun books for fond memories. When not writing, Viviane has all kinds of adventures with her family, both at home in the Carolinas and abroad. Her debut picture book, TEACH YOUR GIRAFFE TO SKI, came out in November 2018 (Albert Whitman and Co.). Her work has also appeared in Highlights High Five magazine.
Viviane is giving away one signed copy of TEACH YOUR GIRAFFE TO SKI to one lucky 12 x 12 member. Be sure to register!
GOLD membership renewal – January 3-4
SILVER members enter Rafflecopter for 2017 GOLD Level – January 3-4
SILVER members upgrade to GOLD – January 5-7
ALL Returning 12 x 12 members can renew at the SILVER Level – January 8 – February 28
Registration opens for new 12 x 12 members on January 8th. Sign up to be notified on our Membership Page.