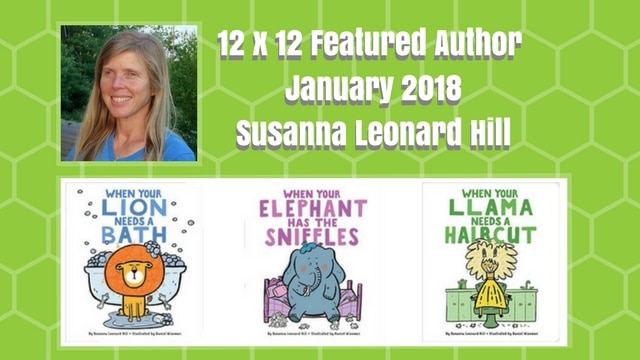 12 x 12 Featured Author January 2018 – Susanna Hill
It's a new year and that means a brand new year of 12 x 12! We are pleased to announce that, for the second year in a row, all of our Featured Authors will be published 12 x 12 members! We love celebrating the success of our members and watching 12 x 12 drafts bloom into picture books to be read by children everywhere. We start the year off with Susanna Leonard Hill, who many of you may know from her popular kidlit blog with features like Perfect Picture Book Friday, her Annual Holiday Contest, her Halloweensie Contest, or her Making Picture Book Magic course. She is a wealth of information on picture books. For the first time, our Featured Author is celebrating a Book Birthday on the day of their Featured Author post. Happy Book Birthday, Susanna!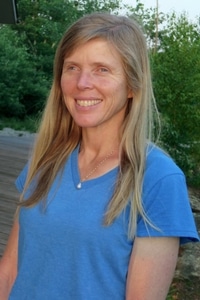 Happy New Year, Fellow 12 x 12ers!
There is something so inspiring and energizing about January 1st, isn't there? A feeling shared with Mondays when the week is new, and September when school begins… but a hundred times more potent because it's the start of a whole new year!
It's almost enough to make you want to vacuum, or organize your post office receipts, or (heaven forbid!) dust!
Let's look ahead into 2018, shall we?
Let's grab ahold of this energy and all make up our minds that it's going to be a good year!
(I hope I'm hearing loud cheering from everyone, even you there at the back!  Thinking positive is like calisthenics for our souls!)
So.
I want to ask you a question.
Let's say you run into an acquaintance you haven't seen in awhile at the grocery store, or go to a high school reunion, or meet someone at a party, and they ask you what do you do?
What is your answer?
If you're like me, your answer is probably some kind of mumbled jumble of being a mom, maybe doing some other kind of work in the home or outside it, volunteering in the community, etc. But the words, "I am a writer" stay locked up tight in your heart, too precious to speak aloud lest the person you're talking to dismiss your answer, disbelieve it, demand some kind of proof, make light of, belittle, or make fun of this thing that is essential to what makes you you.
Because let's face it: for writers it's not really what you do.
It's so much more than that.
It's who you are.
But a lot of us have two problems.
One is that there is a feeling out there in the world that writing is easy – anyone can do it! – and that it is somehow not a real career. Measured up against doctors and lawyers, teachers, accountants, firefighters, bankers, mechanics, and chefs, we somehow fall short in the eyes of others. Many people, our loved ones included – sometimes especially – do not take us seriously. They treat our writing with indulgence, as if it's at best an endearing little eccentricity and at worst a waste of time.
The other problem is that we allow this. We enable it. Because we don't quite dare to believe in ourselves. We don't take ourselves seriously.
It's hard to believe in yourself as a writer when you can't point to a publication of any kind that has your name on it.  (Yet! 🙂 )
Although I knew in my heart for my whole life that I was a writer (which I'm guessing is true for many of you as well) I couldn't say it out loud – couldn't even begin to own it – until my fourth book was published. And even then, even when I felt that having four published books legitimized me somehow, I wondered if it was really okay to say it. What if those four books were the only books I ever published? What if I never got another good idea, or never sold another manuscript? What if four books was the sum total of my writing career? Could I really call myself a writer?
And what about before we achieve publication?  Can we call ourselves writers then?
The answer absolutely positively YES!
Because writing is about who you are as a person: the way you see the world and want to share it, the fact that you love the flow and play of language – finding the perfect word or phrase to express yourself accurately and articulately, or to evoke emotion in your reader – the fact that you use story to connect with the world and help others feel connected too.
The fact that you can't not write.
You don't have to be published to be a writer. You just have to write.
But since the goal for most of us is publication, so that others out there in the world can gain some benefit from the stories we work so hard to create – entertainment, enlightenment, understanding, comfort – and so that people in our lives (ourselves included) can feel the validation of publication – let's take a minute at the start of this brand new year to talk about how we can enable ourselves to own who we are and make good on it.
Get ready.
I'm about to give you A List Of Tips!
(Because what would a blog post be without A List Of Tips?!)
Susanna's Top Ten Tips For Getting People (Including Yourself!) To Believe You Have An Actual Career
1. Identify Your Career – Name it. Own it.
Wake up in the morning and do what Jane Yolen says: "Writing is a gift.  Unwrap it every morning with joy, like a child with a present!"
Look yourself in the eye in the mirror (maybe after you've washed your face and brushed your hair so you don't scare yourself!) and say out loud: "I am a writer!"
Tell anyone who challenges you, even if you're not published yet, that you're a writer, you're writing, you're working toward publication. And your work counts!
2. Find a space to write – establish your "office"
An office is great if you have one and work well there, but any space that works for you will do.  A sunny kitchen table?  A closet near the attic stairs – small, but with enough space to write and a door that closes?  The hammock behind the house?  Your car in the school pick-up line?  A walk around the neighborhood where you write in your head or record on your phone's voice app?  The local library or café?
Whatever space you can claim as yours, make it about the writing. When you're there, you write. It becomes a habit and helps focus your mind on the task at hand. And when you're there, others recognize that you are at work – even if it's a nontraditional space, even if you haven't left the house.
3. Set a regular writing time. . . (– establish your "hours")
and keep it sacred – even if it's only 15 minutes before you have to get the kids up or rush off to work in the morning, or while the baby is napping, or on your lunch hour, or before you go to sleep. That is YOUR TIME!
During Your Time, you write.
You do not answer the phone.
You do not check social media.
You are not available to whip up school play costumes, wash skunk off the dog, settle sibling disputes, deal with man colds, or explain time zone differences to your mother-in-law!
Write!
(And train your tribe that they are on their own during your office hours – even if you haven't left the house!)
4. Include Continuing Ed. in your annual plan
There are many other careers that require continuing ed, so you should stay at the top of your game too. Take a writing class.  Attend an SCBWI conference (not only an opportunity to learn, but a chance to connect, network, and actually see other human beings if you're a writer who has the good fortune to write full time.) If you have another job, many classes are available online and you can do them at night or whenever you have time.  Conferences are on weekends. If you have a family to look after, let your spouse/partner take charge for a weekend or two a year so that you can get to a conference. People in fields such as business, medicine, and law go to conferences. We are writers. We do too!
5. Look for ways to expand your writing business/income.
Critiques and/or coaching, work-for-hire, school and library visits, writing for magazines . . . It will help others regard you with more legitimacy if you earn some money.  It will help you regard yourself with more legitimacy.
6. Make 12  x  12 work for you so you're really producing new work on a regular basis.
It is a simple method of accountability and productivity. As writers, we are self-employed. No one else sets our hours, gives us goals or deadlines, or holds us accountable for getting our work done. We need the self-discipline to do those things for ourselves. But it's not always easy, and 12 x 12 can be a huge asset. If you do 12 x 12 faithfully, not only will you have the support of this amazing community, but you'll finish each year with at least 12 new manuscripts. Producing writing proves to yourself and others that you are a writer. It allows you to Show Your Work. 🙂
7. Chocolate.
No explanation necessary 🙂
8. More chocolate. . .
9. Really, is there anything that can't be improved with chocolate? 😉
10. Most important of all: (this is the part where you sit up and pay attention!)
If you want others to take you seriously, you must first take yourself seriously.
All the other tips are part of this one (well, maybe not so much the chocolate) but it goes further. If you went off to a doctor or lawyer's office or a police station to work every day, your partner wouldn't expect you to be solely responsible for shopping, cleaning, cooking, laundry, errands, the kids, etc. Writing is your job. It is real. It is hard work. It requires time.  And therefore household chores and life responsibilities should be equally shared between you and whoever you live with. (If you live alone it's a little easier – no one cares if you don't clean the bathroom grout every five minutes, or if you serve Raisin Bran for dinner.) But if you want writing to be your job, think of it that way yourself and expect others to think of it that way too.  Demand that others treat your job with the same respect they would accord a veterinarian or a dentist or an engineer. But remember, it has to start with you. You have to respect yourself. It isn't always easy, but it's important!
And I think you'll find that believing in yourself as a writer will actually help you write better. You know how if you're feeling down just the simple act of smiling – putting your face in a position of happiness – can make you feel better?  It's kind of the same thing. Calling yourself a writer, believing that's who you are, gives you a kind of self-assurance, and that in turn can enhance your feeling of competence when it comes to writing.
So.
Say it with me now.
"I am a writer!"
It gives you a little boost of confidence, doesn't it?  To say it like that?  Doesn't it make you feel like a writer?
So when someone asks you what you do this year, 2018, starting right here, right now, let your answer to be, "I am a writer!"
Say it with conviction!
Say it with pride!
Own it!
You are a writer!
Now go write and make 2018 your best year yet!
Susanna Leonard Hill is the award-winning author of more than a dozen books for children. She teaches an online picture book writing class – Making Picture Book Magic – offers picture book critiques, and does frequent school and library visits. She lives in New York's Mid-Hudson Valley with her husband, children, and two rescue dogs, and her newest book, WHEN YOUR LLAMA NEEDS A HAIRCUT, will be out January 2, 2018!
Susanna will be offering be two prizes to 12 x 12 members who register and complete the January check-in at the end of the month—Enrollment in Making Picture Book Magic and a personalized signed set of WHEN YOUR LION NEEDS A BATH, WHEN YOUR ELEPHANT HAS THE SNIFFLES, and WHEN YOUR LLAMA NEEDS A HAIRCUT.
12 x 12 general registration opens January 9th HERE. Returning 2017 members, watch your email for your renewal instructions!