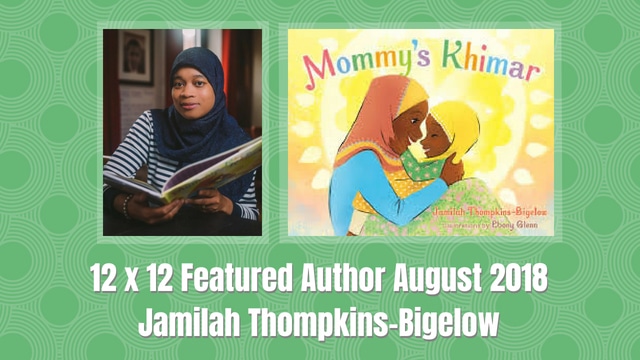 12 x 12 Featured Author August 2018 – Jamilah Thompkins-Bigelow
Writing Lyrical: You Have to Feel It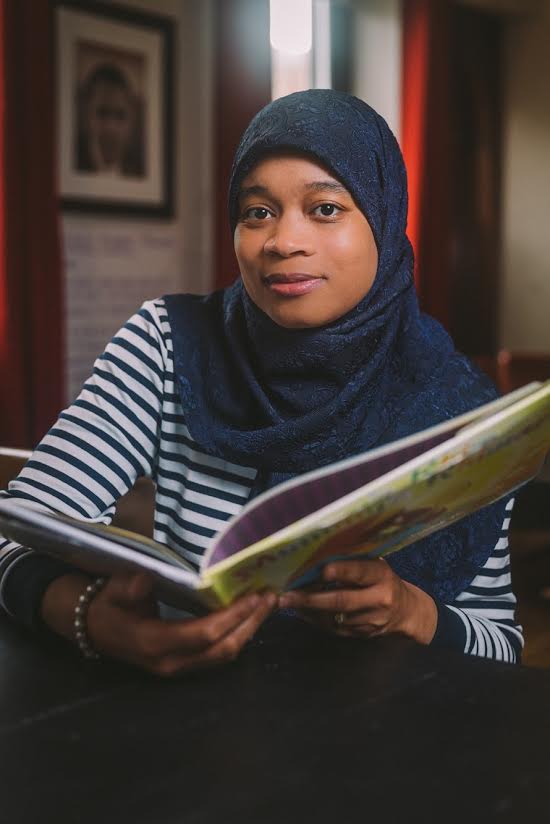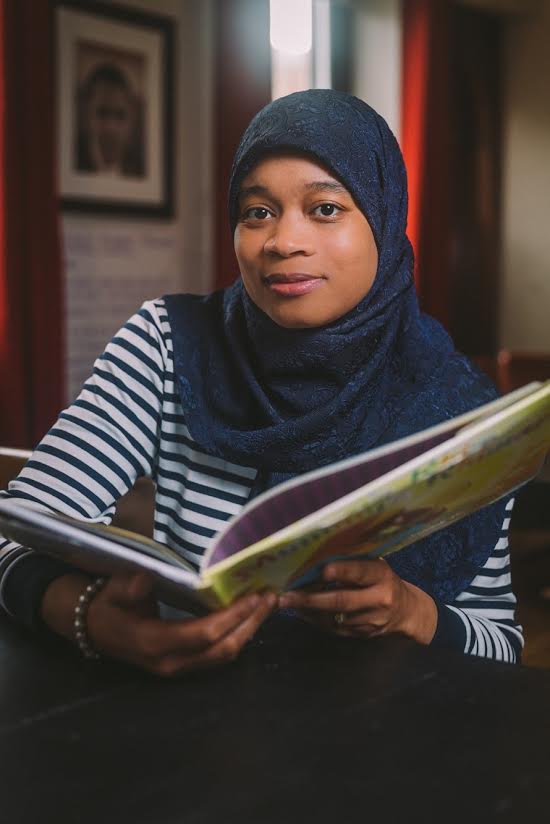 In positive reviews (and in an unfortunate number of rejection letters), I have often received praise for the lyrical quality of my writing. I love writing and reading lyrical texts and yet, I find this style difficult to define. Lyrical picture books defy definition but have a very distinct feel.
You'll know you've written one if:
The language feels good in your mouth and even more wondrous to your ears.
If you have to read the words out loud even when no one else is in the room, you might just be reading a lyrical text. Rhythm and patterns of sound are crucial to creating the pace and tone of a lyrical work. For example, in Bear Snores On, the first scene includes "the cold winds howl/and the night sounds growl" then decidedly shifts to a markedly different tone on the very next page through changes in meter and sound devices: "An itty-bitty mouse, pitter-pat, tip-toe/creep-crawls in the cave from the fluff-cold snow." Lyrical picture book writers like Karma Wilson play with rhythm, consonance, assonance, and alliteration so that readers savor hearing and saying the words.
Lyrical picture books often contain the rich, unconventional language that is missing from the bland, standard English of most texts. They serve us colloquial phrases and unique sayings that aren't easily explained but feel delectable on our tongues. Many of the lines in Show Way by Jacqueline Woodson and Hudson Talbot exemplify this linguistic lavishing with Woodson's repeated lines "Had her a baby girl…loved that baby up so. Yes, she loved that baby up." This phrasing has a power—a lyricism—that isn't felt in a more standard phrasing: She had a baby girl and loved that baby so much.
It feels spare.
Many writers think of lyrical language as flowery and overwrought. However, exemplar picture books in this genre are notably spare. Lyrical picture books often use short lines with abrupt line breaks. Simple language and one-syllable words abound. Jane Yolen illustrates this in Owl Moon: "Somewhere behind us/ a train whistle blew/ long and low/ like a sad, sad song."  Similarly, All the World by Liz Garton Scanlon and Marla Frazee sifts major ideas into few words: "Rock, stone, pebble, sand/ Boat, shoulder, arm, hand/ A moat to dig/ A shell to keep/ All the world is wide and deep." The simplicity of the language creates a slow pace—a hush. We slow down and listen.  The complex, deep ideas are so much more striking because of the quietness surrounding them.
It teases your senses.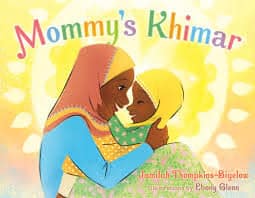 I often find myself involuntarily reacting to sensory experiences in lyrical books. When I read "my mouth felt furry, for the scarf over it was wet and warm" in Owl Moon, I catch myself poking out my tongue trying to get the fibers off. While reading Deep in the Sahara by Kelly Cunnane and Hoda Hadadi, I hold my arms out and feel the malafa in the story, a type of full-body cloth wrap worn in Mauritania: "And so you take a little step, and then another; up, up—shwai, shwai, little by little, your malafa rippling down your back and your arms and ankles like water." In my own book, Mommy's Khimar, I try to engage the senses too with my protagonist saying: "I close my eyes and if I breathe in deeply—really deeply—I smell the coconut oil in Mommy's hair and the cocoa butter on her skin." In addition to their heavy use of sound, lyrical picture book writers engage the other senses to create immersive sensory experiences for readers.
You feel a strong emotion when reading it.
Lyrical picture books evoke strong emotions. The best ones even make us feel a sense of awe. Last Stop on Market Street has such an awe-inspiring moment:
"And in the darkness, the rhythm lifted CJ out of the bus, out of the busy city.
He saw sunset colors swirling over crashing waves.
Saw a family of hawks slicing through the sky.
Saw the old woman's butterflies dancing free in the light of the moon.
CJ's chest grew full and he was lost in the sound and the sound gave him the feeling of magic."
I find it helpful to identify scenes like these in books and then to try to recreate similar scenes in my own writing.
It feels like a poem.
With the attention to sound, nonstandard language, spare-ness, sensory experiences, and strong emotion, you might call this genre a form of poetry. In fact, during my picture book writing process, I often write one draft of my story as a poem as I did with Mommy's Khimar.  Writing a poem draft helps me to figure out where to cut text while helping me to create a more lyrical feel.
Jamilah Thompkins-Bigelow's debut picture book Mommy's Khimar was published this year to critical praise, including starred reviews from Kirkus and Publishers Weekly. She teaches youth how to write in Philadelphia, PA with Mighty Writers. Through her own writing and work with youth, she hopes to increase representation of people of color in the publishing industry.
This month, Jamilah is offering one lucky 12 x 12 member a critique. Be sure to get your monthly draft written so you can be entered to win!